NHL Trade Rumours: What Could the Toronto Maple Leafs Get for Nazem Kadri?
December 28, 2011
Claus Andersen/Getty Images
Nazem Kadri has been itching for another shot at the NHL ever since he was last sent down to the Toronto Marlies in October. He has made sure to take full advantage of his latest opportunity, with a goal scored in each of the two games he's played.
His first goal of the season, scored against the Buffalo Sabres on December 22nd, won the game for the Leafs. It was a pretty one too, a top-shelf wrist shot over Ryan Miller, who before that game had a 25-11 record with four shutouts against the Toronto Maple Leafs all-time.
Toronto Star columnist Damian Cox suggests that the Leafs should leave Kadri with the club for the rest of the season and figure out whether he is a player to keep or an asset to trade. 
Kadri's play over the last few days certainly lends credence to this theory. 
With tons of optimism coming from the impressive Toronto hockey media hype machine, Kadri's trade value is probably the highest it's been in a long time. 
Even though they should probably keep him, let's take a look at three potential trades that would allow the Leafs to get the maximum possible return for their asset should they decide that Kadri doesn't fit into their long-term plans. 

Zach Parise 
The Trade: Zach Parise for Nazem Kadri and Matthew Lombardi. 
At some point before the trade deadline (if it hasn't happened already), New Jersey Devils GM Lou Lamoriello will probably ask Zach Parise's agent, Wade Arnott, if they are interested in a contract extension. 
If those talks do not work out, the Toronto Maple Leafs should inquire to see exactly what Parise's demands are and consider picking him up before the offseason begins both to bolster their playoff run and to give themselves an exclusive window of four months to negotiate with Parise. 
This, of course, assumes that Parise is not demanding a ridiculously long contract like teammate Ilya Kovalchuk's. If he is, Brian Burke will probably back away from the deal, as he rightly should. 

Mike Cammalleri 
The Trade: Mike Cammalleri for Nazem Kadri, Matthew Lombardi and a sixth-round draft pick. 
With the Toronto Maple Leafs likely to make the playoffs this year, adding a forward with valuable experience in high-pressure situations would help improve their chances of advancing past the first round and beyond. 
Mike Cammalleri has accumulated 32 points (17 goals, 15 assists) in 32 playoff games and was a huge factor in the Montreal Canadiens' run to the Eastern Conference Finals in 2010. 
Montreal is hitting the panic button right now and might be looking to unload heavy contracts as part of a rebuild. Cammalleri's is one amongst many ugly ones (Scott Gomez and Tomas Kaberle, for example) that actually makes sense for the Leafs.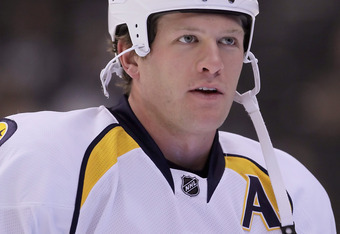 Jeff Gross/Getty Images

Ryan Suter 
The Trade: Ryan Suter for Nazem Kadri and Mike Komisarek. 
The Nashville Predators have a real decision to make in regards to their two star defencemen, Shea Weber and Ryan Suter. Both will be free agents after this season and will likely command a $8 million to $10 million a year salary. 
If they do decide to trade one of them, Suter would be the probably candidate as Weber will become a restricted free agent. Suter will be free to negotiate with any team. 
Investing in Suter would be a great move for the Leafs as it would add another All-Star-caliber defenseman and would help both their short-term plans of making the playoffs and long-term plans of becoming perennial challengers for the Stanley Cup, so long as they are confident they can sign him in the summer. 
Leafs GM Brian Burke already has a good relationship with the Predators after trading for Matthew Lombardi and Cody Franson this past offseason in a cost-saving move for Nashville. Could another cost-saving move be on the back burner?