Wes Welker: 4 Games Away from a Place in Boston Sports History
December 28, 2011
If you were to compile a list of the 50 most important athletes in the history of Boston sports, would Wes Welker make your list? Think about it for a second. Run through the names, the dynasties, the memories. Does he make your list?
Probably not, right? It's OK, he doesn't make my list either.
But what about the potential he has to make that list one day? How high can he go?
To make the top five, you're talking about being on the same level of greatness as Bobby Orr and Bill Russell. So that won't happen.
But top 10? Top 10 is there for Welker if he wants it.
But first, he has to make the top 50. Winning us two playoff games this season might squeak his name on the list. But winning us a fourth Super Bowl this year? That's when somebody high up on that list is getting bumped.
I'm not necessarily putting an all-or-nothing stamp on this playoff season, but I'm almost doing that. I'm trying to stress a degree of significance here.
Tom Brady is (relatively) healthy. The guy's been slinging footballs for over a decade, and he's been doing it at an elite level. As a team, whenever you have a guy like that, you have to count your lucky stars. And you need to take advantage and win.
We're 12-3 with a first-round bye in our back pocket. We'll claim home field advantage with a win this Sunday against the Bills. And when you look at the other teams we're bound to face, there isn't one that can't be beaten if the Patriots just play their game.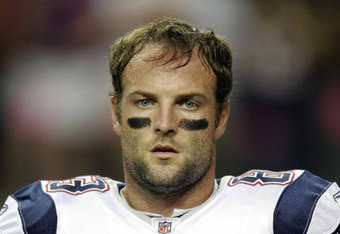 These situations are rare.
The Patriots have placed themselves in a position to be really successful this year. They have a golden offensive unit, an incredibly diverse group of personalities on the roster, one of the greatest quarterbacks of all time playing at a scorching hot level, arguably the greatest football coach of all time at the helm and millions of fans who are starving for another Lombardi trophy.
If you're Welker, you have to look at this situation and realize this is your cue.
As Welker goes, we go.
It's unfortunate that his MVP season is coming at a time when three future Hall of Famers are rewriting the book on how the quarterback position is played. It's safe to say he won't nab the top honor this year, and it's too bad because he'd be the first wide receiver to get it.
He certainly has the numbers to back up his case: 116 receptions on the season, 1,518 yards under his belt (an average of 101.2 a game), 13.1 yards per carry (one carry was 99 yards long), 726 yards after completion, 74 first downs, nine touchdowns and zero fumbles.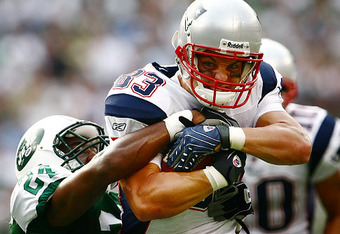 To put this in greater context, Welker has 81 more yards and 31 more receptions than Calvin Johnson.
And yet, he's still in the process of becoming. He hasn't transcended the game of football yet.
He hasn't achieved true greatness.
And it's because he hasn't won a championship. He hasn't grabbed the postseason by the horns and dominated like the great ones do.
He missed the 2009 wild card game against the Ravens because of a bum knee.
And last year against the Jets, he caught seven balls for 57 yards. To put those numbers in context of what he's capable of, he caught 12 balls for 138 yards last Saturday against the Dolphins.
I'm putting Welker under this microscope because I believe he has the potential to be a Hall of Fame player. He needs to be on that top 50 list. The sooner he achieves greatness, the sooner the Patriots claim another Super Bowl victory.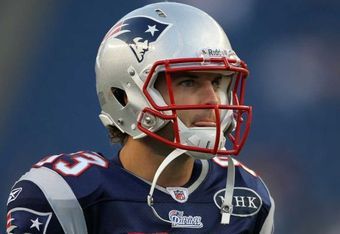 I won't look a gift horse in the mouth. I'll gladly take every single yard that Rob Gronkowski and Danny Woodhead and Aaron Hernandez give us. But if we're talking about winning it all, we're going to need a leader.
We're talking about getting to the top of a pyramid built on names like Roethlisberger, Ward, Polamalu, Brees, Rodgers, Woodson, Rice, Reed, Lewis and two different Mannings. Daunting doesn't properly explain it. This is a devastating task.
Brady is the brain of this Patriots team, but now is the time for Welker to establish himself as the heart. And it's time for him to win a Super Bowl ring.
Welker reminds me of a pre-Celtics Ray Allen. At that point, Allen was a guy who everyone in the league respected all day and all night. He was a consummate professional, an absolute stud on the court, a legendary shooter and a magician of last-minute heroics. But there was always a lingering sense that Allen would be one of those guys like Charles Barkley or Reggie Miller—undeniably great, but not a champion.
With the exception of someone extraordinarily special like Ted Williams, a sports icon really needs a championship to cement their legacy.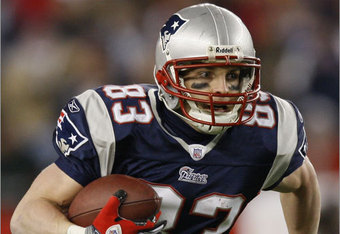 Sometimes, history just doesn't work out that way. Sometimes the numbers don't add up. Take this football season for instance. In our Week 3 matchup with the Bills, Brady threw for 387 yards, Gronkowski racked up 109 yards on 7 catches, Welker exploded for 217 yards on 16 catches, and the Patriots still lost. The guys had similar numbers in their Week 9 loss to the Giants.
And of course, there's the 2007 regular season, 16-0, 18-0 after two playoff games, and a loss in the Super Bowl.
This is where hard numbers lose their impact. This is where certain players and teams transcend the game they play. For instance, when the Saints won the Super Bowl, that had less to do with facts and figures, and more to do with lifting up a broken community that desperately needed hope. Even the Giants breaking the Patriots' perfect season was a form of transcending the sport.
You need more than numbers to win. Desire matters. The Patriots of 2001, 2003 and 2004 were proof positive of that.
And while the Patriots can always comfort themselves in the mantra that "there's always next year," the truth is you never know. Health matters. Ask Bobby Orr.
Welker and Brady are both playing at an unbelievable level, and they're surrounded by incredible guys who can get the job done. Now they need to really get the job done.
Gronkowski, Edelman, Hernandez and Woodhead are some of my favorite players in the league, but this has to be put on the shoulders of Brady and Welker. Welker, specifically, needs to become unstoppable. He has four games standing between him and a place in Boston sports history.
As Welker goes, we go.