BYU vs. Utah Rivalry Future: Could Pac-12/Big Ten Deal End It?
December 29, 2011
As reported by several sources, the Pac-12 and Big Ten have announced an agreement to play at least one OOC game between each school starting in 2017 when schools become more devoid of forthcoming OOC contracts.  Along with their 60-plus-year relationship with the Rose Bowl, this will certainly further cement the relationships of the two most academically prestigious Division I FBS conferences.
Of the 24 institutions that make up these two conferences, 19 of them belong to the Association of American Universities (AAU).  The high dollar value of athletic programs such as Ohio State, Michigan or USC are complimented by billions of dollars in graduate level research done at these schools every year, and the levels of advanced research and professional degrees awarded each year.
Changing of the Guard in Rivalries
With the additions of Colorado and Utah in 2010, the Pac-12 gains two of the premiere research institutions in the Rocky Mountain region.  Unlike Colorado and Nebraska, Utah comes from a more recent pedigree that included charter memberships in first the WAC (1962) and later the MWC (1999) and has had a long-standing rivalry with nearby Brigham Young University. 
But because of its research programs and medical school, Utah has been and continues to be a strong perspective addition to the AAU in the very near future.  On the other hand, BYU has maintained a strong AAU-caliber undergraduate program with top-tier graduate/professional Business, Accounting and Law programs.
As a result of this, many BYU undergraduates often move on into graduate research and professional programs at Utah, and many will argue that it has helped make Utah the school that it has become, particularly over the past two to three decades.
With Utah's move into the Pac-12 with Colorado, BYU was essentially replaced on Utah's schedule with Colorado as the season-ending rivalry game.  Both schools moved quickly to schedule an OOC home-and-home in the subsequent months for 2011-2012, but future contracts are often in doubt with Utah facing a nine-game Pac-12 schedule and BYU still a major piece on the chessboard in play for conference realignment.
The Strain to Continue Only Gets Worse
With the Pac-12 already playing a nine-game league schedule and the Big Ten scheduled to start such a scheduling format in 2017, this will leave only two slots for OOC games for Utah after this year.  BYU, on the other hand, has had to be extremely judicious in its scheduling since a conference offer that meets all their needs could still come sooner than later, the movements during 2011 being a classic reason behind this.
Many Utah and BYU fans have expressed a desire for their Athletic Directors to discontinue this rivalry game, with Utah fans citing that BYU is no longer a relevant school to schedule, and BYU fans' disdain for the level of hatred.  Rumors have also been rampant that the overseers of BYU, senior leaders of the LDS Church, likewise wish to discontinue the rivalry, citing the unique differences in academic missions and governance of the two schools.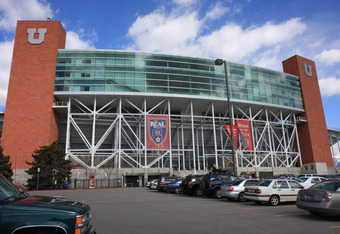 Could Utah State Be a More Consistent Future Opponent for Utah?
With essentially only the first three weeks of September being open to OOC scheduling for Pac-12 members, many Utah fans have expressed a desire to continue the rivalry with Utah State in preference to BYU.  Being a lower-tiered "mid-major" than BYU, Utah State is viewed by fans and even coaches as being a better "developmental game" for Utah.
While the Utes and the Aggies did not play in 2010 and 2011 for the first time in decades, many have expressed a desire to renew the "battle of the brothers," which is on the schedule now for home-and-home games for 2012-2015.  But Utah may not have the desire to visit Logan in the future after this present four-game home-and-home deal expires with the Utes visiting the Aggies in 2012 and 2014.
There also is a longer-standing tradition of Utah playing Utah State since BYU dropped its football program for the first two decades of the 20th century.  However, except for a brief three-year hiatus during World War II (1943-45), BYU and Utah have played one another since 1922 and have been affiliated in the same conference alignment for the past century until this past year.  Utah State's league affiliation with Utah and BYU ended in 1962 when the original charter members of the WAC began play.
Some Utah fans who have expressed a desire to continue the rivalry with BYU are demanding that AD Chris Hill only allow for a two-for-one scheduling deal similar to the policy BYU has had towards Utah State for the past 30 years.  Despite the disparity in league affiliation, BYU still has the attendance numbers to not give Hill the power to make such a demand when dealing with his BYU counterpart Tom Holmoe.  But also of note in this, Utah did not trade home football games with BYU on a year-to-year basis until the Cougars moved into a larger stadium in 1964 and WAC rules took full effect.  BYU vs. Utah games in Provo were a rarity and didn't even happen until after the war years.
A Much More Amicable Parting
After the game scheduled for September 15, 2012 at Rice-Eccles Stadium, it is now more than likely this will become another discontinued rivalry in college football.  But despite the hostility and disdain Cougar and Ute fans often show to one another, this will be a much more amicable end to a longstanding regular-season rivalry.  The Texas vs. Texas A&M rivalry has met a very sad and tragic end due to in-state squabbling that has made the lack of civility between Cougar and Ute fans look minor league.
Even though the logistics of continuing the football rivalry are growing increasingly impossible, it will, however, be in the best interests of both schools to continue to play in their other sports such as basketball, baseball etc.  Then one day perhaps in the years ahead, both sides can come together on a plan to renew this duel.