Upstart and Rejuvenated Atlanta Hawks Have New Feel
December 29, 2011
Kevin C. Cox/Getty Images
Being a bottom feeder is one thing, being a tweener is something else. The Hawks, unfortunately, have been a tweener for far too long: not good enough to actually compete with the league's elite, but not bad enough to build through the draft.
They're stuck in limbo. The only way to escape tweener status is to make a trade that turns you into a contender or make a trade that turns the clock back a few years and starts the rebuilding process.
The Hawks have done neither. They're a starless team with pieces that don't entirely fit together. It's like pounding a circular hole with a square peg.
Josh Smith should ideally be playing with a stretch four, seeing as he is a power three. He needs a perimeter-oriented big man to compliment his skill set, which is way more impressive than Al Horford's.
Instead of having a stretch four he's playing with an out-of-positioned power forward who doesn't know if he's a stretch or a banger. Horford can shoot a jump shot well, but despite his size and girth, he can't pound down low.
To top that mismatch off, the Hawks have a grossly overpaid shooting guard who often kills possessions with stall ball and iso attempts. That's you, Joe Johnson.
These pieces should not be working, but so far this season they are.
Many predicted this would be the end of the Hawks run. They'd fall off this season, slipping out of the playoffs and into the lottery. They'd trade Josh Smith to Orlando for garbage, amnesty Joe Johnson and hope to rebuild around Horford. None of that is happening. These Hawks are turning the corner.
Jeff Teague is as advertised. He's pushing the pace brilliantly and making all of the right plays despite playing with an injured ankle. Marvin Williams is playing like a man among boys on the offensive glass, and he's actually leading the Hawks in scoring to start the season.
Many called me crazy after predicting 2011-2012 as Williams' breakout season, telling me he's a bust and that I should just accept the fact and move on. As mentioned earlier, that bust is leading the Hawks in points and rebounds early in the season.
He's a machine. He's taking and making three-pointers, not 22-footers with his heels on the line. He's finally using that length scouts raved about to be an elite rebounder and defender. He's also been able to log major amount of minutes without feeling any pain in his back.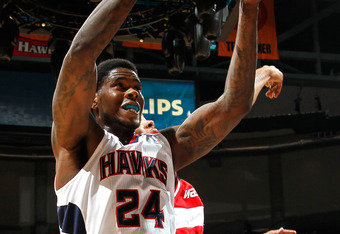 Kevin C. Cox/Getty Images
Even with star players Johnson, Horford, and Smith, this team should not be able to play as well as they're playing. Without Jamal Crawford, this team is looking at a finish similar to last year's. This team doesn't care about how they should look though, they're looking the way they want to look.
Smith came into training camp 25 pounds lighter. Johnson came in more conditioned and finally with a healthy elbow. Williams came in with a better back after surgery and Horford with a better post game.
These guys are trying to make the pieces fit and somehow it's working. They've blown out their first two opponents and made it look easy the entire time.
No starter logged even 30 minutes in their 106-70 throttling of the Nets. Against the Wizards, the starters didn't need to play 30 minutes (they did, though). They coasted through the game after establishing dominance in the first quarter, and re-establishing it in the second.
It's a defensive effort that has keyed this early outburst from Atlanta. Deron Williams had 10 points on 3-11 shooting with six turnovers. They're ball-hawking and taking advantage of missed opportunities.
Moreover, an old and dilapidated bench is paying huge dividends for Atlanta. Tracy McGrady and Vladamir Radmanovic have been the headliners out of the gate, but Willie Green and Jannero Pargo have logged valuable minutes despite having almost no time to practice with the team.
The Hawks are clicking, looking good when they shouldn't. Many Hawks fans more or less saw this coming. There was a new attitude in training camp and a new sense of urgency, along with a fire on the defensive side of the ball not seen before.
To everyone else, the Hawks should be a complete shock. Most would have predicted a 2-0 start considering the competition.
But no one would have predicted that their defense would make Deron Williams look like a fool and they'd destroy the Nets by close to 40 points. No one would have predicted the Hawks would have come in on the second night of a back-to-back to dismantle the young and talented Wizards in such a fashion.
Based off of Eastern Conference play right now, I'd say Atlanta is in line for a two seed. Miami is clearly the top dog, but with Boston and Chicago struggling terribly to start the season, Atlanta and Indiana are the only other two teams that look ready to play this season.
This year was supposed to be the Hawks' downfall. By the looks of things, it might turn out to be the opposite.