January Transfer Window: Transfer Fees Will Fall Next Month
December 30, 2011
Julian Finney/Getty Images
Fernando Torres and Andy Carroll are both exceptional football players.
As strikers, they are sold for big money.
But the £85 million the pair fetched last January will never be matched again. Those prices—£50 million for Torres and £35 million for Carroll—were inflated partly by the panic that the brief January window generates. Also, the last ditch spending encouraged by the onset of UEFA's new rules on financial fair play contributed. 
Football managers will buy into the panic.
But their chairmen will now be far more inclined to listen to the quieter tones of their teams of accountants and lawyers.
For many months now, the accountants will have been sifting through the 85-page UEFA document signed by Michel Platini in 2010.
It's called: UEFA—Licensing and Financial Fair Play Regulations.
Not the catchiest title for a page-turning bestseller.
It demands that, from 2014, clubs break even, financially. Their income, from broadcasting, gate receipts and transfers, must be equal to their expenditure, in wages and transfers.
Otherwise, they can be banned from UEFA competitions.
The document has more pages in its "annexes" section than in its main body. This is a sure sign of possible loopholes.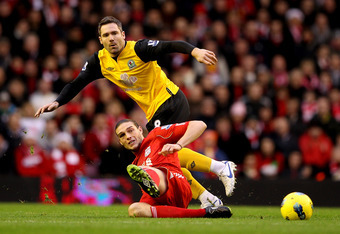 Scott Heavey/Getty Images
The cutest club accountants will be working out how to slip through those loopholes. At least one legal expert is advising clubs that they will have until 2018 to comply.
But have no doubt, UEFA will not shirk from slapping down a top Premier League club that cannot balance its books. They will do it with a sense of glee.
Manchester City's clever sheikhs got their biggest spending in before the new rulebook had been written.
The new system only started with the club accounts from June 2011.
The hefty panic buys of Torres, Carroll and a few others may look silly in view of the poor performance of those players. But they will not penalise the club in the Financial Fair Play rules.
However, any signings this January will count. So if you are inclined to spend £50 million on a player, you need people to come through the turnstiles to pay for him.
2009 saw the lowest January spending since the transfer window began. Just £30 million of transactions. Less than Liverpool paid for Andy Carroll a year later.
The recession explains the 2009 figure.
Last January saw the highest January spending ever, at £225 million.
We were still in a recession, but some clubs panicked.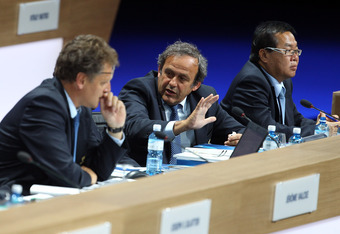 Julian Finney/Getty Images
As soon as one club had released big funds for a major signing, so another club had a sudden windfall of money to spend, and the snowball effect lifted the overall spending to an all time high of £230 million.
Clubs knew that it was their last chance to spend before the new rules.
From now on, UEFA's financial fair-play regulations will put a stranglehold on such free-market extravagance.
This year's January transfer window will be quiet and modest compared to last year.
European regulations will see to that.