Roger Federer vs. Rafael Nadal: Why Tennis Desperately Needs Rivalry to Continue
January 4, 2012
Matthew Stockman/Getty Images
They are giants as individuals, and when paired with their tennis rivals, they become even bigger as part of rivalries that easily draw millions around the world to watch them when they take the court.
These rivalries include names like Pete Sampras and Andre Agassi, John McEnroe and Ivan Lendl and Chris Evert and Martina Navratilova.
But what would a rivalry discussion be without discussing Roger Federer and Rafael Nadal?
Described as one of the greatest rivalries in history, Federer and Nadal had their first face-to-face meeting in 2004 during the third round of the Miami Masters.
Nadal ended that match with a victory. However, it would be just the beginning of competitive play between two of the greatest players to ever play the sport.
Here Are Some Highlights of Their Rivalry
Nadal was just 17 years old when he first played Federer at the Miami Masters.
Their longest match was back in 2006 in Rome. It was a five-set, three-tiebreaker affair, lasting five hours and five minutes.
The two played in the longest Wimbledon final in history in 2008. The match lasted four hours and 48 minutes.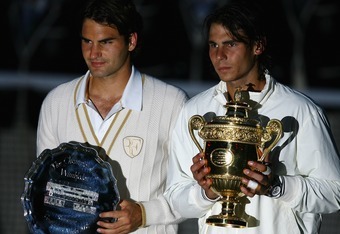 Julian Finney/Getty Images
Both men hold the record for consecutive wins on a single surface—Federer for hard court and grass, Nadal for clay—records only broken by each other.
It's easy to see that these two men have made and continue to have a huge impact on tennis. And what's so remarkable is despite their rivalry, they have a mutual respect for each other personally and professionally.
And on the note of impact, what is it that makes the Federer-Nadal rivalry so important to tennis?
Well, in answering that question, the question of the role rivalries play in general in respect to the game of tennis is also answered.
Let's take a look at three ways tennis is impacted:
Rivalries Engage Tennis Enthusiasts and Create New Ones, Keeping It on the Radar in Respect to Sports Viewership
There's no doubt that loyal tennis fans enjoy a good match, pitting two skilled players against each other.
Federer and Nadal easily meet that definition.  But, there's a far greater benefit to a matchup of this caliber. It also sets up anticipation, which in turn draws avid fans and curious onlookers.
According to The Nielsen Company, the 2011 French Open men's final featuring Nadal and Federer  received the highest TV rating the event had received, since Andre Agassi faced off against Andrei Medvedev, back in 1999, 12 years ago. The increase was up 63 percent from 2010.
Additionally, during that same tournament, the combined viewership of the semifinals of Federer and Novak Djokovic and Nadal versus Andy Murray was up 30 percent from 2010.
Similarly, in 2001, when the Williams sisters met in the first prime-time women's U.S. Open final and the first finals match between sisters since before the Open era began, nearly 23 million viewers (6.8 percent of U.S. households) tuned in.
This match also provided insight about keeping tennis on the radar when it comes to sports viewership.  
According to Gallup, in a survey of sports viewership, football, baseball and basketball corner the market with a combined 60 percent.
Tennis, well, it comes in at a lowly one percent.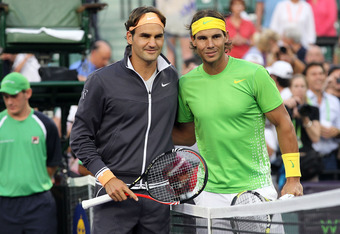 Al Bello/Getty Images
However, sometimes, the loyal fans combined with curious onlookers actually corner the market for a moment.
That's exactly what the aforementioned Williams sisters' matchup did. It actually had higher ratings than the Nebraska vs. Notre Dame football game being played on another network during the same time frame.
Though tennis may only be the sport of choice for a fraction of the population and overtaking the popular sports may only happen every now and then, neither would be remotely possible if it were not for the attention and showcase of talent produced by rivalries.
Rivalries Motivate Players to Keep Themselves Mentally and Physically Fit for Competition
There's nothing that motivates the competitive spirit more than to actually have competition.  
One of the best explanations of this was given by Nadal, as reported by The New York Times, following his second-round defeat of Ryan Sweeting at Wimbledon last year.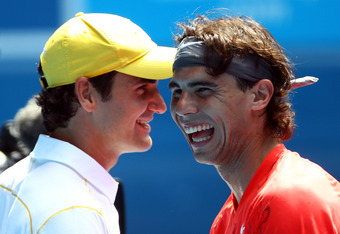 Julian Finney/Getty Images
Nadal said, "You know, I always say the same: you feel the rivalry at the end of the season. We will see who gonna be my rival." He paused, scratched his head, then said: "Today, my rival is every day my opponent and myself, too, because I have to do well in every tournament in every match."
Nadal was so straightforward with this quote.
Rivalry is not only across the net, it's in the mirror.
And sometimes the person in the mirror probably becomes the bigger rivalry in the continual desire to be the best in anticipation of the next opponent—especially a rival like Federer.
Rivalries Provide a Standard/Goal for Other Players to Aspire To
Novak Djokovic's journey to No. 1 is an excellent example. For years, Djokovic had aspired to overcome Federer and Nadal. Last year was the year that his hard work paid off.  
In a Sports Illustrated article, Djokovic discusses how his game has improved and how it was necessary in order to play against and defeat Federer and Nadal .
And now that Djokovic is at this pinnacle in his career, he has now become a standard by which other players measure their game and set their goals.
And as the 2012 season gets underway, there's no doubt we will see rivalries play out on courts around the world.
Hope you enjoyed this and feel free to leave comments below.