World Football 2011 Tactical Review
December 30, 2011
Claudio Villa/Getty Images
Jose Mourinho is currently locked in the toughest battle of his phenomenally successful management career—displacing Pep Guardiola's Barcelona from the top of the domestic and European tree. But it is at two of Mourinho's former clubs where a deeper war has raged; his presence still lingering as new management regimes seek to stamp their own authority.
Replacing Mourinho at Chelsea has been a constant struggle for owner Roman Abramovic, with Guus Hiddink, Phil Scolari, Avram Grant, Carlo Ancelotti and Andre Villas-Boas all taking the hot seat since Mourinho's departure in 2007. The latest in line, Andre Villas-Boas, has often been nicknamed 'the mini Mourinho', despite his protestations.
Tactically however, Villas-Boas and Mourinho are extremely far apart, which has shown in the reluctance and incapability of what is essentially still Mourinho's Chelsea team to adapt to Villas-Boas's high pressing line. Captain John Terry has struggled, in particular, with the Chelsea high-line negating his positional awareness on the edge of the Chelsea penalty area.
A more extreme version of Chelsea's problem revealed itself in Italy. Internazionale president Massimo Moratti turned to the revolutionary Argentinian tactician Marcelo Bielsa to replace the outgoing Leonardo, but was spurned by the firey manager. Turning to Gian Piero Gasperini as a (one of seemingly many) backup plan eventually proved to be ill-thought through.
Gasperini lasted just five games in charge of Internazionale. Four losses and one draw from those five games exposed the complete failure of the Inter players to adapt to Gasperini's tactics. Chelsea may be struggling to come to terms with Villas-Boas, but Inter went into complete meltdown. With an aging squad ingrained into 4-2-3-1/4-3-1-2 systems, Gasperini's attacking 3-4-3 was a complete culture shock for players and fans alike.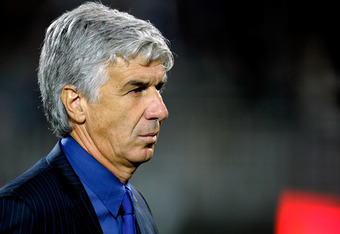 Claudio Villa/Getty Images
The biggest question mark was over Wesley Sneijder and where he would fit in, if he stayed. It was obvious Gasperini also struggled with this query, ineffectively utilizing the Dutchman in a variety of positions over the midfield four and the attacking three. Diego Forlan was brought in upon the back of yet another successful international tournament with Uruguay, but struggled to find his place in Gasperini's attack.
One man was a certainty to adapt to the new system, however. Diego Milito hit 22 goals in his final season at Genoa, thriving under the leadership of Gasperini. Restored to the front-line after an injury hit year in Milan, even Milito struggled for form as his teammates failed to adapt to the new system.
The similarities between the situations at Stamford Bridge at the Giuseppe Meazza are striking.
Both sides have been allowed to age without adequate replacements introduced gradually, as new managers struggle to maintain any real stability. Five managers since 2007 for Chelsea and four managers since Mourinho's departure in 2010 for Internazionale suggests Mourinho's shadow still looms heavily over both clubs.
The success he brought with both teams has deeply rooted a set belief in a number of players which may not be totally eradicated until the new managers are given time and money to introduce their own ideas. New Internazionale coach Claudio Ranieri has returned to the former systems produced under Mancini and Mourinho, while Andre Villas-Boas adapted a deeper "stand-off" formation for Chelsea's most impressive performance of the season, the 3-0 Champions League victory over Valencia.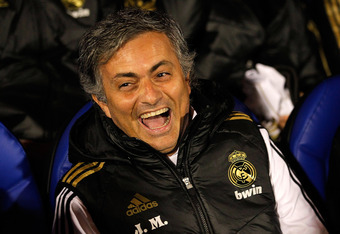 Angel Martinez/Getty Images
It is not clear how well Bielsa would have fared in an environment such as Internazionale. Instead he opted to join Athletic Bilbao—a club with a history of direct, typical British-style large strikers and long ball ethos. The arrival of Bielsa was therefore as surprising an appointment as there is, after the Argentine increased his reputation with a free-flowing 3-3-1-3 system during his reign in charge of the Chilean national team. His ethos took time to instil upon Athletic; his early attempts to transfer the 3-3-1-3 formation unto the Basque club proved fruitless. Changing to a 4-2-3-1 with Javi Martinez operating almost as an auxiliary libero turned around their fortunes, as the club rose to ninth at the turn of the year.
Bielsa's move to Spain brings us full-circle back to the Catalan giants of Barcelona, whose coach Pep Guardiola has confessed considerable admiration for the man nicknamed 'El Loco.' Guardiola's constant striving to improve and innovate through studious research and planning lends great tribute to Bielsa's legacy; the Barcelona coach visiting the Argentine for advice before embarking upon his coaching career.
At the beginning of the year the false nine looked set to dominate world football mainly due to the exceptional ability of one man, Lionel Messi. The sale of Zlatan Ibrahimovic to AC Milan opened up the central position of Barcelona's attacking trident, allowing Messi to embark upon his most successful season yet, notching an astonishing 53 goals and 24 assists as he led his club to domestic and European glory.
Dropping deep from the starting forward position and roaming to receive the ball enables the false nine to influence play from all area of the field, picking and choosing when to initiate attacks from a variety of angles.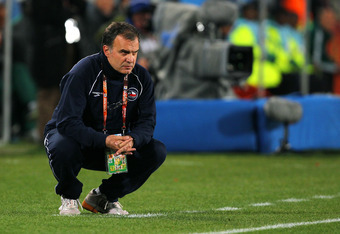 Clive Rose/Getty Images
Messi was not the only Argentinian working the false nine role to great effect. Carlos Tevez may have become a pariah in the second half of 2011, but his impact for Manchester City should not be forgotten. Undoubtedly the focal point of City's attack, Tevez fired City to Champions League qualification and FA Cup glory with 23 goals in 39 games.
With the change of season came a change in position for the two diminutive strikers. Cesc Fabregas and Alexis Sanchez joined the Catalan champions, while Sergio Aguero joined Manchester City. In a surprising move, Fabregas was placed into the false nine role, relishing his new found attacking license and thriving in a role with Messi supporting. When Sanchez eventually returned from injury he was placed as a more typical striker, playing in a focal advanced role with Messi as the supporting striker.
In Manchester, City brought about a more expansive 4-2-3-1 formation with the addition of Sergio Aguero. Tevez's current situation is an off-field matter, but his removal from the City team brought about significant tactical changes. Yaya Toure dropped out of the supporting striker position into a deeper, box-to-box role, David Silva now roaming into the areas once occupied by Toure and Tevez. Thriving with this space and supplemented by the higher-placed Aguero, David Silva is the leading candidate for Barclays Premier League Player of The Year.
Guardiola has instilled a pressing game throughout Barcelona, with the intention of regaining possession in the opponents' half as quickly as possible. The results have been a phenomenal success, with no side in the top divisions averaging higher possession rates than the Catalan club since Guardiola's appointment. Despite his success, Guardiola is constantly tweaking the winning formula which has won Barcelona 12 trophies since his appointment. As more academy graduates break through into the first team squad, 2012 will no doubt bring further revolution from Barcelona, while Jose Mourinho calculates their downfall.