2012 NFL Draft: Robert Griffin's Bowl Perfromance May Entice Browns, Holmgren
December 31, 2011
Ronald Martinez/Getty Images
With a final score 67-56, the 2011 Alamo Bowl was arguably the most exciting bowl game many have seen since the Boise State v. Oklahoma game in the Orange Bowl several years ago.
The scoring came quick, fast and in a hurry.  At one point, both teams combined for 21 points in roughly a two-minute span; 123 combined points, just two off the mark from being a bowl record. 
Are you kidding me?
Baylor alone tallied 777 yards of offense, with 482 yards coming on the ground.
Washington was no slouch either, totaling 620 yards of offense.  Together, these teams totaled almost 1,400 yards of offense—in one game.  Apparently, the defense didn't get the invitation.
But the reality is, it wasn't all QB Robert Griffin III all the time.  It was a legitimate team effort for Baylor.
Having said that, RGIII was all over the field in this game.  I particularly liked the block he threw the helped lead to a TD. See it here.
Pretty it was not, but it showed he's willing to mix it up.
RGIII finished his night going 24-of-33 for 295 yards and one TD through the air, and an additional 55 yards and one TD on the ground.  That means he accounted for almost half of the offensive production.
More importantly though, was his play when they were down, at one point by 18.  He never looked rattled, he never looked timid, and he never looked like the moment was too big for him. 
He did rise to the occasion, and he did look like a very legitimate top-tier prospect in the 2012 NFL Draft, and with that performance being the icing on the proverbial cake, I think he may have just cemented himself as a lock to be a Top-Five selection.
As I watched the game last night, I really wanted to try and analyze what it was I was seeing from him.  I wanted to thoroughly evaluate as many aspects as I could of his game (more on this later).
I also couldn't stop wondering if Mike Holmgren and Tom Heckert were watching the same thing.  Were they, like me, drinking a tall, cold Guinness watching in amazement?  What were they thinking?  Do they like him?
The real question for me though, was this: Do they like him enough to supplant Colt McCoy as the starter?
It's a very legitimate question, and one that I believe the answer to may actually be yes.
College games and a college football careers are one thing, rarely does success in the collegiate ranks become a clear and poignant indicator of NFL success or failure.
See: Gino Toretta, Ryan Leaf, Tim Couch, Troy Smith and of course, JaMarcus Russell, among others.
People have already started drawing comparisons to Troy Smith, the former Ohio State Buckeye, and 2006 Heisman-winning QB.  However, that's like comparing a Harley Davidson Soft Tail to a Ducati 999SS—they're both motorcycles, both fast, but absolutely nothing alike.
It really is that much different.
Troy Smith was a very good college QB.  RGIII is a fantastic college QB.
So anyway, I'm sitting there watching the game, jotting down some notes, rewinding, fast forwarding, rewinding again; I watched it as a coach would.  That led me to YouTube and other game sites to watch more film.  After five games of film taken in, I think I have a clear picture of who he is at this point.
And here's what I saw and how I'd grade him: 
Accuracy: 8.5
Throwing on the run accurately is very difficult to do, and it's a skill that, to be totally honest, not many athletes that play the position have.  When he's eluding pressure or on a designed sprint out or bootleg, he keeps that ball in the "cocked" or throwing position.
Watch the fourth play in particular
This is important because if the ball is too low, or high for that matter, making a throw with adequate velocity and accuracy becomes very difficult.  Not to mention, once his feet are set, he's immediately ready.  Taking extra time to "cock" is a killer in the NFL.
Notice too, how the ball comes out of his hand, the spiral is nice and tight more often than not, and I noticed the the flight pattern of the ball is not a "looping" or "arcing" pattern, rather, it's a tight line throw directly to the target.  Very good.
Also of note, is the fact that he can make throws accurately to every level of the field.  I would like to see some improvement in his out routes and possibly some additional touch, but it's all still very impressive.
Arm Strength: 9.5
This is potentially one of his most underrated strengths.  The kid has a gun.
We all saw that on the play that beat Oklahoma.  In case you didn't, watch it.
Notice the zip and tight spin of the ball; notice the ability to step up and make that throw on the move, all while avoiding pressure.  That pass was absolutely perfect.
A lot of people assume that with the system Baylor runs, RGIII is one of those guys who uses bubble screens, checkdowns or sprint dumps a lot, but honestly, that's not true. The guy can get the ball down the field, and he can deliver it with very good accuracy on a consistent basis.
Decision Making: 8
This is another area in which I feel RGIII is underrated. 
He's very smart at the LOS, and he typically will not make throws into spaces that are  too tight or double coverage.  His worst mistake this year, I believe, came against Texas A&M when they were down by 20 in the fourth quarter.  See that video here:
In this video, you can see what happens, and it happens to a lot of players that are supremely talented, they try to make plays happen instead of letting them develop.  And RGIII can sometimes do that, as his line play has been mediocre all season.
Overall however, I think his decision making is very good, and I think as he learns to let things develop, he'll become a better player.
Intelligence: 9
Many people don't realize this, but almost 80 percent of the time RGIII is not given a single play to call in the huddle.  He is actually given up to three plays at a time, and it's his responsibility to make sure that he reads the defense correctly. 
His pre-snap cadence includes not only the play being run, but also the "hot" routes for that particular play.  The system that Baylor is using is difficult, and it requires the QB to be smart and thoroughly understand the nuances of the system itself.
The importance of this cannot be understated.  The mental focus and overall understanding of the game RGIII must have to do this is nothing short of amazing.
Vision: 8.5
There are hundreds of videos one can watch that show the ability of RGIII to keep his eyes downfield and make the correct call as it relates to where the pass is going.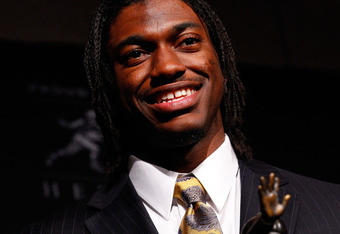 Jeff Zelevansky/Getty Images
Honestly, in some of their four wide sets, both from the shotgun and under center, RGIII is making the very same reads that Tom Brady and Drew Brees make when deciding between Jimmy Graham/Rob Gronkowski and Wes Welker/Marques Colston.
The thing that RGIII does better than maybe any QB in the draft is keep his eyes unaffixed.  What I mean by that is that he isn't locking on to a singular target or spot on the field.  He's continually moving his eyes, making adjustments, looking for safeties/corners and making good throws.
That is vision.
Mechanics/Pocket Presence: 9
RGIII does bring the ball somewhat below his shoulder on some of his throws.  That can be fine, or it can be a bad thing, depending on what the footwork looks like.  And this is where RGIII excels. 
His footwork is very, very good and definitely on par with Andrew Luck—maybe even better.  I'm watching Luck film now to confirm this.
He stands in, unafraid, and makes good passes under pressure without jumping or getting "happy feet," and he rarely throws from his back foot.  He routinely moves up into the pocket, which is as it should be, and delivers passes well.
For being a mobile QB, this is somewhat different.  Typically mobile guys never allow themselves to set because they're as focused on running as they are on passing.  This is not the case with RGIII.  When he's decided it's time to throw, he sets and throws.
The best mobile QB that ever did this was probably Steve Young or Randall Cunningham.  Although, Mike Vick is a very good passer when he sets as well.
From a mechanics standpoint, I think RGIII has some work to do with his drop steps.  He can sometimes get rushed in his drop, but with his high football IQ and ability to absorb coaching, this shouldn't be a problem.
He reminds me a lot of Michael Vick in the categories of arm strength and mobility.  From a throwing standpoint, I would say that he has a compact sharp delivery, which is what Drew Brees has.  Not saying he's Brees, but the delivery is very similar.
After having said all of that, I can't help but believe that there's someone in Berea that sees the same things, and probably more.
Is Robert Griffin better than Colt McCoy?  Yes.  Does he have higher upside?  Yes.  Is he the right QB for Cleveland?  I don't know for sure.
For the record, I don't think Cleveland should take a QB.  I personally believe that Colt McCoy is going to be a good player for the Browns once he has the help he needs and protection to allow him to utilize those weapons. 
Any QB, I don't care who it is, Manning, Brees, Rodgers or Brady, needs time and teammates to succeed.
But do you remember how I said earlier I think the answer was "yes" to whether or not the Cleveland brass might see fit to replace McCoy?
Here's why...
One position in Cleveland that has been surrounded with controversy and, really, a lack of a "face" is the QB position.  The Browns have had arguably more issues at the QB position than any other team in the NFL in the last decade.
Enter Robert Griffin III.
RGIII has not only the talent but also the intelligence and personality to be a game-, franchise- and culture-changing player at the most critical position on the field for any team.
He's that good.
And because of that, and the history in Cleveland with the QB position, I believe that Mike Holmgren and Tom Heckert could see fit to pull the trigger on selecting a QB.
Honestly, I have seen or heard nothing from Holmgren, Heckert or Shumur that would indicate that they believe in Colt McCoy, even though many in Browns Nation do, myself included.
If Cleveland does indeed decide to select Robert Griffin III in the draft, frankly, it wouldn't be a surprise.  And honestly, it won't be all bad either.  He's an impressive talent.
Remember, Tom Heckert has already stated that Cleveland will be looking to add "playmakers."
Right now, RGIII is one of the best playmakers potentially available in the upcoming draft.