Oakland Raiders: Why 2011 Season Was a Success, Playoffs or Not
December 31, 2011
Thearon W. Henderson/Getty Images
What qualifies as a success in the NFL?
Is it a lovable loser finally making the playoffs for the first time in 11 years (The Detroit Lions)? Is it an unorthodox quarterback revitalizing a moribund franchise and becoming the most polarizing figure in sports (Tim Tebow)? Or is hoisting the Lombardi Trophy after the season's final game the only true measure of success in the NFL?
Some might argue that every season ends with 31 teams failing, but I don't. If you would have told me in August the Oakland Raiders would have a shot at the AFC West title in Week 17, I'd not only call it a success, I'd be ecstatic—and many long-time Raider fans would agree.
So as we head into the biggest game in Oakland since the 2002-03 AFC Championship game, let's stop for a moment and consider the state of the Raider Nation.
Just think of what this team has overcome this season: Another new head coach; the death of the man who personified the Raiders, owner Al Davis; a season-ending injury to the only viable quarterback on the roster; a season-ending injury to a running back who was leading the league in rushing; Chuck Bresnahan as defensive coordinator.
Any of these developments could have easily doomed this team, but the Raiders persevered. Granted, it hasn't always been pretty, and it's hard not to look back on this season and ponder all the opportunities Oakland let slip away, but let's consider the facts.
The Raiders won't finish with a losing record for the second consecutive year
How quickly we forget, Raider Nation. It was just two years ago that the Raiders finished 5-11 (again), completing their seventh straight losing season. It still hurts to even think about it. This franchise was a laughing stock for most of this century before 2010. When Tom Cable famously said last season, "We're not losers anymore," it reportedly angered Mr. Davis, but I agreed with the Cable Guy: the Raiders were losers; but they're not anymore.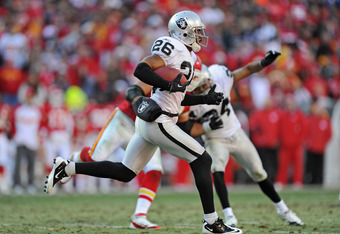 Peter Aiken/Getty Images
Win or lose Sunday, Oakland can't do worse than 8-8 this year. For a franchise that was in such disarray for the last decade, that's a huge step in the right direction.
Young talent has blossomed
The Raiders always draft the most gifted athletes, but they don't always develop into good pros (hello, JaMarcus Russell). But In 2011, Oakland's young players have exploded. Rookie wideout Denarius Moore has been stellar, as has much-maligned Darrius Heyward-Bey. Second-year offensive tackle Jared Veldheer has become an anchor for the offensive line, starting every game this year. And before his injury, Darren McFadden was being called the best running back in football by some analysts.
Even on the defensive side, where the Raiders have struggled, linebacker Aaron Curry has proven to be a great pickup, and the three-year veteran is still just 25 years old. These young players are a tremendous foundation the team can build on in the coming seasons.
The franchise quarterback is here
Carson Palmer can be a hard guy to love sometimes, because he can be so careless with the football. He's thrown some bad interceptions this year, but he's also made some spectacular throws.
When Jason Campbell was the starter, the team played a different style—run early and often, pass occasionally. Campbell fit that style, as he's very cautious with the ball, and whenever he actually completed a big throw, I was shocked. When he was on the field, I just didn't expect big plays from the passing game.
With Palmer, it's a different story: I've seen him make some incredibly accurate, tough passes. I feel confident that whenever he's on the field, a big play could come at any time–unfortunately, sometimes that big play is for the defense.
Palmer is under contract through 2014, only 31 years old, and Hue Jackson loves him (why else would he give up so much to get him): He's going to be here for a while. He's frustrated me this season at times, but I remain convinced he'll return to the Pro Bowl form next year.
He was thrust under center for a new team midseason and has had only 10 weeks with the playbook; give it a little more time. If Jackson could get the best out of Campbell, just think what he could do with Palmer, who is definitely more talented.
Overall, this season is shaping up to be a springboard into an even better season in 2012. With a full offseason and training camp, the offense will be more potent next season as the players and quarterback become familiar with each other.
As for the defense, if Bresnahan isn't replaced, we may be watching a lot of shootouts in the Black Hole. Either way, there's an exciting future in store for the Silver and Black.
Now, go and whoop the Chargers so maybe we can all come back and watch you next weekend!