New England Patriots: Home-Field Advantage Is Key to Super Bowl Run
December 31, 2011
If you know you have a rendezvous with Goliath, you might as well try and slay some giants along your path. And while you're at it, you might as well try and fight in a place you're comfortable fighting in.
In this case, Goliath is the Packers or the Saints. Both of these teams are better than the Steelers and the Ravens. So if we're planning on fighting over a Lombardi trophy with a superior monster from the NFC, we might as well take out some big monsters from the AFC and build up some muscle.
Last season, the Patriots had a great record and no muscle. We lost in the divisional round to an inferior opponent. It was a disgrace; the Patriots just weren't prepared.
Given last year's loss to the Jets, coupled with our unreliable defense this year, it stands to reason that any team in the AFC is capable of beating the Patriots in the playoffs. The last thing we want is a repeat of 2007, where we think the Patriots are ready for Goliath, and they're not.
The best way to find out the true identity of this Patriots team is to put them on the hot seat. Beating inferior teams on the road isn't true preparation. The Patriots need to play against great teams on their own field, in front of us.
Three years without a playoff win has left Patriots fans in a strange state of limbo; we're afraid of getting burned again.
Losing to the Bills, the Steelers and the Giants earlier this season discouraged a lot of Patriots fans. We need to know where this team stands. And the Patriots need to know where their fans stand.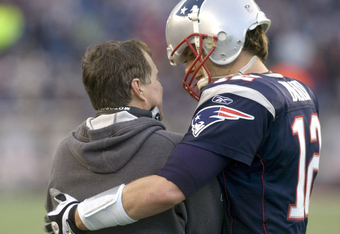 We can't be afraid to play against great players. Everywhere I go, people are telling me to fear Ray Rice, Ray Lewis and Ed Reed. They tell me to hope my team avoids Troy Polamalu and Antonio Brown.
But why?
If I was a Broncos fan, yeah, I might want to avoid a confrontation with Mike Wallace and Rashard Mendenhall. But this is Tom Brady, Wes Welker and Rob Gronkowski we're talking about. They can take it, and Patriots fans can take it, too.
Back in 2007-08, Boston Celtics fans were told to fear LeBron James, but I wanted that matchup. I hungered for it. I had to know where the Celtics stood if we expected to eventually beat Kobe Bryant and the Lakers.
I knew the Celtics were ready to win a championship as soon as they beat the Cavaliers in the conference semifinals. That victory meant everything. We were ready to beat the Lakers.
How much confidence are we expected to gain from the Patriots beating teams like the Bengals, Broncos, Raiders, Titans, Jets or Texans? Yeah, a win is a win, but it gives us no indication of their potential to beat the Packers.
A playoff fight with the Steelers or the Ravens will tell you where this Patriots team stands. And because of that, home-field advantage matters.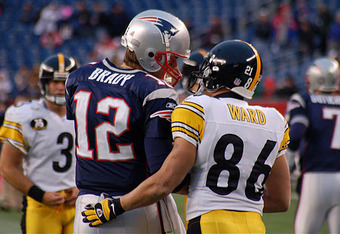 Traveling on the road this season cost the Ravens four games, and three for the Steelers. Playing at Gillette Stadium is a small but sweet leg up for the Patriots. Not because of their statistically-proven dominance at home, but because this monkey needs to be shaken off their backs in style.
Three years without a playoff win is a drought. And when you add a lost Super Bowl to the mix, you have four years of total misery. When the Patriots win the divisional round, I want to see it in person. When they win the AFC Championship, I want to see it in person.
Like it or not, this whole drought has become mental. The Patriots won't just be fighting against teams in the playoffs, they'll be fighting against a psychological obstruction. The lingering scent of disappointing seasons past will haunt each game, and home-field advantage will help to overcome those demons.
It's time we ask ourselves what we want and what we expect from this Patriots team.
If our greatest ambition this season is to win one or two playoff games, then yeah, venturing out on the road to play weak teams is fine. The Patriots can beat weak teams anywhere.
But if our goal is to win a Super Bowl, then the Patriots need to be battle-tested. The Celtics stormed back from a 35-14 first-quarter deficit in Game 4 of the NBA Finals at Staples Center because they were mentally and physically rock solid.
The Patriots need to play tough teams, and they need to have the advantage of playing at Gillette Stadium. I'm not preparing myself for Tim Tebow and Andy Dalton, I'm preparing myself for Ben Roethlisberger and Joe Flacco.
And Aaron Rodgers, of course.