Fantasy Football Week 17 Injury Updates with Fantasy Advice
December 31, 2011
Tom Pennington/Getty Images
As you all know, things can change before Sunday kickoff so be sure to check back as we will be updating injury statuses throughout the weekend and then every 10 minutes starting at 11:30 Sunday morning up until the 1:00 kickoffs. We will then check back in with updates starting at 3:00 for the late games.
Click here to see our week 17 Injury chart for all fantasy relevant players.
As we approach the final week of the regular season, fantasy owners will have to monitor the injuries as well as each team's motivation to ensure that you don't have a player that is riding the pine in your starting lineups.
Houston is locked into the No. 3 seed in the AFC and Green Bay has clinched home-field throughout the playoffs in the NFC, so expect a lot of reserves to see significant time for the Packers and Texans.
The AFC North and No. 2 seed (first round bye) are up for grabs so Baltimore and Pittsburgh will be motivated to win (both have 4:00 games). The Bengals host the Ravens and a win gets Cincinnati in. In the NFC East it's winner take all on Sunday night as the injury-riddled Cowboys look to avenge their week 14 home collapse against Eli Manning and the Giants.
You can see all the Week 17 playoff scenarios here.
Here is our take on the varying degrees of motivation for teams in the playoff hunt.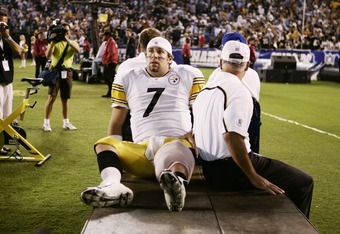 Donald Miralle/Getty Images
AFC
1. Patriots: Clinch the No. 1 seed with a win.
2. Ravens: AFC North and bye on the line.
3. Texans: Nothing to play for. A.J. Yates and Arian Foster should at least play a half.
4. Broncos/Raiders:  Denver wins division with victory.
5. Steelers: 4:00 kickoff and need a win and Ravens loss in Cincinnati for division.
6. Final Wild-Card: Cincinnati holds one game lead—Oakland, NY Jets, Tennessee also alive.
NFC
1. Packers: Home-field secured—expect Matt Flynn to get bulk of snaps under center.
2. 49ers: Holds tiebreaker on Saints and clinches first round bye with a win—should throttle St Louis.
3. Saints: Expect all Saints to play to win.
4. Cowboys/Giants: Winner takes NFC East division and loser packs bags.
5. Lions: A win against Green Bay's backups clinches fifth seed.
6. Falcons: If Detroit wins at 1:00, the Falcons get No. 6 seed and likely face the Saints. If Lions lose—Falcons will go all out to win at 4:00 against Tampa.
Many backfields have been decimated by injuries. DeMarco Murray's week 14 broken ankle opened the door for Fragile Felix Jones to garner a week 15 start, but a hamstring injury sidelined him in the second half. Jones only saw four carries in a meaningless week 16 game but is expected to start Sunday night in a must-win game (Sammy Morris could split carries).
The Bears' Khalil Bell posted yet another solid performance in week 16 and should get the start in Minnesota (heir apparent to Matt Forte?). CJ2K is battling an ankle injury but should start against an unmotivated Texans team that could have the B-team starting. Jamie Harper is worth stashing if you have the roster space. Rookie Roy Helu laid an egg in week 15 and sat out week 16 (battling toe and ankle injuries). He's expected back this week against Philadelphia but a timeshare with Evan Royster is likely. The Chargers will look to play spoiler in Oakland and might be forced to start bulldozer Mike Tolbert as Ryan Mathews was limited in Friday practice.
There are multiple injuries to monitor at the WR position. Vincent Jackson was limited by a groin injury in week 16 and with the Chargers eliminated from playoff contention the pending free agent is expected to start but his snap counts could be limited. Anquan Boldin required minor surgery and will miss week 17 but is expected to be back for the playoffs.
Tom Brady (shoulder) and Big Ben (ankle) vow to play but it's unclear how long either player will remain under center as their respective teams' playoff hopes hinge on their health. Tony Romo's swollen hand has healed enough that it appears all systems go for the game of the week on Sunday night as he looks to dispel the choke-artist label (for his sake let's just hope the game doesn't come down to a Dallas field goal).