WWE RAW House Show Review: 12/29/2011 at the Verizon Center, Washington, D.C.
January 1, 2012
If you're a pro wrestling fan and you've never been to a house show, it's a trip you need to take.
As several articles on Bleacher Report have said in the past, you see things at house shows you don't normally see when RAW or Smackdown! are taping.
Let me preface this review by saying that this is the first wrestling event I've covered. While I've had press passes to many other events, I haven't kept up with wrestling in recent years. Not to date myself, but the last live wrestling show I attended was WCW Monday Nitro back in 1999.
But I had a chance to see the RAW house show at the Verizon Center, and thought it might be fun. And for the most part, I was not disappointed.
Let me give you a rundown of the show:
Miz Promo:
The Miz came out and cut a pretty interesting promo, talking about the uselessness of other WWE Superstars, namely John Cena and CM Punk. Before he got too deep, R-Truth came out and gave him a beating. It seems like this feud is going to be heating up.
I'm not sure how I feel about that, but, on the other hand, this is better than seeing R-Truth parade around like a fool about a "conspiracy," so I'll wait to see how this plays out.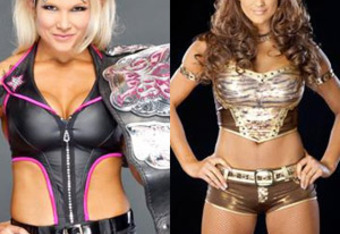 10-Man Battle Royal:
This battle royal was to decide who would face Zack Ryder for the United States Championship. It included Santino Marella, Alex Riley, Dolph Ziggler, Tyler Reks, David Otunga and a bunch of other guys I've never heard of.
Santino actually outlasted 8 other wrestlers, but, in a classic heel move, Dolph Ziggler had slid under the bottom rope and hid under the apron. While Santino celebrated, Dolph sneaked up behind him and took him over the top rope.
Winner and No. 1 contender for the United States Championship: Dolph Ziggler
Beth Phoenix(c) vs. Eve Torres for the Divas Championship
The only thing interesting thing about this match was that The Bella Twins served as guest referee and timekeeper. Also, one of them touched me. I can die happy now.
But I digress.
The match was decent, but not great. Each diva had some moves. Beth has crazy power and Eve's somersaults are amazing. Eve hit a moonsault and went for a pin, but Brie (or Nikki, I have no clue which is which) couldn't count to three because her "hand hurt."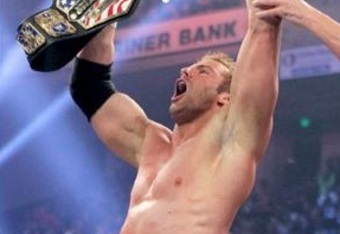 An argument ensued. Beth hit a Glam Slam (I think it was a Glam Slam, the beer cart was coming around and the match was just not interesting), and got the pin. Then Beth and the Bellas ganged up on Eve, but Kelly Kelly (wearing a Washington Capitals jersey...never seen that jersey look that sexy) came to save the day.
Also, Kelly Kelly blew me a kiss. Well, a kiss in my general direction. I'm saying it was mine. End of story.
Winner and STILL Divas Champion: Beth Phoenix
Following this, Howard Finkel introduced Mick Foley, who, as expected, got a huge pop. After he talked for a while, Jack Swagger came out and interrupted him, demanding a match. Foley responded by bringing out Jerry 'The King" Lawler.
Jack Swagger vs. Jerry Lawler
This was not very interesting at all. All the normal stuff happened.
Lawler had the upper hand. Swagger had the upper hand. Swagger went outside the ring and sucker punched Foley. Eventually, Lawler gets the win.
Swagger then puts Lawler in an ankle lock allowing Foley to jump in, pull out Mr. Socko and perform what we know is the nastiest Mandible Claw in existence. Good job.
Winner: Jerry "The King" Lawler
Santino Marella vs. David Otunga
This match was surprisingly well-performed. While you do have to suspend disbelief  to accept that someone like Santino Marella can throw around someone as huge as David Otunga, they both are actually really skilled.
There was no outside interference and after the match Marella brought a few kids from the crowd into the ring to do his "trombone" dance, or whatever it's called. I thought that was pretty cool.
Winner: Santino Marella
Zack Ryder (c) vs. Dolph Ziggler for the United States Championship
Can we PLEASE get rid of Vickie Guerrero?? She is just unbearable. And the fact that her only known quality is being horribly annoying should warrant dumping her.
She came out to introduce Dolph Ziggler, but, honestly, between her shrieking and thousands of people booing her, I didn't understand a word she said.
The match was performed very well. Ziggler lived up to his new "show-off" personality by stopping to talk to fans or flex after any half-way decent move, leaving room for Ryder to counter him several times.
Finally, as he prepared to go for the Rough Ryder, Vickie grabbed his legs from the ring apron and sends him to the ground. She's thrown out of the arena by security, but this gave Dolph enough time to recover and take advantage. He hit the Zig Zag and got the three-count.
The bell rings and the belt is awarded to Ziggler, but the ref notices that Ryders foot was on the rope the entire time. He restarts the match, and as Ziggler complains, Ryder hits the Rough Ryder and gets the pin.
Winner and STILL United States Champion: Zack Ryder
John Cena vs. Kane
This match isn't even worth my time. Cena came out and got a huge pop along with a lot of boos. Being at the show told me that John Cena is only loved by women and children; every male over 13 years was booing him.
And everything about his entrance was corny. I shudder to think what would have happened if Cena was thrown to the wolves during the Attitude era.
Kane is huge and Cena is untalented, making this match painful to watch live. Kane still has some moves, and even though Cena shined at some times, he also looked downright horrible at other times.
The match ended when Kane hit Cena with a steel chair. After the DQ, he choke slammed Cena and walked out of the ring.
Then, FOR NO REASON AT ALL he walks back into the ring, and Cena, who had been comatose a moment ago, gets up at full strength and hits the AA.
Once again, more chants of "Lets go Cena!/Cena sucks!" Sometimes one was louder than the other, but, for the most part, they were even.
Winner by Disqualification: John Cena
Steel Cage Match: CM Punk(c) vs. The Miz for the WWE Championship
The Miz came out first, and, as soon as he began to speak on the mic, CM Punks' music hit. He got a HUGE pop, much bigger than I expected.
The match went back and forth several times with both men having the upper hand for a good amount of time. There were a few great highlights, such as Punk slingshotting Miz into the cage and Miz hitting an amazingly executed DDT in the center of the ring and coming literally INCHES away from getting outside the cage (he had one foot down outside after scrambling through the door).
I especially enjoyed Punk hitting the "Randy Savage" flying elbow from the top of the cage. All in all, this may have been the best match of the night, as both men displayed the skills, agility and professionalism that allowed each of them to hold the belt at some point in 2011.
The match ended with CM Punk hitting a picture-perfect Go To Sleep in the middle of the ring for the pin. After the match, Punk went through the crowd and hung out and interacted with a lot the fans.  Good stuff.
Winner and STILL WWE Champion: CM Punk
For what it's worth, it was a great show. The live tapings are great, but, if you ever have chance, see a house show.
Yes, you'll see a lot of people that you've never heard of, but you'll probably also see a future main eventer or two. If you're a wrestling fan, you've got nothing to lose.
Alex Watley
Twitter.com/GuiltyWatts
www.thevoiceofthefan.com