Detroit Lions and the Wrath of the NFL Officials: What's Up?
January 2, 2012
Scott Boehm/Getty Images
"Lions get the short end of the stick alot...I wonder what's really going on. Happens to much"
That was a tweet sent last season by Visanthe Shiancoe, a divisional rival of the Lions. Perhaps it is time that someone from the NFL answer his question. What really is going on?
I have been a sports fan for nearly half a century and am a lifelong Detroit Lions fan. Over the years, I have seen many cases of sporting events being decided by bad or blown calls. It happens. The officials are human and they make mistakes. That is just a fact of life.
There are also cases where the speed of a play when live causes it to look one way, but with the luxury of replay, another story emerges via slow motion, frame-by-frame analysis. 
A perfect example of this would be last season, when Ndamukong Suh chased down Jay Cutler and leveled him from behind. Referee Ed Hochuli flagged the Lions tackle for an illegal hit. At full speed, the only speed Hochuli had a chance to see, it looked like it might be a penalty. On replay, it is obvious that it was a legal play. It kept a drive alive that probably cost the Lions the game, but mistakes happen, and that was an honest one.
Of course, the next day, someone from the NFL called the Lions and Suh to apologize for the error, right? Not exactly. Ndamukong Suh was fined $15,000 for doing his job, playing within the rules and between the whistles. Welcome to the NFL, rookie!
As I said previously, I have seen a lot of games, and I've seen a lot of bad officiating, but I have never seen anything like what the Lions have gone through over the course of the last few years.
As every sports fan knows, the Detroit Lions are the only team in NFL history to finish a season at 0-16. That 2008 season wasn't only the result of being a terrible team.
Most sports fans, however, didn't watch every play of every game that season. I did, Make no mistake, they were a terrible team, the culmination of Matt Millen's reign of error and a band of castoff players who didn't match the system led by a coach who was in over his head and assisted by a staff that thought they could do better. But even they needed help achieving their perfect record of absolute failure.
Tom Pidgeon/Getty Images
2008 is too far removed for me to recall the exact details, especially given the successes of the 2011 season, but the number four does stick in my memory. That is how many wins I, and many of the Detroit faithful, reckoned the Lions would have had if not for some truly horrible officiating. I also recall many subsequent discussions with fans of other teams who agreed with that assessment, but invariably added that when a team is that bad, their opponents will always get the calls going their way.
That idea offends my innate sense of fairness to the core and goes against everything I believe sports should be. However, I swallowed hard on that bitter pill, knowing that someday, my favorite team would be good again and the playing field would level itself out.
2009 brought new coaches and a lot of new players. The Lions won only two games, but instead of being angry about some of the bad calls changing the outcome of games, fans could see how much better this team was. There was hope. Along with feeling good about the future of the team, I believed that our dysfunctional relationship with the NFL officiating crews would also improve.
2010 opened with more optimism for Lions fans than any I can remember. Our young quarterback, Matthew Stafford, was playing well through the preseason, and it looked like the Stafford-to-Calvin-Johnson connection was going to take the league by storm.
Then, Stafford was injured, but instead of collapsing as they had so many times in the past, this Lions team battled back. With 30 seconds left in the game, backup quarterback Shaun Hill found Calvin Johnson in the end zone for the winning touchdown. The new Detroit Lions had found a way to win in a situation where they had lost so many times before.
Detroit fans rejoiced...for about 10 seconds.
Referee Gene Steratore not only found an obscure rule that negated the game-winning TD, he completely misapplied it. While Chicago fans, paid spokesmodels for the NFL, and Fox officiating apologist Mike Pereira all still defend the call, it was a bad rule that didn't even apply to the play it was used on.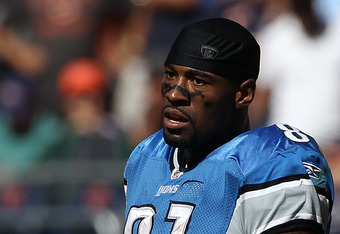 Jonathan Daniel/Getty Images
That season saw a clown car parade full of bad calls that robbed the Lions of wins. Besides the birth of the travesty known forevermore as the "Calvin Johnson Rule" and the Jay Cutler mistake, there was the Marion Barber tackle by Suh that was wrongly called a horse collar in Dallas and an eye-popping list of non-calls on opponents.
Here we are at the end of the 2011 season. Just three years removed from that winless season, the Detroit Lions have finished the season at 10-6 and will be playing their first playoff game since 1991 this coming Saturday when they face the New Orleans Saints in the Superdome.
Instead of being elated at this turn of fortune, I would guess that most Lions fans woke up Monday morning feeling, with apologies to Leonard Cohen, like their mama or their dog just died. 
Not only hasn't winning caused the playing field to level out, it has become much worse. A season that was filled with offensive lines basically tackling our defenders with impunity, repeatedly getting flagged for ticky-tack issues that seem to be allowed for nearly everyone else, just culminated in one of the most blatant examples of officiating thievery that I have ever witnessed as the zebras took touchdowns off the board and gave the other team the ball by seeing fumbles that didn't occur while not seeing ones that did.
Now, the Lions are heading into New Orleans, a place where they had a much-discussed meltdown of epic proportions on national television just a few weeks ago. What wasn't much discussed was how badly the game was being officiated prior to that huge meltdown. The Saints were a better team that night on their own and probably had no need of any assistance from the officiating crew, but were getting it anyway. I expect that will be the case again on Saturday.
So, this brings us back to Shiancoe's original question; What's really going on? Why are the Lions getting jobbed by the officials so much that fans of other teams, and even opposing players, have taken notice? Why has the NFL even gone so far as to fine players for bad penalties that the tape show never happened? Did Barry Sanders beat Goodell's favorite team too often when he was a kid? Are the officials just completely incompetent, or are they being paid off by gamblers?
I have heard theories ranging from it being Jim Schwartz's fault to it being a vast conspiracy. None of then hold enough water. I don't know why the Lions have been singled out the way that they have, but it is obvious that they are on the wrong side of the officiating crews for some reason, and I think that we're all owed the answer to a very simple question.
Mr. Goodell, can you please tell us what's really going on?