Fantasy Football 2012: Analyzing First Round Mock Draft Picks
January 2, 2012
Ezra Shaw/Getty Images
With the 2011 fantasy football season in the bag it's time to start looking to 2012. For some, it's never too early to start preparing for next season. In fact, you should've been taking notes all season on particular players and their production, or lack thereof.
For example, Oakland Raiders running back Michael Bush will be a free agent and may be with another team next year. He's likely to be a guy that will be plucked off the boards way too early. He started off strong replacing an injured Darren McFadden, but as the season wore on he wore down—something to note for next year's fantasy drafts.
Speaking of next year's fantasy draft, here are the top-12 picks for a 12-team, non-ppr league.

1st—Aaron Rodgers, QB, Green Bay Packers
Whoever has the first pick of next year's draft needs to be like the guy in the State Farm commercial and be screaming "Raaahhjers!!" with a cheese-head on. Rodgers is good for at least 20 points a week and is surrounded by talented receivers. 
It's time to scrap the practice of taking a running back first and go with a strategy that will get you the most points each week. Securing a guy like Rodgers on your team will just about guarantee you a playoff spot—that's assuming you don't completely botch your remaining picks.
 

2nd—Drew Brees, QB, New Orleans Saints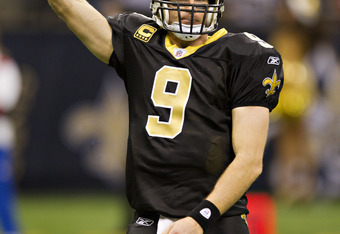 Wesley Hitt/Getty Images
Brees is another consistency king in fantasy football. And when it comes to your first-round pick you want that in your starting lineup each week. Quarterbacks are less likely to get hurt than that running back you're thinking of taking in the first round.
With Brees, you have to watch what the Saints do with Colston. If he suits back up with the Saints, then Brees won't skip a beat. If Robert Meachem becomes the No. 1 wideout in the Bayou, then you may want to move Brees down a few notches.   

3rd—LeSean McCoy, RB, Philadelphia Eagles
Prior to the start of the 2011 regular season, Philly's offensive line looked suspect. It was enough to keep McCoy going in the first round of many leagues. 
After watching McCoy do 20 touchdown dances this season, I'm a believer that he's the top running back for 2012. We certainly know that the preseason thought that Michael Vick will vulture rushing touchdowns was misplaced. Vick had one, in Week 15. 
And if the Eagles add a competent defensive coordinator, Philly will be playing with much better field position this year, which will only add to McCoy's value.

4th—Maurice Jones-Drew, RB, Jacksonville Jaguars
The knock on Jones-Drew was that he had a bum knee. One NFL rushing title later, he's proven that his knee is just fine. And so will you be if you are able to land MoJo on your team in 2012.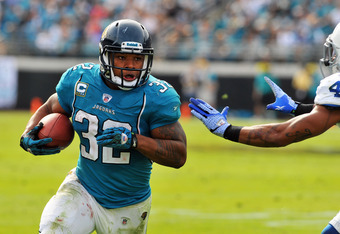 Al Messerschmidt/Getty Images
MJD is one of the few remaining work-horse backs in the league. His backup, Deji Karim, received 63 carries over the course of the season. To put that into perspective, Blaine Gabbert received 48 carries.
In other words, you know that Jones-Drew will get the rock a ton, and most importantly he's the Jaguars only real option at the goal line. 

5th—Arian Foster, RB, Houston Texans
Despite being plagued with a hamstring filled with anti-awesomeness, Foster compiled 1841 total yards and 12 touchdowns. This with arguably the best backup running back chomping at his heels every game. Ben Tate came this close to eclipsing the 1,000 yard rushing mark. 
Foster will slide down draft boards because of Tate and deservedly so. But make no mistake, he will still finish in the top-5 among running backs by the end of 2012. 

6th—Ray Rice, RB, Baltimore Ravens
Rice will be the last of the unquestioned first-round running backs off of draft boards. The only thing holding Rice back from being considered the top running back in the league is the Ravens' coaching staff. 
There were games this year (Jacksonville & Seattle come to mind) that Rice was left out of the game plan. That's unforgivable. Especially when you turn the offense over to Joe Flacco. Flacco averaged over 40 pass attempts in the first nine games—he averaged 25.9 in the last seven games. Ravens went 6-1 during the last seven. The Ravens took the ball out of Flacco's hands and secured a playoff spot.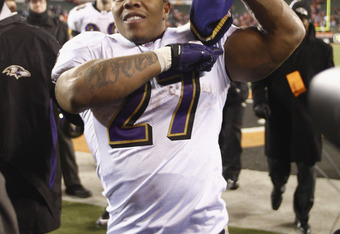 John Grieshop/Getty Images
It's clear that the Ravens need to have Rice as the centerpiece of their offense. And with a mid-first-round pick, so should you.

7th—Tom Brady, QB, New England Patriots
Brady makes the first round for cautious owners—those owners that want to see their first round pick play each week. Some might start to look for Calvin Johnson here, but Brady will pack more punch and be a safer bet not to get hurt.
Besides, at the 7th spot you won't be able to get another quarterback that will approach 40 touchdowns once Brady is off the board. Matthew Stafford is the only other one and he's likely to be gone late first, early second round. 

8th—Calvin Johnson, WR, Detroit Lions
Many will just look to Johnson's final stats and draft him in the top-5—that would be a mistake. 
Calvin Johnson started the season at a break-neck pace. His record-setting performance of having nine touchdowns in the first five games was a fantasy owners dream. The next eight games though, Megatron saw the end zone only three times. Defenses caught on (no pun intended). 
If you have a late-first round pick, you should wait for someone else to pickup Calvin. While he is a freakish talent and arguably the best wide receiver in the league, for fantasy purposes, others can do what he does for a cheaper price.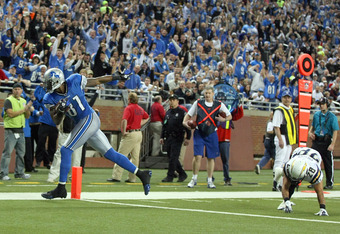 Dave Reginek/Getty Images

9th—Andre Johnson, WR, Houston Texans
Andre Johnson should be the next wide receiver taken off the board after Megatron. Andre's hurt hamstring may cause him to slip much later than the ninth pick but he's worth it here. 
With the Texans securing their running game with Foster and Tate, and showing that it is one of the best in the league, defenses will be vexed at stopping Johnson.
The knock on Johnson is his low touchdown totals, which is something to consider. But with only Foster there to take away receiving touchdowns, Johnson will have ample opportunity. And that's what winning in fantasy football is all about—opportunity.

10th—Matt Forte, RB, Chicago Bears
Forte is likely to be hit with the franchise tag so signs point to him being back in Chicago for what would be considered a contract year. Because of his injury, Forte won't be on many fantasy radars for a first round pick, but he should be. 
Forte was leading the NFL in yards from scrimmage for much of the beginning of the season. He was a reliable RB1 and an every down back. The problem with Forte is his ability to get into the end zone, which many owners will have to consider. Nevertheless, he's worth a pick late-first round. 

11th—Matthew Stafford, QB, Detroit Lions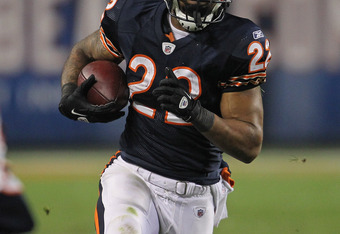 Jonathan Daniel/Getty Images
In all of the Drew Brees noise this year, Stafford and his 5,000+ yards have been overlooked. And his 41 touchdowns seem like a distant third to only Brees (46) and Rodgers (45). And for many, Cam Newton will be a better pick here than Stafford.
They got it wrong. 
For the believers in Michael Vick last year, his allure was his ability to run and add points through rushing touchdowns. Opposing teams, after watching film and game-planning all offseason, shut Vick down. The same will happen to Newton. 
Stafford is the better pick. He's surrounded by superior talent, has a better arm and takes a lot less hits. 

12th—Larry Fitzgerald, WR, Arizona Cardinals
This pick is for the owners who are looking for consistency. And at the 12th pick of the draft, you need consistent players because you are without high scoring options like Rodgers, Brees or McCoy. Fitzgerald fits the bill.
Fitzgerald is a lock for 1,000-plus yards and at least eight touchdowns. With the quarterback carousel of Kevin Kolb and John Skelton, Fitz still was fourth in the league in receiving yards behind Calvin Johnson, Wes Welker and Victor Cruz. 
Having back-to-back picks makes it essential that you don't lose out on any pick. At the end of the draft, getting two consistent wide receivers like Fitzgerald and possibly Wes Wekler or Greg Jennings is key. 
Because of the high number of committee backfields in the league, snagging a 1,000 yard rusher won't be too difficult in the third and fourth rounds. Guys like Beanie Wells will be waiting.

Notable absences—Adrian Peterson (likely to start on PUP list), Cam Newton (see above), Darren Sproles (Top-10 running back in return yardage leagues), Roddy White (see, Julio Jones), Michael Turner (burned out), and Chris Johnson (CJ1K not as exciting).