Patriots vs. Giants: Why a Super Bowl Rematch Might Be Closer Than You Think
January 4, 2012
My father was born and raised in Boston. He's a Celtics man, a Patriots man, a Red Sox man and a Bruins man. But growing up, he was also a Giants man. Or a Giants kid, I suppose.
This might sound treasonous on the surface, but he wasn't alone. Before the Patriots became an AFL team in 1960, New England natives rooted for the Giants. Many even continued rooting for them after 1960.
Even to this day, my father has a hard time speaking ill of the Giants. He refuses to trash-talk them. And when the Giants play any team besides the Patriots, he roots for them.
I didn't inherit that gene. When the Giants play, I hope they get crushed. If the Giants played the Lakers in a game of cricket, I'd probably wear a Kobe Bryant jersey to the match.
But you'd be surprised how many New England fans still have a soft spot for Big Blue. Especially adults who were around way back when. They considered the Giants their home team.
Flash forward to 2007-08.
Super Bowl XLII.
It's the third quarter. Tom Brady has been sacked, mauled, hurried, beaten to a pulp and mentally drained all game. He's seeing pass rushers in his head.
Michael Strahan says to Osi Umenyiora, "I can see it in his face, he don't know what to do."
Eli Manning takes the field, one drive away from winning or losing. And he wins it.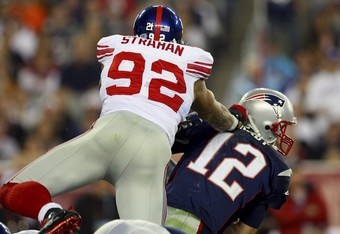 And he did the same thing earlier this season in Week 9.
In both Super Bowl XLII and Week 9, my father rooted for the Patriots. But he didn't seem overly devastated or angry that the Giants won. And that, right there, is why the rivalry exists.
It's also why another Patriots vs. Giants Super Bowl should concern us.
Without rhyme or reason, the Giants are New England's kryptonite. We could spend an hour filtering through the stats and discussing the technical reasons behind this. But the truth is, the Giants simply have the Patriots' number.
It's a chemical thing. They hate the Patriots. That's the only stat worth knowing.
While the 49ers and the Saints were busy putting together dream seasons with dramatic flair and record-breaking numbers, the Giants were quietly assembling a team that's better than their 2007-08 Super Bowl squad.
Jason Pierre-Paul, Hakeem Nicks, Ahmad Bradshaw, Mario Manningham and Victor Cruz are all playing at an elite level. On top of that, they've got Michael Boley, Prince Amukamara, Brandon Jacobs, Justin Tuck and Eli Manning.
So while everyone else is debating whether or not Alex Smith has the stones to lead the 49ers back to prominence, or if Drew Brees can complete his dream season, or if Aaron Rodgers can repeat, I'm wondering why everyone's betting their chips against the Giants.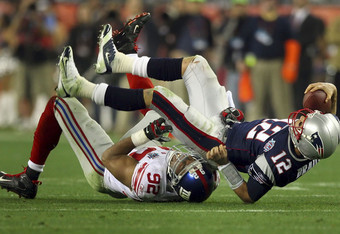 I'll tell you the truth, point blank: the Giants are fantastic. And with a wild-card matchup against the flimsy Falcons, they're already headed to the second round.
This is a team that showed up to Super Bowl XLII wearing all black because they were headed to a funeral. Don't let their last few disappointing seasons distract you from the current reality: the Giants are strong, alert and tough as nails.
Every game has a fourth quarter. And when Eli Manning is in that fourth quarter, the Giants are still alive. They're a team that thrives on still being alive.
Had the Patriots buried the Giants in 2007, this wouldn't be an issue. Tom Coughlin probably wouldn't be their head coach right now, Eli Manning might not be their starting quarterback and the Patriots would be 14-2 instead of 13-3.
The Patriots also would've transcended their "dynasty" title and entered sports lore as the greatest team in history.
The Giants have rewritten the history books before, and they can do it again.
The impact of Super Bowl XLII lingers. Tom Brady has a tremendous blemish on his record, Eli Manning has a Super Bowl MVP to his name and the Giants are once again sneaking up on people.
Don't be one of those people. Recognize the coming storm.
When I think back to the Giants vs. Patriots game earlier this season, I'm haunted by the look on Tom Brady's face. It looked like he didn't want to be out there playing football. It was a mixture of disgust and a yearning for total avoidance.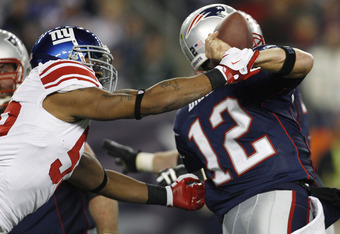 The sight of those white and red uniforms hits Brady on a psychological level that he won't admit, but it does.
Analysts say Tom Brady hates the Jets. They say he hates the Steelers and the Colts. I don't think that's true. The team Tom Brady despises is the New York Giants.
New England's offensive line is mashed potatoes against the Giants, and Brady knows he's most vulnerable against Big Blue. They're in his head before the game even starts.
It all comes down to hatred. They hate us, and we hate them. But the lingering allegiance of some New England fans to Big Blue is what complicates this whole mess.
The Boston vs. New York rivalry is truly epic, and another Giants vs. Patriots Super Bowl will only make it worse.
So for everyone biting their nails over the Steelers, the Ravens and the Packers, don't. Bite your nails over the Giants.
Personally, I'm conflicted about a potential Super Bowl rematch. Part of me knows that the Giants have the best chance to beat the Patriots in Indianapolis. Although the Saints and the Packers are the best teams in the NFC, part of me would much rather play them than the Giants. Skip the rematch, avoid it, bring on Green Bay or New Orleans.  
But there's another part of me that secretly lusts for this rematch. A fourth Super Bowl win for the Patriots would be wonderful, but getting it off the backs of the New York Giants would transcend the ring and the banner. It's the difference between winning an NBA championship, and winning an NBA championship by beating the Lakers.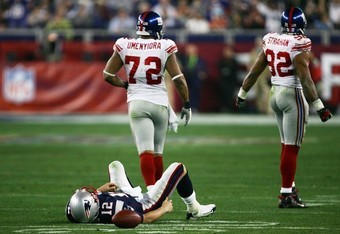 It's a question of what Patriots fans prefer: total avoidance, or total vengeance.
The Giants are right where they want to be; they're underdogs who are being completely ignored by everyone. They can't live up to positive hype, so the negative hype puts them in a great position to upset everyone on their schedule. 
Don't be swindled into thinking that Drew Brees' record-setting year means a thing to Eli Manning. It doesn't. Neither does Aaron Rodgers' magical year. The Giants use the achievements of others as motivation. It's their primary source of strength.
The Giants don't care about anything except beating Boston. In that respect, they're a true New York team.