Arsenal FC: Making the Case for January Transfers
January 5, 2012
As the January transfer window opened, supporters of clubs around the world have looked to their teams to consolidate their rosters or bring in valuable additions to support their push for success in their respective leagues.
While hardly matching the scope of movement that occurs during the much longer summer window, some important moves have been made by clubs in January that have either rekindled their fires or sounded their death knells.  In that same vein, so too has inactivity signaled the end of a team's championship aspirations.
Enter Arsenal Football Club and Arsene Wenger, a successful club with a frugal but highly respected manager who rarely splashes cash at all, let alone during the winter window.  To be fair, "Le Prof" has bought this season (a spending spree capped the end of the summer window in 2011) and has sprung a surprise or two on the Gooners faithful in January before (Arshavin, £15 million in 2009), so it's not outside of the realm of possibility for him to sign once more.
Wenger has openly stated that he will only buy "outstanding" players this winter and has indicated that it is more likely to buy in attack than anywhere else, going so far as to say that he is only looking for a defender on loan and not to buy.  
As much as I respect Arsene, in this he should change his tune and consider splashing the cash to bring in quality before other teams beat him to the punch (Juan Mata was an excellent example during the summer).
I have seen, in plenty of other articles, the rationale of people claiming that a defensive transfer is unnecessary and that, as Wenger says, a loan would be sufficient, but a loan and a purchase at the back not only make sense but could put the Gunners much closer to locking in a Top-Four finish than failing to do so.
Here is a look at the current first team (italics denote U-21 for 2011-2012 season):
GK - Sczcesny - Fabianski - Mannone - Almunia
RB - Sagna - Jenkinson
CB - Vermaelen - Koscielny - Mertesacker - Djourou - Squillaci
LB - Santos - Gibbs
DM - Song - Frimpong - Coquelin
CM - Wilshere - Arteta - Rosicky - Benayoun - Ramsey - Diaby
LW - Gervinho - Arshavin
RW - Walcott - Oxlade-Chamberlain - Miyaichi
ST - Van Persie - Chamakh - Park
Looking at this list, we can see a number of players that the Gunners should get rid of and replace or have already sent out on loan.
On loan:  Mannone and Frimpong
Should leave: Squillaci, Almunia, Arshavin and Chamakh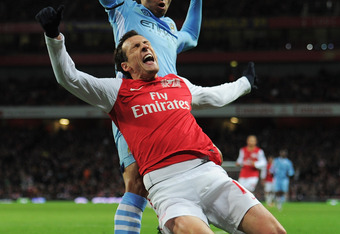 Michael Regan/Getty Images
An advantage of all four of the players mentioned is that they count against the non-homegrown players limit and are all over 21, which means that their departures would open up official Premier League roster positions.  
Arsenal would stand to make a profit from Chamakh who came over on a free transfer, and they should just try to recoup anything they can from Arshavin.  Add this to the supposed £40-50 million that Arsene has at his disposal, and options abound.
Arsenal should replace the fifth CB (Squillaci) with a FB.
A smart buy for Arsenal would be to replace Squillaci with... well, anything.  The Gunners would be better served with a mannequin lying down on the pitch in defense than the woeful Frenchman.  He is among some distinguished company, but Squillaci has the potential to be the worst buy in Arsene Wenger's career.
A better option than an inanimate clothes-display figure, however, would be to replace the superfluous center-back with an experienced full-back who has the ability to play across the entire back line if necessary.  While the Gunners have four full-backs on the first team, only one is currently of a standard that can win Arsenal a title or a cup, and that is Bacary Sagna.
Carl Jenkinson shows amazing potential, but like Frimpong, he should realistically go out on loan where the pressure to perform doesn't overshadow his ability to learn and grow.  The same could be said for Kieran Gibbs, who has shown promise for years but has failed to ever capitalize upon it and see his potential realized.  Santos is great for cover, but he takes too many chances and lacks pace to recover from those errors against the elite wingers of the EPL and world.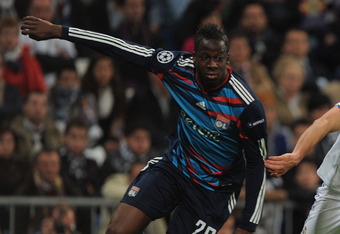 Denis Doyle/Getty Images
So what is the solution?  
The first solution is to replace a fifth center-back with a physical and fast full-back who can compete at every level.  Perhaps to atone for the error in signing Squillaci, Arsene should look to another of his countrymen—Aly Cissokho.
Cissokho plies his trade at Olympique Lyonnais but has been sought after (and almost signed) by Italian giants AC Milan.  He is known as a physical defender with pace to spare and would be an immediate upgrade to the LB position for the Gunners, providing them with two world-class full-backs.  
The Gunners should at least try to secure his services now with the actual move to come this summer, similar to Marco Reus' move to Borussia Dortmund.  While a move in January would be preferred, this might be a way for Arsenal to show their commitment to defense and pulling in quality players.
Should the Gunners not be able to secure Cissokho's services until the summer, a move to at least loan Taye Taiwo would be immense.  A player of vast potential and defensive prowess, Taiwo is another blisteringly fast full-back who would immediately give Arsenal a defensive line on par with the best in the world.
Arsenal should sign a playmaker and/or a scorer to complement a defensive signing or two.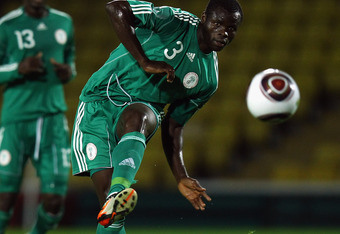 Bryn Lennon/Getty Images
Having only replaced one (maybe two) of the four players over 21 that should leave Arsenal in January, that leaves two or three open roster positions to fill.  Ideally, a quality scorer and playmaker should be brought in.
Arsenal has managed to secure the services of legend Thierry Henry for two months, but he is not the long-term solution, nor should he be considered as such.  Mario Gotze, Lukas Podolski, Loic Remy, Eden Hazard, Riccardo Montolivo and Esteban Granero are all names that Wenger should look to in replacing the other Gunners that should be shown the door.  
Will any of this come to pass?  Well, one can only hope and there yet remains 27 days in the January transfer window.  The wait continues.
Gooner for life!