Damaged Miami Heat Beat Atlanta Hawks 116-109 in Triple OT
January 6, 2012
Kevin C. Cox/Getty Images
Despite not having LeBron James or Dwyane Wade, the Miami Heat were able to outlast the Atlanta Hawks in triple overtime, winning 116-109.
With a last-second 3-pointer, Chris Bosh sent the game into overtime with the score tied at 93.  The teams then tied, twice, in the first two overtimes with six and 10 points each before the Heat finally ran away with it when the Hawks failed to score in the third and final overtime.
Bosh had an incredible game, scoring 33 points to go with 14 rebounds, five assists, two steals and two blocked shots, all in 47 minutes of playing time.
Mario Chalmers stepped up big time in the absence of Wade and James, scoring a total of 29 points and notching seven rebounds, eight assists, three steals and one blocked shot.  Twenty-two of his points came in the third quarter, but more importantly, Chalmers scored five of the Heats' final seven points in the third overtime.
Terrel Harris and Udonis Haslem combined for another 25 rebounds and 23 points.
For the Hawks, Marvin Williams had a terrible game all around, making only two of 10 attempts in the 29 minutes he played.
Joe Johnson led the Hawks in scoring with 20 points, but it also took him 20 attempts to do so, which tells the story for the Hawks all night as they only averaged 38.3 percent from the field.
Josh Smith recorded 13 rebounds, 17 points, one steal and one blocked shot, and Al Horford had 11 rebounds to go with 10 points and one blocked shot. But Jeff Teague struggled, scoring only once from the field despite 12 attempts, although he led the team in assists with seven.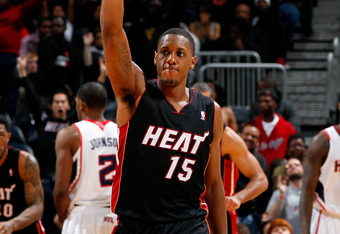 Kevin C. Cox/Getty Images
Willie Green and rookie Ivan Johnson were the only stable shooters for the Hawks, combining for 10 field goals on just 13 attempts for 27 points, but they only played 21 minutes each (for comparison, Teague played 47). Johnson fouled out in the final overtime and turned the ball over five times.
The game was tied a total of 19 times.
After the game, Hawks coach Larry Drew was predictably upset with his team, which had just beaten a healthier Heat team last Monday, saying:
"There was a total, total mental letdown," Drew said, adding his players lacked the spark they had when they won 100-92 in Miami on Monday.

"I didn't see the sense of urgency I saw in Miami," Drew said. "The tendency is to let your guard down, and we certainly did tonight."
No word yet on when either Wade or James will return for the Heat, although it probably won't be long for James as he practiced during the pregame warmup. Still, Miami fans have to be feeling elated after being able to beat a team like the Hawks on the road without two of their marquee players.