NBA Trade Rumors: Arguments for Warriors Acquiring Dwight Howard
January 6, 2012
Brett Deering/Getty Images
Yahoo Sports' Adrian Wojnarowski is reporting that the Warriors are pursuing a deal that would land them Dwight Howard in exchange for Stephen Curry or Monta Ellis, taking on Hedo Turkoglu's contract, and a future first-round pick. 
I want to explore how the Warriors get to deciding that this a good idea. 
Let's assume the statistical figure of Win Shares is accurate for a minute. That we have an accurate number of wins that each player contributes to a team. 
Dwight Howard has averaged 13.4 Win Shares the past three seasons. Let's say this season he will have 14 Win Shares and will for the following four years, as he is only 26 and improving offensively.
This year, he will be paid $18 million and should maintain or minimally increase that salary in the coming years.
Stephen Curry had 6.6 Win Shares last year and is predicted to improve. Let's say he will average 8 Win Shares over the next two years.  The Warriors currently have Curry under contract for this season and the next, paying him an average of $3.5 million each year. 
Trading the rest of Howard's season for the next two of Curry's seasons would suggest that the right to pay $18 million for one season of 13.4 Win Shares is equal in value to the right to pay $3.5 million for 8 Win Shares for two seasons. 
The great Tom Ziller of SBNation found that Win Shares cost on average $1.47 million. That would mean that Howard's contract is worth ($1.47 Million/ Win Share  x 14 Win Shares) - ($18 million) which is $2.58 million.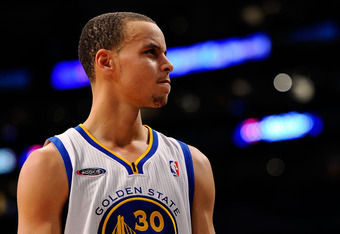 Kevork Djansezian/Getty Images
And Curry's contract would be worth 2 x ( ($1.47 Million/ Win Share x 8 Win Shares) - $3.5 million) equalling $16.52 million. 
So why would two years of Curry on a very underpriced rookie contract be worth less than one year of Howard being marginally underpriced?
Because of the assumptions that both players are more likely to sign with the team they are on when their contract expires. 
Let's say Howard on a four year contract in the new CBA is underpriced by $2.58 million annually. And Curry in his next four years averages 10 Win Shares and is paid $14 million. So he is underpriced by $700,000 a year.
So now we start trying to figure out the value of increasing your team's odds of signing Howard to a four year deal where he is underpaid by $2.58 million annually. Does signing him for one year raise the probability of getting him for the next four by 20 percent, 40 percent or 60 percent?
You can see how absurdly messy trying to evaluate how much the right to pay someone $18 million to do a job is when you don't know how productive they will be and also need to take into consideration how much signing someone increases their likelihood of resigning with you at a price cheaper than you can get on the market.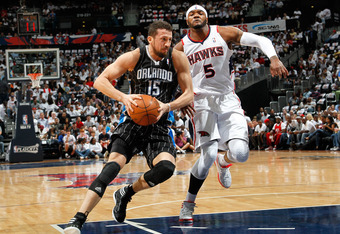 Kevin C. Cox/Getty Images
And any trade would involve more players than Howard and Curry. Someone has to figure out how much it costs to take on Hedo Turkoglu's contract, too. And the draft picks exchanged. And how accurate can Curry's projections be, given the state of his ankle?
There is no way one could put an accurate value on the relative value of having these two players on your team.
The Lacobs are from the venture capital world and apparently are into advanced stats. Maybe they are trying to quantify all of the intricate parts of proposed trades. 
But in the end, the decision has to be made on a certain level of gut, because of how hard the calculations are. There's a notion that in the NBA, you want to be very good or very bad so you can get top draft picks on rookie wage scales and become very good. 
Trading for Howard would put the Lacobs in the "go big or go home" camp. Dwight might make the Warriors a playoff team for the next five years.
Or he might leave them terrible after he departs in June. In which case, they try to rebuild with what young talent they have and a couple years of early draft picks.
Not trading for Howard keeps the Warriors on the path of mediocrity. With him, they go somewhere.