Knicks vs. Wizards: What New York Must Do to End Its Losing Streak Tonight
January 6, 2012
Ezra Shaw/Getty Images
For the first time in nearly a decade, the New York Knicks had the preseason hype of a title contender. With the additions of center Tyson Chandler from Dallas and free agent point guard Baron Davis, New York was in position to keep pace with the juggernauts of the Eastern Conference.  All they had to do was take the court and execute.  
Six games into the 2011-12 campaign, however, the Knicks are a dismal 2-4, with lackluster home performances against Toronto and Charlotte eliciting boos from the Garden faithful. In a New York minute, everything has changed for small forward Carmelo Anthony and Co.
But is it too early for skepticism? The team's next three opponents boast a combined record of 4-14, and a few consecutive victories will put the Knicks right back into conversation around the league.  It all starts with a victory tonight, as New York travels to the nation's capital to take on the winless Wizards at the Verizon Center. A seemingly easy win, the Knicks must remain disciplined and use the next forty-eight minutes of game-time to establish momentum and correct some key defensive mistakes.
Mix Up the Starting Five: Second-year shooting guard Landry Fields has drawn serious criticism thus far, with many calling for the removal of his role as a starter. In Wednesday's loss to Charlotte, Fields scored a mere five points in nearly 25 minutes of playing time; against the Raptors on Monday, he scored the same amount in over 32 minutes.
Point guard Toney Douglas has not been much better, as although his point totals have been more impressive (he tallied 22 on Wednesday), his shot selection has been ill-advised to say the least.  With a field-goal percentage lower than 36 this year, Douglas' self-imposed reliance on his outside shot and his inability to set up fellow teammates has crippled the Knicks offensively.  Rookie point guard Iman Shumpert should get a start tonight, perhaps at Field's 2-guard position. 'Melo, Chandler, and PF Amar'e Stoudemire will thrive down the stretch if they have a stabilized backcourt to assist them.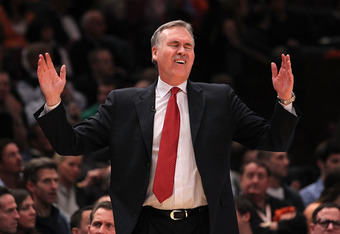 Nick Laham/Getty Images
Start the Second Half Strong: Knicks fans must be very curious as to what's happening in the locker-room at halftime, because when the third quarter starts up, coach Mike D'Antoni's squad has fallen flat. Even in their Christmas Day victory over the Celtics, the Knicks lead their bitter rivals 62-52 at half, only to trail 87-79 by the conclusion of the third quarter. Washington is a low-scoring team, but the pace set by John Wall and their youthful starting five may pose a problem for New York coming out to start the second half. 
Strengthen the Perimeter Defense: When Bobcats guard Gerald Henderson goes 10-of-13 for 24 points, it's a sign that something needs to change along the perimeter. Fields and Douglas have been over-eager defending the outside in recent games, and if the Knicks want to get back in the win column tonight, they simply must strengthen in this aspect. Defensive-minded assistant coach Mike Woodson, a staff member of the 2003-04 NBA champion Detroit Pistons, was supposed to ameliorate New York's difficulties in contesting opposing guards. Tonight is the time to start: John Wall and 2-guard Nick Young have a combined four years of professional experience.  
Time to Start Rebounding: One of the most shocking occurrences of the young NBA season has been the Knicks' inefficiency on the boards. Despite the high-profile acquisition of Chandler and Stoudemire's subsequent return to his natural power-forward position, New York ranks a horrid 29th in total rebounding; opponents are grabbing an average of 7.33 more boards per game, a key reason for the Knick's 2-4 record.
For the Knicks to claim a victory tonight and take a step towards elite status, Chandler must improve on his recent performances: he hauled in just six rebounds in the loss to Charlotte. In Stoudemire's absence, center Josh Harrellson averaged just 3.8 rebounds. If Amar'e can stay healthy and continue to adjust to his position change tonight, the Knicks will get exactly what they need: improvement on the glass.
Washington's 0-6 record is far from intimidating, but the Knicks' poor play has them feeling serious pressure in the face of lofty expectations for 2011-12. If New York can stay energized, remain focused for both halves of basketball, and make vital defensive improvements, they should be able to end their two-game losing streak tonight.