Saints vs. Lions: Game Should Be in Rome, Not in the Mercedes-Benz Superdome
January 7, 2012
Chris Graythen/Getty Images
When I realized this year's postseason for my New Orleans Saints would begin with playing the Detroit Lions I quickly remembered an article I published a few years back.
There was a feeling in the air in my city that was palpable as the regular season geared up. Our boys in black and gold were so united with each other and intertwined with the city that everyone could feel it deep down in their bones that something special was on the horizon.
That feeling is here again.
I went back, read that article again and it could be talking about this week's game. Instead of it being the beginning of the regular season, it's the beginning of the playoffs. With a few minor changes, I hope you enjoy it the second time around as much as I did...
Many years ago, I remember having a conversation with "the man." No, not "The Man" meaning God, but my one and only football guy, my Pops.
It was the early '90s and the NFL International Bowls were popping up all over the world during preseason. The Saints played the Raiders in London, and a few years later I was lucky enough to be part of the New Orleans Saintsations and made the trip to Tokyo for the Saints vs. Eagles game.
On our return with gifts in tow, a jade Japanese fighting horse in full war regalia, we discussed other pairings for future games. His all-time favorite would be...the New Orleans Saints against the Detroit Lions in the Colosseum.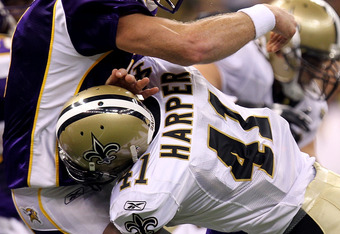 Ronald Martinez/Getty Images
Sure, he had lofty dreams or a twisted sense of humor, but you have to admit, it would make a great story line.
Back Story
In 64 A.D., Rome was ruled by the Emperor Nero. As the city tried to rebuild, Nero blamed the fall on the Christians. Christianity and Catholicism were banned and its followers were relegated to underground tombs for gatherings.
If caught, they faced cruel and unusual punishment, such as being fed to the lions. This became a form of entertainment and usually took place in the Colosseum.
Just as in ancient Roman times, our city had been destroyed, and its residents have poured their hearts and souls into its revival. The difference is that now we shout "Who Dat" from Bourbon Street balconies.
We have kept the Faith!
We Believe!
Our gladiators are no longer underpowered. They come from all walks of life: Trojans, Tigers, Boilermakers and Sooners have banned together with Hurricanes, Bulldogs, Cornhuskers and Wildcats to answer the call of victory for the Saints.
I guess all of the the Novenas to Mary did not go unanswered. We will all continue to donate to our local St. Jude, the patron Saint of lost or hopeless causes, for we know it is time to stand strong.
Here we GEAUX Saints Fans, this time it IS in our DOME!
Who Dat Nation it's time to come together from every corner and get loud. A chosen few get to watch from inside the Mercedes-Benz Superdome Saturday January 7, 2012 as our Saints slay those Lions on our way to the Promised Land...Round 2 of the playoffs!
Bless you Boys! Drew Brees, Zach Strief, Carl Nicks, Jeff Charleston, Roman Harper, Will Smith and all of the rest of my rowdy friends...have a great game!