Charles Wang Plays Fiddle While NYI Burn: The Worst-Run Sports Team Today
January 7, 2012
Years ago, a friend of mine worked for Charles Wang at Computer Associates, Wang's invention whose headquarters lie about 29 miles east of the Nassau Coliseum, and I heard first-hand accounts of how special a person Mr. Wang is. Every day Mr. Wang would travel down to the corporate headquarters' multimillion-dollar gymnasium and workout facility and play pickup basketball with his employees.
My friend, who was a worker in the gym, said at times it would get embarrassing because other employees seemed to allow Wang a free trip to the basket while complimenting his every move. "Great move, Mr. Wang" was often heard during games. Nonetheless, Wang was a very kind man to his employees, and he earned the reputation as a "regular guy" around the facility. I'm sure that is still the case, and I hope one understands the arguments made here are in regards to his attitude and decision-making concerning his hockey team, not who he is personally.
As the 2011-12 NHL season moves on, one which Mr. Wang's New York Islanders were picked by some to end their desert-like drought of playoff success, the song remains the same for one of professional sports' black marks. After their 4-2 defeat to the second-worst team in the NHL this season last night in Anaheim, the Islanders now sit 12 points back of the final playoff spot in the Eastern Conference. Last night's loss was one that the franchise has made a Renoir of under Wang's leadership—blowing a third-period lead in a three stooges-like fashion.
Without a doubt the biggest concern for the Islanders right now is not where they sit in the standings, but their inability to convince the town of Hempstead and the county of Nassau that they belong there. The town voted down a proposal for a new arena on August 1st, all but assuring the Islanders that they will not be playing on Hempstead Turnpike once the 2014-15 season is completed (when the team's lease expires).
Paul Bereswill/Getty Images
I have my own objections to the corruption that runs both the Nassau County legislature and town of Hempstead, who have held up any kind of proposal the Islanders have made, but Bleacher Report does not have enough free space to allow for that kind of rant. Instead, I will focus on Mr. Wang, who tried with his "Lighthouse Project" to ignite a dead area and complete eyesore of the passengers who drive by the Nassau Coliseum, but since the Islanders latest defeat on August 1, nothing has been heard from Mr. Wang.
New York Islanders fans sit and watch everyday for news that their team will stay somewhere on Long Island or the nearby boroughs of Queens and Brooklyn (also known as New York City), but nothing said since August 1 has given them any reason to believe this franchise will not up and move to either Kansas City or Quebec once their current lease expires.
Islanders fans are now fed up.
Not only with the current air of stagnation around the team's future NHL playing space, but with the fact that this albatross has totally leveled the organization from the GM down to their minor league teams. The current Islander roster, made up of mountains of high draft picks and potential, sits and waits while they are left to discover the NHL game for themselves since GM Garth Snow is not allowed to sign any veteran with talent enough to help along youngsters John Tavares, Kyle Okposo, Josh Bailey or Matt Moulson.
Other high draft picks like Nino Niederreiter and Calvin de Haan have no role yet in the development of a team that is crying out for leadership. Niederrieter, a goal-scoring machine in the WHL, scoring 77 goals in his two seasons, either is a healthy scratch or gets stuck on a fourth line with Marty Reasoner and Matt Martin, two players who have few offensive skills and can't provide a proper growing environment for him. Why Niederreiter isn't on a line with Tavares or Frans Nielsen, who could continually help him with goal-scoring passes, is something that needs to be explained to me. Calvin de Haan, meanwhile, sits in Bridgeport (where he was the team's only All-Star) while a broken down defenseman like Steve Staois racks up the minutes on Long Island.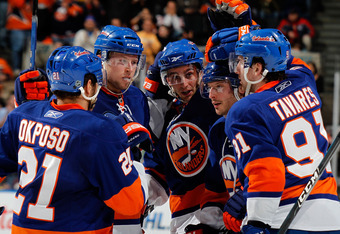 Paul Bereswill/Getty Images
Waiting in the wings for the Islanders are prospects like Ryan Strome, Brock Nelson, Aaron Ness and Matt Donovan, but all those players are at least a year away from joining the big team. However, what difference will they make without proper veteran leadership?
The Islanders tried to implement that this offseason with the signing of Reasoner, Staois, Jay Pandolfo and trading for Brian Rolston, but having veterans who can actually still play is what will make a difference with youngsters like Bailey, Okposo, Nielsen and Michael Grabner, who teeter on the constant see-saw of potential and disaster.
Despite the teams lack of success, the thing that really irks Islander followers is not the lack of leadership on the ice, the locker room or the front office, but with management.
For someone who losses money at the rate Charles Wang has lost money on the Islanders (about $240 million since he purchased the team in 2000), one would think Mr. Wang would care more about the current state of both his team and potential playing site. Yet days have turned into months without a whisper heard from the top. That is what really deflates Islanders fans.
It doesn't take a rocket scientist to see why potential free agents spurn the Islanders. Their current arena is a complete mess, with locker rooms the size of a $1,500 Long Island apartment at Avalon Pines, they have facilities that make the most cafone (otherwise known as "gavone") NYer cringe and play in front of empty seats due to the uncertainty surrounding the team. Sounds like a great place to play, right?
However, this is not true. Long Island is a GREAT place to play. The Islanders once had a tradition that could compete with any of sports' greatest dynasties.
Hall of Famers like Mike Bossy, Brian Trottier and Denis Potvin all made their bones playing on Long Island ice. Despite those great players and a history that includes four Stanley Cups and an NHL record 19 straight postseason series wins, the Islanders' history is one that does the team more harm than good lately.
Since the Islanders' last division title, which came in the 1987-88 season when they won the then-Patrick Division, the Islanders have won just two playoff series (both coming in 1993), have made the playoffs just seven times in 23 seasons and have finished higher than third just FOUR times. 
The current state of the Islanders should be blamed on one person. Charles Wang.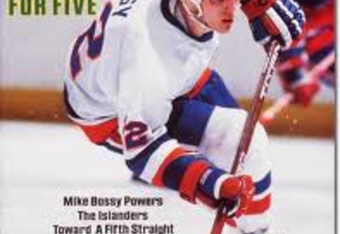 Perhaps I'm a bit naive in understanding the in-depth nature of securing a new home for the Islanders. Perhaps. However, I can see clearly that the Islanders are the only pro sports team WITHOUT a radio contract (their games are aired on a local college station at Hofstra University where six people, who if they can distort their bodies with a hanger and tinfoil, can catch the broadcast), their current roster is around $1-2 million over the required $48.3 million teams must spend in the NHL salary cap system and GM Garth Snow is totally handcuffed when trying to improve this team.
I'm sorry, Mr. Wang, but the sideshow is over. New York Islanders fans deserve much better than the junk you have given them. What are you doing with this franchise? Decide quickly. Either sell the team to an investor that will really try to keep this team on Long Island or in the New York area or to an investor that clearly will move the team.
At this point, Islanders fans want answers, and knowing that this team will be gone after the 2015 season ends is at least something that will allow them to see what is coming and say goodbye.
However, it should never come to that. Fans of the Islanders desperately want this team to stay. They love the history of success this franchise once poured on them, and they cling to the hope that it will return someday in a new arena that they can be proud to call home. I was there on opening night this season against the Panthers where a full house was ready to rock until the team bored them to death in a 2-0 loss. What that showed me is that people still very much care about this team and want this team to stay.
Get your butt in gear. Start aggressively trying to find this team an arena to play in or build. How could someone who built an annual $4.4 billion, Fortune 500 powerhouse of a company be so powerless?
Islanders fans are sick and tired of playing the waiting game while watching their teams stink and nothing be done, because it seems they are in a constant waiting period. Take the handcuffs off Snow, establish a CLEAR message to the fans that the Islanders ARE staying and then take the steps to do it instead of just playing the sad, broken-hearted teenager whose prom date dumped him. Seasons of 75 points for this team need to be over. For someone who continues to say publicly that he cares about this team and its fans and wants success, I can't help but laugh when I see the quagmire he has this franchise stuck in.
For someone who is a very smart business man, the NHL is making you look like a total, incompetent fool.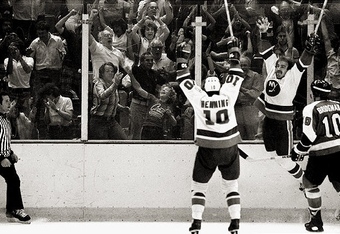 Despite the Islanders' place in the standings, if Mr. Wang aggressively came out and did what Al Davis once said concerning his wife's sickness, dominate the situation, Islanders fans would flock back to the Coliseum knowing their team is secure and that the embargo on making this team a contender has been lifted.
The phone is ringing, Mr. Wang, and you have endless amounts of Islanders fans on the other line. Time to take their call.