Minnesota Twins NRIs: Get to Know the Spring Training Non-Roster Invitees
January 9, 2012
Jonathan Daniel/Getty Images
The Twins have invited 25 non-roster players to join the club when spring training convenes in Fort Myers, Fla. next month. For those unaware, this distinction essentially means that 25 players not already on the 40-man roster will be in camp with the club. Some were already in the organization, earning the trip on the merits of their spring training or offseason production, like Chris Herrmann. Others, like Phil Dumatrait, were outrighted off the 40-man roster and re-signed to minor league deals in the offseason.
But today's column will focus on those from the outside. Many of the 25 men actually have big league experience, and may be familiar names to those die-hard baseball fans who keep an eye on the other teams in the majors. 
Let's start with the pitchers. The following hurlers have some big league experience, and could make the bullpen an interesting race as camp comes to a close:

Jason Bulger 
Last time we saw Bulger on a regular basis was 2009, when he was still chucking heaters at 93 miles-per-hour to go with a slider, curve and show-me changeup. Shoulder injuries have robbed Bulger of his last two seasons, but at age 33, he's looking to give it another go.
He's scrapped the slider altogether in favor of more changeups, but none of it will really matter if he doesn't improve his control (5.1 career BB/9). The Twins would appreciate his heat out of the pen, but if his walks are as bad as last season—9.6 BB/9 led him to be designated for assignment despite a superficially good 0.96 ERA—it won't really matter how hard he throws it.
Chances of making club: ~25 percent

Jared Burton 
Burton has limited experience at the big league level—169 innings spread over five big league seasons—but when he's been up, he's done relatively well. Burton carries a 3.41 ERA, 7.6 K/9 and a passable 1.33 WHIP with him into Twins spring training camp.
For my money, he's probably got the best chance of the lot to break camp with the Twins, as long as the club doesn't ink another reliever. Burton's experienced diminished returns on his fastball in recent seasons, but has still averaged 91.8 miles-per-hour over his time in the bigs. That typically would translate to 93 or 94 on stadium guns in my experience.
Like Bulger, Burton has had shoulder woes in the past—possibly accounting for declining velocity—but won't turn 31 until near midseason, which gives him a bit of an advantage in that respect.
Chances of making club: ~30 percent

Casey Fien 
Fien has very limited experience at the big league level, with 14 innings coming between the 2009 and 2010 seasons with the Detroit Tigers. Fien has had absolutely no success in the bigs, with an 8.36 ERA, 1.64 WHIP and a pedestrian 5.8 K/9.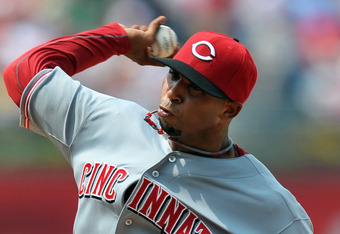 Drew Hallowell/Getty Images
On the minor league side, Fien has been able to sustain success with a 91.5 miles-per-hour fastball, compiling a 3.07 ERA while whiffing a hitter an inning. Strictly a reliever, Fien hasn't started a single game as a professional since he was picked in the 20th round by the Tigers in 2006. It would seem very unlikely that Fien will make the club, but if he does, it'll be because he displays the strikeout form he had in the minors.
Chances of making club: ~5 percent

Daryl Thompson 
Fien may have had a rough go of it in the bigs, but Thompson's experience with the Reds makes Fien's look like a walk in the park. Thompson's also a vet of only a few innings—17.1 to be exact—and he also carries an 8.00-plus ERA. However, he's also got a 2.19 WHIP, and has walked twice as many hitters as he's fanned in that time span.
Originally a draft pick of the Montreal Expos, Thompson has been a starter in the minors, though it's unclear what role he'll fill at Rochester. Likely, he'll fill in the back end of the Red Wings rotation, where his 7.5 minor league K/9 should play relatively well, as will his 2.5 BB/9, which is what likely made him attractive to the Twins in the first place. 
Chances of making club: ~5 percent

As for the hitters, the Twins have added the following, all of whom would seem to at least have a fighting chance to make the opening day roster: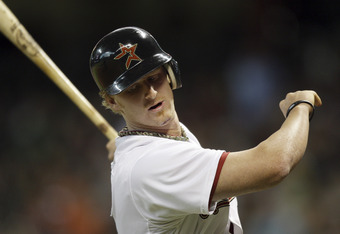 Bob Levey/Getty Images
Sean Burroughs 
Nothing about Burroughs' career has panned out the way it was expected. A former first-round pick and son of former All-Star Jeff Burroughs, the younger Burroughs was a top-10 prospect according to Baseball America for three straight years (2000-02).
Burroughs displayed little power in the Pacific Coast League—a veritable launching pad—and it served as a harbinger for his big league career. Even in his best season, Burroughs only hit .286/.352/.402 with seven longballs. That line by itself isn't all bad, and by all accounts he's played a solid third base in his career, but as far as career highlights go, that's not exactly what a first-rounder would aspire to do.
Nonetheless, following three yawn-inducing seasons with the Padres and Devil Rays, Burroughs disappeared off the big league radar from 2007 to '11.
Burroughs played only briefly with the Mariners' Triple-A club in Tacoma in 2007, before disappearing from pro ball altogether. The next few years are fuzzy, as Burroughs struggled with substance abuse issues and was eating out of trash cans for a time as well.
Ultimately, Burroughs cleaned up his act, signed with the Diamondbacks, and earned a little playing time down the stretch for the surprise division winners. And while Burroughs is still not showing a ton with the bat (.273/.289/.336 in 115 plate appearances with Arizona last season), he's got a decent chance to push Danny Valencia for playing time at the hot corner.
Chances of making club: ~50 percent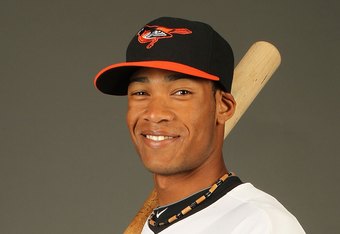 Nick Laham/Getty Images
J.R. Towles 
Like Burroughs, Towles is a former top prospect who's had trouble finding his way in the major leagues. However, unlike Burroughs, Towles has a more recent track record and a more direct route to the big leagues.
Over eight minor league campaigns, Towles has pounded opposing pitching to the tune of a .295/.394/.465 triple-slash line, showing good extra-base pop, a good eye at the plate, all while nabbing a decent 31 percent of opposing base thieves. However, his big league time has been much, much less prolific.
Towles has hit an elder-Buterian .187/.267/.315 with the Astros over the past five seasons, and his throw-out rate has plummeted to under 25 percent.
Now, there are a few things in Towles' favor; he's yet to amass 500 plate appearances at the big league level for one, and secondly, he should have a good chance to outhit Drew Butera if the Twins decide they want a little more offense out of a backup/third catcher. After last season, and while considering Ryan Doumit's defense, it seems likely that Towles will get some run at some point.
Chances of making club: ~50 percent

Steven Pearce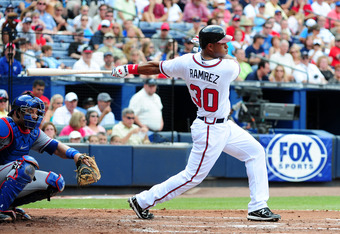 Scott Cunningham/Getty Images
Pearce is the final piece of the trio of "what might have beens" that the club has inked this offseason. Pearce, like Towles before him, has also pummeled minor league pitching. His triple-slash line is .292/.367/.519, and includes a 30 home run season at age 24 spread across three different levels. In fact, Pearce held his own in Triple-A that season, and put himself squarely on the map as a potential first baseman for the Pirates.
Then 2008 happened, and Pearce scuffled to a .729 OPS, with only 12 home runs to show for it. Until now, Pearce has kicked around a bad-but-improving Pirates organization, but that really doesn't portray where he is at this point. He hasn't stayed healthy, and when given a chance, he hasn't produced at the big league level (.232/.302/.366).
First base is a tough place to crack if a hitter isn't a masher, or an absolute defensive wizard—remember Doug Mientkiewicz—so plenty of tweeners fall through the cracks like Pearce and Bryan LaHair have. Justin Morneau's injury situation may open the chance for Pearce to hold down first, but in all honesty he may just be Red Wings roster filler as the team decides its long-term plans for Morneau and Chris Parmelee.
Chances of making club: ~25 percent

Pedro Florimon 
Florimon just got a brief cup of coffee with the Orioles last year, and there are only a few notes to pass on him. For one, reports that I've heard from those who have seen Florimon play down on the farm extensively suggest that he's a flashy, but erratic defender. His .941 fielding percentage would seem to play that out, even though I'm not wild about that metric to begin with.
Secondly, it was indicated to me that he's not really a difference maker as a hitter; considering he's only thrice exceeded a .700 OPS in the minor leagues, I'd say that's probably accurate too. He has almost no power, limited discipline, and doesn't steal bases particularly adeptly. I think he could make the club as the 25th man/utility-type, but only if the club is serious about sending Tsuyoshi Nishioka down for a bit more seasoning.
Chances of making club: ~20 percent
Wilkin Ramirez 
Ramirez has hit well in an extremely limited sample size in the bigs—.808 OPS over 43 plate appearances—but his minor league track record doesn't seem to suggest it's for real.
On the farm, Ramirez's best seasons have come lately, which certainly helps his case; but as a corner outfielder, typically registering high-700 OPS' won't usually cut it unless a player has extraordinary speed or a world-beating reputation as a defender. Ramirez has neither, and will likely be roster fodder on a Red Wings team looking to reverse its recent fortunes.
Chances of making club: ~5 percent

As an aside, the Twins will also have a number of former players in camp. This is something the club frequently does, as most players on the team last year cultivated a positive relationship with Harmon Killebrew in that exact fashion, despite playing on the team 30-plus years after he retired. 
This year, the list includes Paul Molitor, Rod Carew, Tony Oliva, Jim Kaat, Terry Steinbach, Eddie Guardado and former skipper Tom Kelly. Quite a star-studded list, indeed!