Cleveland Browns Offseason: Grumbles of a Disgruntled Browns Fan Part 1
January 9, 2012
Christian Petersen/Getty Images
Before everyone complains about me separating this article into multiple (probably two, but maybe three) parts, I tried to make it as short and to the point as possible. However, I couldn't help myself and felt the need to make it as factually accurate as possible. That's why I need the span of multiple articles to write this.
I also want to gauge interest in my article before I bother to finish writing the second (and possibly third) installment(s).
So without further adieu...
In the 13 years that the "new" Cleveland Browns have existed, their record is 68-140 (.327), and they have had six head coaches and eight different starting quarterbacks on opening day.
Given all of this information, we can say that the Browns manage to lose two-thirds of their games, hire a new head coach every two seasons and give each quarterback approximately one-and-a-half seasons to prove they are worthy of the starting job before they are eventually benched to the cheers of fans at Cleveland Browns Stadium.
The only thing that's been consistent through their 13 seasons since returning has been losing.
If any fans have a right to complain, it's Browns fans. Given that I am a Browns fan, I feel as though I should throw my hat in the ring and complain.
I could go on and on about the Browns' problems throughout the years and the many frustrations that have occurred since then. However, I choose to turn my wrath onto a different target today: Browns fans.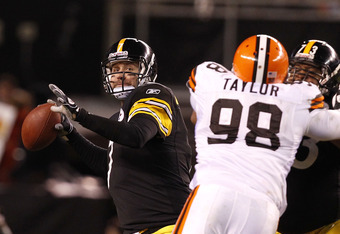 Matt Sullivan/Getty Images
Now, don't get me wrong, I, myself, am a Browns fan. Many people that read these forums have probably been Browns fans since before I was born (1993). I also understand that Cleveland fans, as a whole, tend to split on a lot of major issues and that we're not exactly the most united fanbase.
So, if I offend a few people, I make a half-hearted apology. However, I will risk offending you in hopes that I present the facts, form a logical hypothesis and help some on-the-fence fans gain some confidence in the franchise.
As I said earlier in this article, the only thing that has been consistent in the last 13 seasons has been losing.
And yet, now that we have a consistent front office with a vision, a coach that was handpicked by that front office (and shares the same vision) and a young QB that actually seeks to improve each week, I still manage to read and hear lots of complaining.
Can we not see that it is the inconsistency in head coaching, quarterback and, ultimately, the front office that has caused this team to lose?
We finally have a front office that is managed by two guys that aren't clamoring to ask the fans their opinion so that they can (hopefully) keep their jobs. This is important.
Guys that aren't football-savvy don't last long in this league, and they certainly don't win multiple Super Bowls. Mike Holmgren is one of the grandfathers of this league; he was a product of legendary head coach Bill Walsh and has produced nine NFL head coaches (three of which are now working in some capacity with the Browns).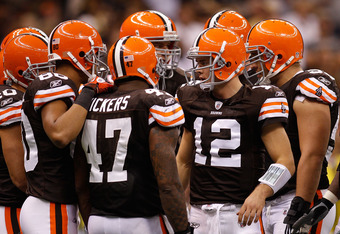 Chris Graythen/Getty Images
Guys that have worked in a big capacity for the front office of a successful NFL franchise are also in high demand.
Tom Heckert has served in such a position (vice president of football operations) for a team that went to four straight NFC Championship games. Heckert is also credited with being involved in drafting 10 Pro Bowlers for the Eagles during his tenure. In fact, at the end of the 2009 season, a total of 15 of their 22 starters were either drafted or signed as UDFAs.
Of the Browns' current starters, nine have been drafted in the last two seasons by Heckert. This just shows that Heckert has been hitting on his draft picks.
Why should we oust these guys from Cleveland? What possible reason can somebody give to get rid of the two guys running the front office?
Most of the people that don't like H&H disagreed with their hiring of current head coach Pat Shurmur. This is understandable, as Shurmur has been far from stellar and has left a lot to be desired. However, a lot of this can be blamed on a general lack of veteran talent, a shortened offseason and the natural lack of experience for a first-time head coach.
The average age of a Cleveland Browns player in the 2011 season was 26.78—good for third-youngest in the league. Given that information, it makes it all the more impressive that the defense was able to move up from No. 22 to No. 10 overall in a season where the team was switching schemes and had to do it in a shortened offseason.
What does this mean for the Browns going forward? We'll find out in Part 2.
Jake D (not his real name) is an 18-year-old marketing management major at the University of Cincinnati. He is a lifelong Browns, Cavs and Indians fan.