WWE Raw Preview: Will Chris Jericho Talk? Will John Cena Turn Heel? and More...
January 9, 2012
First of all, I hope everyone had a very enjoyable weekend.
Last week's WWE Raw witnessed a silent return, profanity, hell, fire and brimstone.
So what can we expect from the second Raw of 2012?
Chris Jericho's second night back on live television is surrounded by mystery after a perplexing return. Some call Jericho's 15 minute segment of just waving and smiling in front of fans genius. Others call it a bust that already doomed the hype.
Since I am one who believes that Jericho's return was a sarcastic heel move done to put eggs on fans faces, I actually expect Jericho to come out and talk tonight.
In all honesty, he should. Especially seeing how a lot of viewers tuned out last week before he even showed. I don't think it is smart to pull the same type of segment two weeks in a row.
I expect him to come out and cut a classic heel promo. My guess is for him to brag on how he made fans look like fools and how once again he has returned to save us from our pathetic selves.
The big question will be, who is the "she" in the promo? Quite frankly I got a funny feeling that there is no "she" and that Jericho will find an explanation for this in his promo tonight.
Now, onto other matters.
The past few weeks have witnessed Zack Ryder and Eve interacting to each other. It looks like there will be another couple storyline similar to Daniel Bryan and AJ Lee.
To be honest, there has been a lot of negative talk that this storyline automatically means in a de-push for Ryder. In my last Raw preview, however, I strongly disagreed. I actually believe this storyline could turn into more of a push for Eve.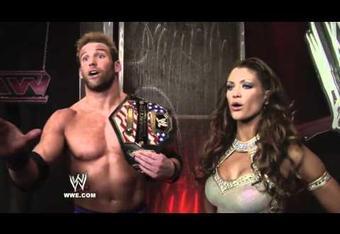 What will be more of a de-push for Ryder is if he soon doesn't find a nemesis to go against him for the United States championship. With Dolph Ziggler moving on to his main event test run, it looks like there isn't really anyone else for Ryder to defend his US title against. Even Evan Bourne and Kofi Kingston are busy in the tag team division.
Last week saw Jack Swagger being possibly entered into the US title mix. However, I truthfully see Swagger as a lost cause. The crowd is barely into him and he hasn't been booked all that great.
He is too generic and doesn't have enough personality or mic skills. I don't even think an overrated and annoying Vickie Guerrero can save this guy's career.
However, we'll see what the WWE came come up with tonight. The challenge will be whether or not they are able make Swagger interesting enough to feud with Ryder and keep Ryder interesting in the process.
As far as Eve is concerned, they need to give her some more ring time and exposure. Hopefully she may be involved in a Divas match tonight. But in all honesty, who knows? I predicted in my last article Beth Phoenix would show up and she didn't. It's hard to say these days what in the world is gonna happen to the Divas division.
Another title holder who is in need of a nemesis is the WWE champion CM Punk. Lately Punk has had serious issues with John Laurinaitis. Laurinaitis again last week got involved into Punk's match against Dolph Ziggler.
The segment, though, with Punk calling Laurinaitis his bitch was classic. And segments and interactions like those are what is really needed in order to make a Punk/Laurinaitis feud entertaining and compelling to watch.
I expect tonight Laurinaitis to fire the next shot in the feud. He may come out and put Punk in another peculiar match situation. It will be interesting to see how long it is before Laurinaitis finally comes out and expresses his real feelings toward the Cult of Personality champion.
In the midst of this feud is the push of Dolph Ziggler, who is currently getting his test run in the WWE title picture. However, I already feel that WWE has made a major mistake in this regard.
The past few weeks have attempted to interject more personality into Ziggler's character by having him be a show off. When he won his match via DQ last Monday, he flaunted around with the title as if he had won it already.
In my opinion, this may already be a bit too much. But it's understandable to keep Ziggler relevant by giving him more spark in the midst of Punk/Laurinaitis.
But he may already be lost in the shuffle before he even gets the title, similar to Alberto Del Rio.
I hope that Dolph does NOT win come Royal Rumble. He isn't ready yet and they still need to work out some kinks in his character.
Last but not least is what I believe to be the most compelling feud on Raw right now. The Kane/John Cena saga was bumped up another notch last week when Kane brought his old school magic back to Raw. He appeared from the depths of the ring and terrified John Cena and Zack Ryder.
Judging by his Twitter, Cena will still be reluctant to give into the "hate" and Kane's tactics. However, I do believe tonight Cena should start showing some signs of frustration and giving in.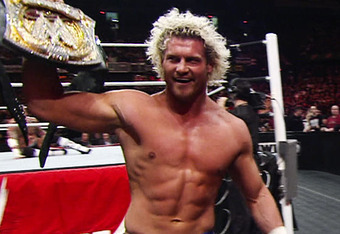 Note that I'm not saying that he is showing signs of a heel turn, though that could very well may happen also. But tonight I expect Cena to finally realize that he will have to do something in order to combat the Big Red Machine.
Cena is the first one to say "Adapt and Overcome." Well, tonight he has to start adapting in order to overcome. But will that mean giving into the hate?
Cena is human. There only so much longer than he can just smile through and champion through Kane's tactics and will as well as the will of the fans.
We'll see.
Tonight's WWE Raw overall can either be a miss or make show. There is so much left in the air the Creative Team can either screw it up or do something to get themselves back on track. I would love though to see this show be decent all the way through. I don't want one minute of pointless.
Thank you for reading!  Comment, like, retweet. Anything would be appreciated in order to spread the word on this article!
Follow me @ItsSocrates
Also check out my other articles in my profile! If you are an old or new wrestling fan, definitely check out my series analyzing the WWE after the Attitude Era.