All Zambrano'd Out: The 2012 Chicago Cubs and What to Expect
January 10, 2012
Scott Boehm/Getty Images
This article was originally supposed to be about me expressing my thoughts about the trading of Carlos Zambrano, finally, mercifully, ending a tenure that had become, for lack of a better term, malignant.
Zambrano had reached a point where he could not remain with the Cubs and respect them, and the Cubs had reached a point where they could not keep him without drawing at the very least snickers from other organizations. 
On August 17th, 2007, Zambrano signed the biggest contract a Cubs pitcher has ever even been offered, let alone signed: 5 years, $91.5 million.
This is significant, because it was an indication that the franchise intended to commit thoroughly to a pitcher that they believed had Hall of Fame talent. 
I can't resist the urge to stress it even more what a huge step this was. This is a team—admittedly, in a vastly different era with a vastly different organizational philosophy—that lost Greg Maddux because they didn't want to give Maddux the money he wanted to stay with the Cubs.
Maddux then went out and absolutely slashed the National League to bits for the rest of the 90's in Atlanta. Fearful of the mistake being repeated, Jim Hendry decided to go with Carlos.
It is easy, today, to say that Hendry made a stupid decision. It is the very definition of armchair quarterbacking, and it's something sports fans fall prone to easily.
But if we go back to 2007, Mark Prior has flamed out due to his shredded right elbow. The pitching staff is worrisome, and Zambrano has just gotten into his infamous dust-up with Michael Barrett. The team had to choose between its star pitcher and a catcher that was described by many of his teammates as a Pierzynski-level jerk.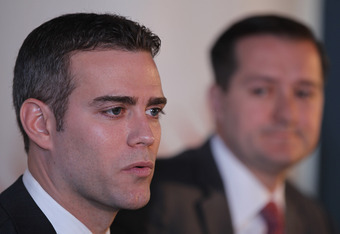 Jonathan Daniel/Getty Images
To show their commitment, Barrett was dumped on the Padres and Zambrano was given his huge contract.
I recall the thinking being that you never give a huge contract like that to a pitcher. There are flaws in this thinking, but then again, Carlos Zambrano was just starting to show he was a complete headcase-and amazingly, the Cubs were warned about this YEARS before the ultimate meltdown coming in 2011.
 Zambrano was known for "emotional outbursts" when he played in the minor league system for the Cubs. These were all swept under the rug by the administration in control at that time.
That happens, after all, many players have their jerkishness covered up by the front offices of random teams, since no sports team can survive without marketability. Even the 47-60 "US Steel" Yankees needed something to help make the turnstiles spin, since WINNING HAS NEVER BEEN ENOUGH.
And if anyone thinks winning is enough, ask Walter O'Malley and Al Davis and Robert Irsay and Art Modell, among others.
There came a point, though, after the punching of Barrett, where Zambrano's "emotional outbursts" became less excusable and more frustrating, since Zambrano was becoming a distraction and he was actively holding the team back.
To every Cub fan alive right now, in all of our collective seasons, there comes a point where you point to a spot in the season and say "Yep. That's when everything crashed." 2003's is obvious.
But what was 2004's? To me, it was when Sammy Sosa's bat exploded-and his reputation along with it.
To me, the point where I got fed up with Zambrano was when he yelled at Derrek Lee.
No, I take that back.
The point where I got fed up with Carlos Zambrano is when he—and I had to look this up to remember it, because the 2011 season is a lot more fresh in my mind—was when Zambrano had the gall to insult Cubs fans, people who have put up with more garbage than any other sports fan in the world, because they booed him after a poor outing.
The Derrek Lee thing just locked it into position for me, where I was thinking "they're winning in spite of Carlos' stupidity." The 2010 season was a loss anyway, for a myriad of reasons, only some of which had to do with the pitching.
Carlos finally broke my last tissue of goodwill when he threw at Chipper Jones. Not ONLY because he threw at CJ, one of the game's more solid citizens, but because of his actions after the fact.
What Carlos did, cleaning out his locker and telling the team he was retiring, was the act of a craven coward, not a pitcher frustrated with losing. It completely turned most of the Cubs fans against him—those that weren't there already—and he couldn't have made up for it no matter what he did.
His last start with the Cubs—a team that protected, and tolerated, and nurtured him for 15 years—was a horrendous embarrassment and a disgrace. 
We come to a point now that the Cubs traded Zambrano for Chris Volstad. CHRIS VOLSTAD. A solid #3 starter prone to home runs in a ballpark where if the wind is blowing out, a 12-11 game is quite likely. Lovely.
But that's the problem. Zambrano couldn't be here anymore. He couldn't walk into that clubhouse and pretend all was well. Aramis Ramirez is gone. Carlos Pena wasn't resigned. Most of the power from last season has departed the Friendly Confines, and it's going to be a bad season. 
It actually makes you sad when you think about it. In 2003, the Cubs had possibly the best rotation in the National League. Eight years later, none of those pitchers are with the team anymore. What should have been one of the most dominant stretches in MLB pitching history was undone by Dr. Salvador (Dusty Baker) and simple rote incompetence. 
That's life as a Cubs fan, however. It never, ever fails to amaze me. I'm reminded of the opening sequence to the show "Friday the 13th: The Series." You know "Louis Vendredi made a deal with the devil to sell cursed antiques..."
I'm not saying there's a curse. There's no curse. There's only idiocy. WE, as fans, are cursed by stupidity. We're cursed with bad teams, and players who don't seem to win until they're out of Wrigley Field. Or before they get there.
We're cursed with Jeff Blauser in his (steep) decline phase, and One-Year Rick Wilkins as a part of the Cub offense they HAVE to count on. We're cursed with managers who think Eddie Zambrano should bat 5th behind Sammy Sosa. Let me say it again: EDDIE ZAMBRANO.  
We're cursed with bad players, and bad managing (Mike Quade! Bruce Kimm! People who have never managed before and never will again!) and bad front office management. We hope THAT curse has lifted with the hiring of Theo Epstein and Jed Hoyer, and they are really trying to rid the Cubs of the Hendry Curse.
But now? 
I cannot explain just how bad this season is going to be. But every thumping this team will take...will be worth it, as it gets us further and further away from everyone's favorite show: Coddling Carlos Zambrano!