2012 NFL Mock Draft: Post BCS Championship Edition
January 10, 2012
Kevin C. Cox/Getty Images
NFL Mock Drafts are becoming more and more reliable now that 24 picks are set and the NCAA Bowl Season is over.  Alabama's shutout of LSU has Tide defenders flying up big boards, strengthening the defensive class of 2012.
As the rosters for the Senior Bowls get set, here is how I see the 2012 NFL Draft going down if it happened today.
1. Indianapolis Colts - Andrew Luck, QB, Stanford - Done deal. Manning playing another snap is doubtful in my eyes.
2. St. Louis Rams - Justin Blackmon, WR, Oklahoma St. - It's true the Rams need help in a lot of places but the one position they haven't tried to address the past few years is receiver.  Blackmon is a beast underneath and has no trouble stretching the field.
3. Minnesota Vikings - Matt Kalil, OT, USC - Tackle isn't Minnesota's most pressing need but they aren't going to take Richardson and third may be too rich for Claiborne.  Kalil will be a franchise tackle for the next decade.
4. Cleveland Browns - Robert Griffin III, QB, Baylor - I'm not sold on Griffin as a top 5 pick but that is where the "experts" have him graded.  He has the makeup of a Mike Holmgren QB and concussion issues have Colt McCoy's days numbered.
5. Tampa Bay Bucs - Morris Claiborne, CB, LSU - After imploding this season the Bucs need help where they can get it.  Ronde Barber is on his last legs, and adding Claiborne will give Tampa one of the NFL's best corner tandems.
6. Washington Redskins - Jonathan Martin, OT, Stanford - Martin has the physical makeup the Skins like, there are questions about his nasty, but the production is there.  Dre Kirkpatrick is another solid option to help their underrated defense.
7. Jacksonville Jaguars - Quinton Coples, DE, North Carolina - The Jags didn't do a good job of getting to the QB this year and overall their defensive ends are questionable.  Coples has elite size and has played well the past two seasons considering he was under the draft scouts' microscope.
8. Carolina Panthers - Alshon Jeffery, WR, South Carolina - The Panthers would love to get their hands on an elite DT this draft but it doesn't looks like that prospect exists.  Jeffery will give Newton another target who can stretch the field with Steve Smith and Greg Olsen.  Over time he will develop into Cam's go to guy.
9. Miami Dolphins - Riley Reiff, OT, Iowa - Reiff is a high ceiling prospect with a lot to gain throughout the draft process.  On Miami he can start at RT from day one with 37 career starts at Iowa.
10. Buffalo Bills - Courtney Upshaw, DE/LB, Alabama - After the National Championship let the hype train start rolling for Upshaw, this year's elite 3-4 OLB prospect.  In 15 games the Bills had 19 sacks, the only thing keeping them out of 32nd place was a 10 sack game against Washington.  Upshaw is a high floor, high motor, playmaker.
11. Kansas City Chiefs - Trent Richardson, RB, Alabama - Richardson is without a doubt one of the top 5 prospects in the draft but RBs are going for a discount in today's NFL which could result in a slide.  Few teams have more question marks at RB than KC and we've seen Pioli got BPA before.
Chris Graythen/Getty Images
12. Seattle Seahawks - Dre Kirkpatrick, CB, Alabama - The Seahawks had success with two bargain bin corners this year.  Kirkpatrick's pedigree is exceptional and his size mimics the blueprint the Seahawks have set in place, giving them a third giant corner to roam the field.  Depth is a necessity at corner, not a luxury.
13. Arizona Cardinals - Luke Kuechly, LB, Boston College - Production doesn't guarantee success for linebackers making the transition but Kuechly has the tape and measurables to make him a leader of the Cards' defense through the end of the decade.
14. Dallas Cowboys - David DeCastro, G, Stanford - Dallas may be making right the new left by placing DeCastro next to Tyron Smith on their line.  He is an explosive blocker at the POA and the best pulling guard I've seen in college football.
15. Philadelphia Eagles - Devon Still, DT, Penn St. - The Eagles struggled against the run this season. Their biggest need is linebacker but with a plugger like Still on the board he's tough to pass on for that added girth on first and second down.
16. New York Jets - Cordy Glenn, OL, Georgia - The Jets need to get back to Jets football which means restoring order in their running game. Glenn is ready to start at guard for New York, creating a power combo with Nick Mangold.
17. Cincinnati Bengals - Janoris Jenkins, CB, North Alabama - There was word Jenkins would be a first round pick last season until legal trouble had him kicked off the Florida team.  The Bengals serve as the NFL's inpatient facility though, and Jenkins ability to play has never been questioned.
18. San Diego Chargers - Mark Barron, S, Alabama - The Bob Sanders experiment failed as expected n SD and they need to address their safety issue the way they did with Eric Weddle, through the draft.  Barron plays the entire field and is especially good in run support.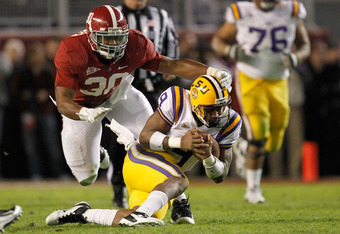 Streeter Lecka/Getty Images
19. Chicago Bears - Michael Floyd, WR, Notre Dame - Although this is a feel good pick for Bears fans, it is also a very realistic scenario as long as Floyd doesn't crack 4.4.  The most productive receiver in ND history will give Jay Cutler an option he hasn't had since Brandon Marshall.
20. Tennessee Titans - Peter Konz, C, Wisconsin - Even with the departure of two NFL picks Wisconsin continued to pound the ground, largely due to the impact blocking of Konz.  Extremely agile, Konz routinely got to the second level and is good pulling from the center position.  Injuries have plagued him though.
 
21. Cincinnati Bengals - Melvin Ingram, DE, South Carolina - The Bengals have been all about drafting talent the past few years which paid off with a playoff birth this season.  Ingram is described as a tweener in a positive sense, he can lineup from zero tech all the way to a wide nine.
22. Cleveland Browns - Kendall Wright, WR, Baylor - If the Browns invest in RG3 they will need someone in addition to Greg Little and Josh Cribs to throw to.  Wright is can stretch the field and is also dangerous in the quick passing game.
23. Detroit Lions - Alfonzo Dennard, CB, Nebraska - There are running backs that would fit in Detroit here however I suspect the Lions want to keep building defense with this draft.  Denard doesn't have as much size as you would like in the first round but he has the tape to warrant the pick.
24. Pittsburgh Steelers - Zach Brown, LB, North Carolina - A top 10 athlete on film.  Few defenders are as quick and active as Brown.  This season he learned to play within himself but he isn't near his ceiling.  The Steelers can bring him along like they did Timmons and their other young defenders.
25. Denver Broncos - Dont'a Hightower, LB, Alabama - The title game may have put Hightower out of reach for Denver, he was a fringe first rounder entering Monday night.  With elite size and experience he is what Denver needs in the middle of their budding defense.
26. New York Giants - Cody Fleener, TE, Stanford - Stealing a pick from Wes Bunting, Fleener is a perfect fit for New York.  He can stretch the middle of the field and is comfortable in mismatch situations split out wide.  After Graham and Gronkowski this year, expect prospects like Fleener to go at a premium.
27. Houston Texans - Alameda Ta'amu, DT, Washington - Despite injuries the Texans have been able to keep winning.  If nose Shaun Cody went down that would create a massive hole in the middle, however.  Ta'amu is not just a plug nose, he is active, aggressive, and gets up field when not doubled.
28. Baltimore Ravens - Vontaze Burfict, LB, Arizona St. - There isn't a more talented linebacker prospect in this draft than Burfict but numerous problems on and off the field have in in jeopardy of missing the first round.  This is the perfect opportunity for the Ravens to draft a worthy successor to Ray Lewis, as long as Ray teaches him how to be a pro first.
29. New England Patriots - Fletcher Cox, DT, Mississippi St. - Hard to expect the Pats to hold on to both picks at the end of the round when someone may be looking to trade for a Tannehill, Foles, or Weeden.  Cox gives them a productive DT with size and the ability to play all three downs.
 
30. San Francisco 49ers - Brandon Thompson, DT, Clemson - While he was primarily a nose for Clemson, Thompson's quick get off and penetrating style of play makes him a prospect that could play anywhere in SF's three man front.  I especially like the way he crowds the LOS.
31. New England Patriots - Bruce Irvin, OLB, West Virginia - We saw SF have tremendous success with a rookie pass rush specialist this season and Irvin has that same get to the QB talent.  A long, rangy athlete, he has a great speed rush and dip move.  Motor is always running too.
32. Green Bay Packers - Zebrie Sanders, OT, Florida St. - The injury bug has bit the Packers OL once again.  They are surviving but Chad Clifton will be gone soon which makes getting a talented tackle into the program a smart pick.
Let me know what you think of your team's draft picks and follow me on Twitter @JohnLorge.