Kurt Angle Admits That TNA Didn't Have a Good Year in 2011 & Why This Is Good
January 11, 2012
Kurt Angle admitted that TNA didn't step up to the plate this last year, according to an interview on Busted Open via wrestlinginc.com
He admitted that young talent had gotten buried, that Vince Russo had done some damage to the company and that stars like himself should be putting the younger talent over.
For someone like Angle, who is notoriously prideful about his standing in pro wrestling, this is a bit of a shocker.  He sounds like someone who genuinely cares for the company he is with and wants to create healthy competition for the WWE.
He spoke about Samoa Joe and AJ Styles being treated unfairly and how they were the future of the company. It was refreshing to see one of the older talents at TNA not disparaging the younger generation and homegrown talent of the promotion, but fully supporting them.
Of course, these could just be words, but Angle's career has always been one where even if it wasn't the best move for him, he let something happen.  He never forced other people to play ball with him while he continued to reign way past his prime.
That doesn't mean he isn't arrogant or full of himself.  It doesn't even mean that he isn't a little too involved in the main-event scene.
It just means that he is starting to get ready to head off into the sunset and wants to make his legacy more than one about holding titles or main events won.
He even admits that Hulk Hogan, Eric Bischoff and Vince Russo all need to get together sooner so that even if there are a lot of people working on the show, they can iron out the stories for that week long before the night of the taping.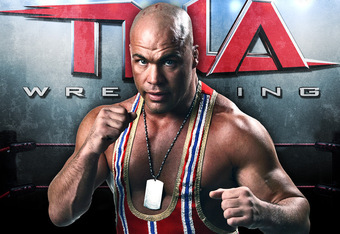 His attitude is refreshing and here is hoping that Hogan, Sting and a few of the other older wrestlers continue with the same thought process.
Because TNA could be great.  They could shake up the wrestling world and compete against the WWE.  They aren't ever going to topple Vince McMahon's giant.  The WWE has just been around too long for that to happen.
But they can at least get in the mix and force the WWE to get innovative, even though the WWE seems to be trying to do that on their own.
TNA has the potential to do something special.  They can make their show unique in a way that the WWE isn't.
They don't have the production values.
They could bring back the six-sided ring.
They don't have the biggest heavyweights or the larger-than-life Olympian characters.
The X division are like high-flying cruiserweights that many fans miss and the women wrestlers' division isn't a joke.
They can't match the amount of exposure on TV or in the media.
They can strip away half the terrible storylines and make their show part ROH and part WWE.
Kurt Angle is talking a good game, but in 2012, fans will see if he is going to do anything about it.  At least he is telling the truth.
TNA didn't have a great year.  Maybe this one will be.
Let's watch and see.
Unless it is just as awful as last year, in which case fans might not even be able to do that.