NFL Playoffs: Tim Tebow vs. Tom Brady; Who Does God Love More?
January 11, 2012
Doug Pensinger/Getty Images
It has been said that divine intervention has kept the Denver Broncos in the playoffs for another week. Nobody can deny that with Tim Tebow running the Denver offense, the Broncos have found that a little bit of faith can go a long way.
In all honesty, I have enjoyed watching the miraculous come-from-behind and fourth-quarter wins that this young quarterback has been able to pull off. Tebow has been playing like a favorite son of the almighty.
As a football fan you could not ask for a more humble and enlightening role model for our children. Truly, a walking, talking billboard for everything that is right in sports.
Unfortunately for the blessed Broncos, they now have to travel to New England's Mecca, Gillette Stadium. Nay, not Mecca, this is the holiest shrine for the lowly Patriots fan. This is the Patriots Nation's Mount Sinia.
If there is any question about this, then I am sure that the Patriots coach, Bill Belichick, our own personal Moses, would surely remind opposing teams of Gillette Stadium's 10 commandments.
Thou shall not covet our quarterback. Our offensive line will not allow the sacrilege.
Thou shall recognize the brilliance of Tom Brady. For the lord holds this man in high regard, so shall you.
Thou shall not steal the ball. The turnover ratio is always one-sided in favor of the Patriots when they play in Gillette Stadium.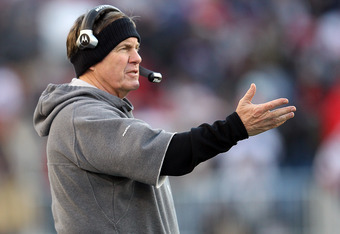 Jim Rogash/Getty Images
Naturally the next commandment follows as; Thou shall not prevent us from scoring points after your turn-overs.
Thou shall not have a clue on how to stop our offense.
Thou shall not score on kickoffs or punt returns.
Thou shall not get away with the same thing twice.
Thou shall keep the day holy. Any home game day is considered holy by the New England devout.
Thou shall not score more than 24 points against the Patriots. That ensures that the Patriots' average score of 28 points per game will lead to another victory.
Thou shall not win against the Patriots while playing in Gillette Stadium. Our home record says it all, few leave this place with a win except us.
If the New England commandments were not enough to guarantee the success of the Patriots, then it would be wise to considered who God will favor in this game of titans.
God has delivered unto the Patriots two great champions in Bill Belichick and Tom Brady. Individually each would be great, but unified they are nearly unstoppable.
In appreciation of the accomplishments of Tim Tebow, I heard a friend say, "God surely loves Tim Tebow...but, he loves Tom Brady more."