Young Defensemen and Veteran Goalies Lead the Way
January 11, 2012

Phillip MacCallum/Getty Images
Each week we will look at a top five fantasy defensemen and top five fantasy goalies.  The list will be based on fantasy impact over the past few days and weeks.  Most elite stars consistently produce, but there are several players who are very streaky, so keep an eye on their stats so that you can dress them while they are on a hot streak. 
#5 – Nicklas Lidstrom (Detroit Red Wings) is rarely mentioned on the cold side of hot and cold players but Lidstrom is on a cold streak as he is pointless in six games and has just one goal over the last 10 games.  Lidstrom is still on pace for 15 goals and 44 points but could this cold snap mean he is finally starting to show his age?
#4 – Ryan Ellis (Nashville Predators) is an offensive stud from the blue line; just look at his junior numbers.  Last season Ellis scored 24 goals and 101 points for the Windsor Spitfires of the OHL.  Ellis showed his potential in his last two NHL games over the last five days where he has two goals and four points.  Three of those points were on the power play.  Ellis will be a power-play stud very soon in the NHL.
#3 – Dan Boyle (San Jose Sharks) is finding his offensive game again.  After going six games with just a single point, Boyle has recorded back-to-back games with three points in each game.  Boyle recorded three assists against the Washington Capitals and followed it up with a goal and two assists against the Minnesota Wild.  Boyle's production dropped last season by eight points and is on pace for another drop this season (48 points) but is still a fantasy threat.
#2 – Alex Pietrangelo (St. Louis Blues) is on a four-game point streak with a goal and six assists over that streak.    Pietrangelo scored four of his seven points on the power play.  Pietrangelo is on pace for another 10+ goal season.  If your pool uses plus/minus rating, Pietrangelo is someone you want on your blue line.  He was plus 18 last season and is on pace to finish the season with a plus 25 rating.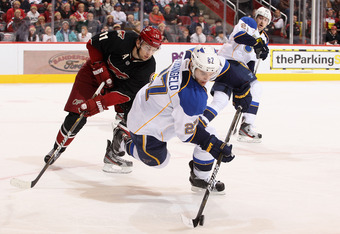 Christian Petersen/Getty Images
#1 – Erik Karlsson (Ottawa Senators) is just five points away from eclipsing his career high in points, and the Senators are just past the halfway mark.  Karlsson finished last season with a -30 rating and is currently sitting at plus seven and is on pace to finish with a plus 13 rating.  Karlsson missed last game with an upper body injury but before that he scored six points in four games.  Karlsson is currently leading the NHL in defensemen scoring by eight points and is on pace for 76 points.
The goaltending position is the streakiest of all hockey positions so be sure to keep a hot goalie in your line-up and the cold one on the bench!  (Abbreviations: goals against average GAA and save percentage SV%).
#5 – Marc-Andre Fleury (Pittsburgh Penguins) is struggling as the Penguins deal with all their injuries.  Over his last five games Fleury hasn't won a game, has a GAA of 2.85 and 0.876 SV%.  Fleury is on pace for 38 wins but that could change with how Pittsburgh plays with so many injured players.
#4 – Jonas Gustavsson (Toronto Maple Leafs) is stopping everything thrown at him.  Over the last three starts he has only allowed three goals on 93 shots.  Gustavsson won all three and posted two shutouts, over those games he has a 1.01 GAA and 0.969 SV%.  Gustavsson is on pace to split the season 50-50 with James Reimer and finish with 25 wins.
#3 – Jonathan Quick (Los Angeles Kings) is benefiting from the coaching change in LA.  In the eight games Quick has played since Darryl Sutter took over as coach, Quick is 5-1-2.  Over that time frame he has two shutouts, including one against the Chicago Blackhawks and posted a GAA of 1.10 and SV% of 0.958.  Quick is on pace for 34 wins and 11 shutouts this season.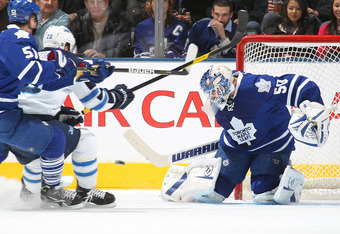 Claus Andersen/Getty Images
#2 – Craig Anderson (Ottawa Senators) is one of the hottest goaltenders right now in the NHL.  Over the last two weeks Anderson hasn't lost in regulation with six wins and an overtime loss.  Over the last seven games Anderson has a GAA of 1.87 and 0.940 SV%.  Anderson is on pace for 39 wins but has yet to record a shutout.
#1 – Henrik Lundqvist (New York Rangers) has been a rock for the Rangers and is a key reason why they are first overall in the NHL.  Lundqvist is on a seven-game winning streak with one shutout.  Lundqvist is posting a 1.14 GAA and 0.962 SV% over those seven games and seeing an average of 30 shots against per game.  Lundqvist is on pace for 39 wins and six shutouts.
------------------------------------------------------------------------------------------------
Aaron Brouwer is the co-creator of www.fantasyhockeycoach.com.  FHC is a free fantasy hockey service that developed a ranking system combining post-lockout statistics, current factors and our own hockey knowledge.  Brouwer writes about fantasy hockey on Bleacher Report. You can contact Coach Brouwer at brouwer@fantasyhockeycoach.com.