MLB Trade Rumors: Yankees Pursuing Edwin Jackson? Hal and Cashman May Be at Odds
January 12, 2012

Rob Carr/Getty Images
If a report in the January 12th edition of the New York Post proves to be accurate, it may very well be that the Yankees brass is once again at odds over how to address their various roster needs.
Specifically, it is reported that Hal Steinbrenner, for the second consecutive year, may be negotiating directly with Scott Boras for the services of a pitcher who has failed to attract the kind of dollars and contract length originally thought possible by the superagent.
Last year it was Rafael Soriano—he of the three year, $36 million contract, and this year its Edwin Jackson, he of the four- to five-year contract demands that have yet to find a suitor.
There is no reference to Brian Cashman being involved in the process at this point, and it's difficult to believe that Cashman couldn't find the time to participate if the process in fact had his blessing.
Regardless of how this plays out in the end, what is most curious about this episode of potential internal friction is the reality that Jackson, who has averaged more than 30 starts per season since 2007, would not be brought in simply as insurance. He would essentially be inserted into the Yankees' rotation immediately upon signing, and that translates directly into there being an odd-man-out situation with regards to the Yankees starting staff.
While the Yankees' projected starting five is not exactly fearsome, it is nonetheless set barring injuries or a combination of poor performance by a veteran during camp and a spectacular showing by a prospect.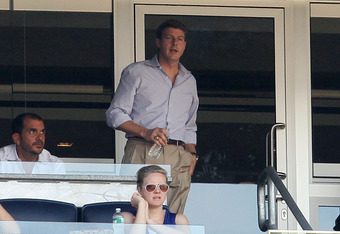 Jim McIsaac/Getty Images
It was the signing of Freddy Garcia that specifically appeared to negate any chances of the Yankees making a play for a veteran starter this offseason, and so it is strange to say the least that Hal Steinbrenner's apparent end-around is happening at this stage of the game.
Garcia's contract is not the $1.5 million quickie that he signed heading into the 2011 season—in fact, it's reported to be in the $4-$5 million range—and if you add the $9-$12 million per year that Jackson will add to the payroll, then the Yankees' dreams of getting in under the $189 million salary cap for next year begin to appear less attainable.
As for whether Jackson would be a good addition to the staff, regardless of all the intrigue and economic implications, there is little question that he makes sense for several reasons. He's young, throws hard, has big-game experience and, perhaps most importantly, he's averaged more than 190 innings pitched over the past five seasons. 
In Jackson, the Yankees would have the makings of a solid middle-of-the-rotation asset, far more dependable than A.J. Burnett and a nice hedge against another implosion by Phil Hughes.
The team as presently constructed cannot point to anyone other than CC Sabathia as a lock to give them high innings, and Jackson's presence would figure to relieve a Yankees bullpen that projects to work hard for the paychecks this upcoming season.
Additionally, despite having several high-ceiling prospects in the system, the Yankees cannot feel entirely comfortable with the state of their pitching organizationally.
While Dellin Betances and Manny Banuelos appear legitimate, the reality is that young pitchers do not typically thrive in New York. More concerning has to be that beyond Betances and Manuelos, the organization possesses prospects that appear to be more along the lines of middle- to back-end starters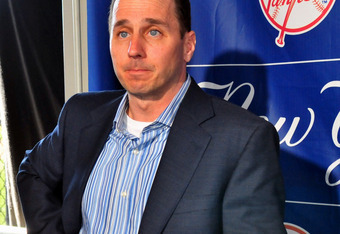 Al Messerschmidt/Getty Images
Having Jackson locked up for three years or so gives the team options and the stability that those options represent.
Moreover, with the Yankees figuring to make aggressive plays for soon-to-be free agents Cole Hamels and Matt Cain, presuming their respective teams fail to sign them during the 2012 season, Jackson looks even better as your No. 4 starter than he does as your three man, which is what he would be for the 2012 season should the Yankees indeed bring him on.
It remains to be seen if the rumor cited in the New York Post is indeed accurate, but going on the presumption that it is, it could be said that, when all the variables are considered, the Yankees would be getting arguably the best free-agent starter on the market this offseason.
This assertion is not based on statistical analysis so much as it is on Jackson's age, durability, and projected cost range. He will not lead a staff, of course, but then again neither will C.J. Wilson or Mark Buerhle, despite being paid as if that's the role they're each taking on.
Baseball and economic sense aside, the presiding issue in all of this is the apparent philosophical split between Hal Steinbrenner and Brian Cashman that bringing Jackson on would represent.
If Cashman is in fact sitting this one out, it can only mean he doesn't agree with it, and it is a strange dynamic to have this storyline develop for the second consecutive offseason.
The most remarkable aspect of things, however, is that it would appear that Steinbrenner and Cashman can have these differences and still go on with the business of running the club effectively. If this were not the case, then the Yankees' would not have extended Cashman through 2014, or Cashman would have walked on his own.
For longtime Yankees fans, the idea that ownership and a general manager can publicly disagree without the general manager looking for work shortly thereafter is essentially beyond belief. Thirty-plus years of George Steinbrenner running the show did not, by any means, prepare the Yankees universe for this type of development.
This bizzaro-world version of Yankee-land will take some getting used to, but it certainly appears that it will be worth watching.