NBA Rumors: Why Denver Nuggets Desperately Need to Hold onto Danilo Gallinari
January 13, 2012

Doug Pensinger/Getty Images
The Denver Nuggets are finding out that life without Carmelo Anthony is going well, but if they don't ensure that Danilo Gallinari remains on the team for many years, they will be sadly mistaken. 
Gallinari was a key player in the blockbuster trade that sent Carmelo to the New York Knicks. His career average is only 14 points per game, but it's hindered by a mediocre rookie season.
The Italian-born hoop star has been getting better each year, and has what it takes to be the dominant force Denver needs to win a championship.
Without him, the Nuggets would suffer a major hit, as he is a young and rising star who will continue to improve.  
In the summer, Gallinari can become a restricted free agent, along with center Kosta Koufos. Point guard Andre Miller will be an unrestricted free agent.  
According to FOXSports, Gallinari would love to remain with the Nuggets. 
"I'd like to be here," Gallinari said. "If I can play here, it'd be great...If they give me an extension (before next summer), it's good. If not, I will wait until after the season."
Miller also said in the same report that he isn't happy with his playing time and he doesn't see himself re-signing with the Nuggets.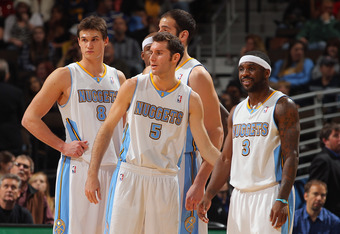 Doug Pensinger/Getty Images
That is something Denver should care little about, as the Nuggets main priority has to be on Gallinari. 
The small forward is one of the best players on the team, and if Denver plans to be a contender in the tough Western Conference, holding onto Gallinari is key. 
Currently, Gallinari is leading the team with 17.2 points per game, with huge performances in big wins over the Los Angeles Lakers and Dallas Mavericks. Gallinari also performed well and kept the Nuggets competitive in close losses against the Portland Trail Blazers and San Antonio Spurs. 
Friday night, the Nuggets will host the Miami Heat, and if Gallinari will be the one that helps Denver go toe to toe with the NBA's best team. 
Should Denver choose not to bring back Gallinari for next season and beyond, the team will be on the decline, and that is not what needs to happen. 
Surely the Nuggets are fully aware how much Gallinari means to him, so they'd be very wise to get him a deal before the summer approaches and other teams come calling. Of course, Denver has the right to match the offers, but if it gets to high, they may back off. 
This would be horrible for Denver, which is why the Nuggets have to do whatever it takes to keep Gallinari on the team.