Liverpool FC: Jay Spearing's Injury and the Tactical Consequences
January 13, 2012

Michael Regan/Getty Images
Elation after Liverpool's narrow 1-0 victory over Manchester City on Wednesday was tempered somewhat with Jay Spearing forced off with a hamstring injury. We still don't know how many games the 23-year-old will miss, but this could certainly cause problems for Kenny Dalglish with Lucas Leiva already out for the season.
Liverpool's next two matches are Stoke City at Anfield on January 14th and Bolton Wanderers away on the 21st. With all due respect to both clubs, neither game should require the use of of a dedicated holding midfielder. Stoke's main weapons are crosses and set-piece bombardment, while Bolton seem to have trouble putting together any sort of attack whatsoever.
It remains to be seen how long Spearing will be out, but if his layoff will extend past these two matches the team could be in serious trouble. January 25th is the second leg against Manchester City in the Carling Cup while on January 28th the club have a date with Manchester United in the FA Cup at Anfield. The two league cups are Liverpool's only realistic shot at silverware this season, and you can be sure that Dalglish is thinking about his starting lineup already.
Charlie Adam was brought off the bench to replace Spearing against City, but the tenacious Scot is nowhere near a like-for-like replacement. Liverpool's success against the top clubs is due to the midfield closing space and restricting passing options for the opposition's creative players. Lucas is not only a fine tackler and short-range passer of the ball, but his instinctive positioning was honed by the tactical grindstone of Rafa Benitez and has been greatly missed.
Adam may very well be able to win the ball off David Silva or Wayne Rooney when they are in possession, but marking the space they attempt to exploit is what really constitutes a world-class holder. Liverpool's summer recruit just doesn't have the mobility and discipline to maintain a constant awareness of enemy player's movements in that space directly in front of the defensive line. In his defence, Adam wasn't recruited for this role, but he is really the only option that Liverpool have.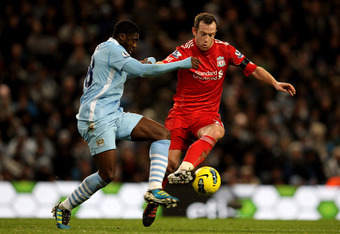 Clive Mason/Getty Images
At the end of the day it will come down to the formation Dalglish intends to put out against the Manchester Clubs. Both games are at home, and both are completely winnable considering the injuries plaguing the back lines of both teams. It's all well and good to hold on to a narrow 1-0 lead at the Etihad Stadium, but putting out a team to defend from the get-go will be asking for trouble.
Liverpool's central midfield options currently stand at Adam, Jordan Henderson, Steven Gerrard and Jonjo Shelvey. In all likelihood Adam will anchor a three-man pyramid with Henderson and the club captain taking turns to burst forward as well as press the opposition's handlers in midfield. It will be absolutely imperative that someone does get forward enough to support Andy Carroll (who I assume will get the nod ahead of Dirk Kuyt), as Liverpool cannot let him be as isolated as he was against City in the first leg.
City simply must attack, therefore in the Carling Cup match Liverpool will likely sit back (not quite as deep as they did on Wednesday) and look to hit on the break. Unless they can retain the ball and put pressure on the Vincent Kompany-less back line, Reds fans are likely in for a nail biter, hoping that Pepe Reina can deal with wave after wave of attacks.
Manchester United will be a different proposition entirely. With Tottenham Hostpur breathing down their necks in the league, With Nemanja Vidic as a long-term absentee and Sir Alex Ferguson feeling that he has no better midfield options than rusty ginger Paul Scholes, I genuinely feel United are there for the taking. Newcastle showed us that consistent pressing, coupled with accurate long-balls forward, yields results against Ferguson's men. Now Carroll is certainly no Demba Ba, but Gerrard can hit a pass just as well as Yohan Cabaye, although it may be beyond Adam to shield and harass to the extent that Cheick Tioté was able to do.
Two other options remain.
First, Dalglish brings back Jamie Carragher and splits up a quite fruitful central defensive partnership in order to move Daniel Agger forward into midfield. The Dane has shown himself to be a competent defender alongside Martin Skrtel, and it would be a roll of the dice indeed to bring him out of his comfort zone. He would certainly sit deeper than Charlie Adam ever would, and the Scot would likely be relegated to the bench in preference of the Gerrard/Henderson pairing in front of Agger.
On the other hand, Dalglish could dip into the transfer market to bring in short-term cover. Expecting a new defensive midfielder to slot comfortably into this side for two of the biggest matches of the season is no less risky than the former option, but it would also provide further cover for Spearing until the end of the season. Off the top of my head there is really no such player available, considering Dalglih's "buy British" criteria.
The heart really does go out to Spearing as he has an opportunity here to take advantage of Lucas' absence and fulfill his potential playing from now to the end of the season. I sincerely hope the injury will be nothing and he'll be back in time for this weekend, but only time will tell.
Liverpool has a real chance to play a League Cup final against Championship opposition, as well the added incentive of knocking bitter rivals United out of the FA Cup and taking one further step towards the latter round of that tournament.
Your comments and suggestions are appreciated!