Golden State Warriors: How Has Mark Jackson Made an Impact as Head Coach?
January 13, 2012

Ezra Shaw/Getty Images
The Golden State Warriors won an exciting overtime contest against the Miami Heat on Wednesday night. But the Warriors under new coach Mark Jackson are still 3-6 and are getting outscored by an average of 97.2 to 92.2 points per game. Where has the first-time coach impacted the Warriors?
Some say Jackson is hurting the Warriors but getting them away from the one thing they can do well: run and score. Others say his commitment to defense is making the Warriors into a balanced winning team. I think evidence is mixed through nine games. 
Offense
For the first time in a long time, the Warriors are playing slightly below the average NBA pace, with 91.7 possessions per game. The end of the Nelson era's run-and-gun offense hasn't come with many improvements.
Through nine games, the Warriors have an offensive rating of 99.6, good for 23rd in the league. Last year's team was 12th at 108.2. Yes, the Warriors have played a tough schedule so far, but that can't explain away all of the Warriors' regression. And Stephen Curry may return fully healthy at some point, but that will not suddenly fix everything. 
One of the secrets of seven-seconds-or-less offense has always been that you don't turn the ball over a lot in seven seconds. Last year, the Warriors turned the ball over on 13.3 percent of possessions, 14th-best in the association. This year they're 22nd in the league, with a TOV rate of 14.9 percent.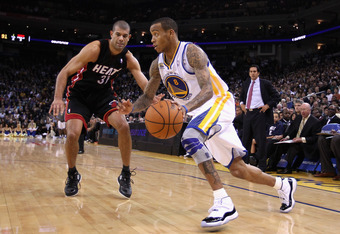 Ezra Shaw/Getty Images
Whereas teams of the past have excelled scoring in transition, this one has struggled. They are using only 11.9 percent of possession on transition and are scoring only 1.04 PPP, compared to last year's team that used 13.4 percent and scoring 1.20 PPP. 
The one area of offensive improvement has been more assisted looks close to the basket. This year's team is shooting 62 percent on non-jumpers, with 57 percent of those attempts coming assisted. Last year's team shot 58 percent on those, with 46 percent assisted. Monta Ellis has been finding men near the rim very well so far, and having more true big men and better movement may explain why.
Much of the difference in offensive performance this year can be attributed to shooting jump-shots at a field-goal percentage, 42.0 percent, down from 46.5 percent from last year. Jumpers are getting assisted at a lower rate, 57 percent, than last year when they were on 63 percent. 
Part of the change may be from playing worse jump shooters than last year, and having jump shooters get worse looks at the basket this year. But part of the change may just be luck.
Dorell Wright, Monta Ellis, and David Lee have been shooting terribly this year. Wright is at 29 percent on threes, Ellis at 22 percent and Lee is shooting 32 percent on all jumpers. If those three guys start shooting better, Jackson will look much better.If Ellis and Wright both shoot 5 3's a game, a 10 percent increase in their percentages means 3 more points a game.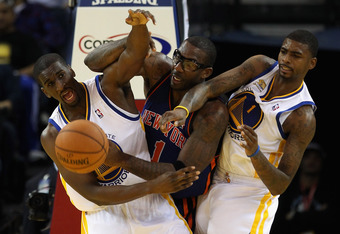 Ezra Shaw/Getty Images
Defense
Part of Jackson's stated plan in transforming Golden State was developing a commitment to defense. They have a defensive rating of 105.0 so far, good for seventh-worst in the league. Last year's team was fifth-worst at 110.7. If you take the fact that they've played very strong offenses in the Heat, Spurs, Bulls, Clippers and 76ers, it looks like the Warriors have had some defensive improvement. 
Part of Jackson's defensive focus has meant the Warriors are playing with true power forwards at the power forward spot and centers at center. Kwame Brown has been a very effective defensive addition so far, and Epke Udoh has also looked very good on that side of the floor. 
The defensive games have come across the board with improvements in defensive rebounding, better defending against spot-up shooters, better defense of isolation plays and better defense of the pick-and-roll. They've quickly moved from last in the NBA in defensive rebounding to a more respectable 23rd.
But the changes here may be as much a matter of personnel changes than anything else, and playing better defensive lineups means playing worse offensive lineups. 
Jackson's focus on fundamental defense may also explain why the Warriors have worsened in forcing turnovers. Last year, they were fifth in the NBA, forcing turnovers on 14.5 percent of possession. But this year they rank 20th.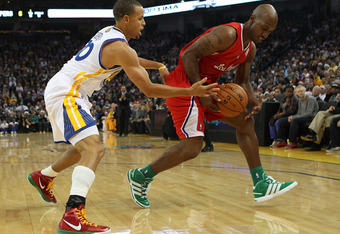 Jed Jacobsohn/Getty Images
Even if going for fewer steals improves your team's defensive stats, it may hurt your team if it means they don't get easy points in transition as a result.
Culture
Successful youngish teams tend to be described as having cultures that are either driven by strong leaders or, like the Grizzlies or Thunder have, a lot of guys who can get along and are commonly motivated. 
When Baron Davis left, he said he was leaving the franchise in Ellis' hands. But Ellis doesn't have what the one called Boom Dizzle and King Leonidas had. 
The scooter incident followed by Ellis' gunner role on offense and his natural personality, made it hard for the team to rally around him. When Ellis got married in July of 2010, Devean George and Curry were the only teammates to attend.
Matt Steinmetz recently asked Ellis and Jackson about Ellis' leadership role on the team. Ellis downplayed his role in motivating teammates and Jackson defended Ellis' quiet leadership style. 
During a November exhibition game featuring Warriors players of past and present, Davis called Curry the Warriors' future.
Ellis' great start and Curry's injury have again opened up questions of whose team this is whose image it will take on. 
For a young, struggling team, Jackson's focus on competition has seemed wise. Brandon Rush, Dominic McGuire and Ish Smith have all been able to push more established players. 
Managing the team's culture may be one of Jackson's most important roles now but may be harder to improve than the transition game.
Jackson has been described in positive Tony Dungy, paternalistic, players' coach terms. But so was Keith Smart.