Floyd Mayweather-Manny Pacquiao Is Not Happening: 5 Other Fights to Watch for
January 13, 2012

Ethan Miller/Getty Images
Since Floyd Mayweather Jr. had his 90-day jail sentence deferred until June 1, the seemingly endless saga between him and pound-for-pound rival Manny Pacquiao has kicked into high gear.
First, Pacquiao could fight on May 5. Then he couldn't. Mayweather called out Pacquiao, but Bob Arum insisted, with a host of dubious excuses, that the bout wouldn't happen and that his fighter would face one of four other opponents. Then, Pacquiao and those around him told reporters that they wanted Mayweather and would tell Arum so.
Finally, after several more taunting tweets from Mayweather, Arum and Pacquiao seemed to compromise. Mayweather was on the table, but not for May 5. The fight could happen provided it would be moved to the end of the month so that an outdoor arena could be built and more revenue gained.
For all of the back-and-forth, though, there is no indication that any actual negotiations were occurring between the camps. The banter has paused in the last 48 hours, which may be a sign that they are getting serious.
Nonetheless, the tough talk from both sides in the media seems more like posturing than anything else.
There is a reason why Mayweather, who has hitherto been coy about the topic of the "megafight," has suddenly become so very vocal. As Frank Lotierzo of The Sweet Science remarked, "Was there ever a doubt that when Manny and Money got together it would be if and only if and when Mayweather felt it was the right time for him?"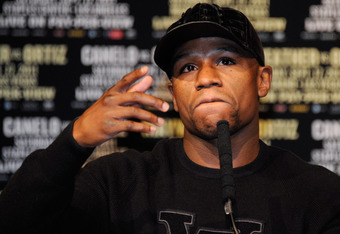 Ethan Miller/Getty Images
Juan Manuel Marquez exposed some major kinks in the Pacman's armor, and both camps know it. Given Pacquiao's limping confidence at the moment, you better believe Arum does not want to concede another battle and cave to Mayweather's demands.
But with a strict, court-ordered deadline, Mayweather has been able to put the burden on Pacquiao. If it doesn't happen now, it will be the Filipino congressman and Arum who face the blame.
Likewise, team Pacquiao is trying to push the goalpost back a bit. The closer they can get the fight to June 1, the more likely it is that Mayweather enters the ring distracted and unfocused. Mayweather, of course, will not let that happen.
Pacquiao and Arum know that Mayweather won't fall for that gambit, and Mayweather knows that Arum won't let Pacquiao kowtow to his dictates. So what we have is a battle for the good will of public opinion.
That is, what we don't have is are real fight negotiations.
Mayweather-Pacquiao will not happen in May. It won't happen until November at the earliest, and I would be willing to bet it does not happen until early spring 2013. The sooner fight fans come to terms with that possibility, the sooner we can all move on.
In the blinding light of the shenanigans transpiring in Las Vegas and General Santos City, fight fans have ignored some of the excellent fights shaping up or actually happening in the coming weeks. Here are five that will help us all get over our May-Pac hangover.
Rico Ramos vs. Guillermo Rigondeaux (Jan. 20)
Ramos is coming off of a thrilling, come-from-behind knockout over Akifumi Shimoda in July. He should provide, if nothing else, a great measuring stick for Rigondeaux.
The former Cuban amateur standout has had only eight fights, but has moved along quickly and picked up an Alphabet trinket. He struggled against an aging Ricardo Cordoba at the end of 2010 and fought only once in 2011. His talent is superior but a combination of ring rust and professional inexperience could make this a fascinating matchup.
Andre Berto vs. Victor Ortiz II (Feb. 11)
The first go 'round was a fight of the year candidate. Expectations for this one are appropriately high. Both guys come into the fight with chips on their shoulders—Berto from losing the original last year, and Ortiz following the series of embarrassments stemming from the Mayweather debacle. This one will produce fireworks.
Devon Alexander vs. Marcos Maidana (Feb. 25)
The host of fights on Feb. 4 have more star power (Julio Cesar Chavez Jr. and Nonito Donaire appear on the HBO card), are more sure to create high-octane action (their opponents are Marco Antonio Rubio and Wilfredo Vazquez Jr., respectively) and will include one of the most underrated and most intriguing grudge matches going (Steve Cunningham vs. Yoan Pablo Hernandez). Nonetheless, the Alexander-Maidana fight is an early sleeper for fight of the year.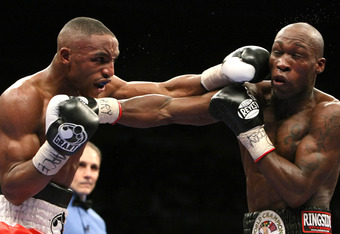 Al Bello/Getty Images
Hear me out.
For as ugly as Alexander's showing against Tim Bradley was in Detroit last year, he has traditionally been a pretty entertaining pugilist. On the other hand, Maidana will surely ask whatever questions there are of Alexander following the unsavory end to the Bradley-Alexander fight. Alexander likes to throw combinations and stays within punching range. Maidana likes to slug. Expect this to be a surprisingly terrific fight between two guys who have a lot to prove. Among the subplots: Can Alexander rebound from his poor showing against Bradley? Can Maidana win convincingly against top competition?
Juan Manuel Lopez vs. Orlando Salido II (March 10)
Another rematch of a stellar first fight. Salido upset Lopez, who was on his way to a huge showdown with Yuriorkis Gamboa, in a slugfest. Questions still linger about Lopez's chin and conditioning, both of which Salido will test again.
Danny Garcia vs. Erik Morales (March 24)
I think the real gem on this HBO card will be the James Kirkland-Carlos Molina matchup. Morales, I believe, fulfilled the old maxim about great fighters having one last great fight left in them when he nearly outworked Maidana in April. His bounce back win against Pablo Cesar Cano left us with some ambivalence about his form going forward. He'll always be tough, but will it be enough against Garcia, the Philadelphia dynamo who has been bred for stardom. He struggled in his last outing, a narrow split-decision win over Kendall Holt in October. This one has all the drama built right into it.
Unofficial goodies: Floyd Mayweather vs. Saul Alvarez (May 5); Manny Pacquiao vs. Juan Manuel Marquez IV (June 9 or June 16); Amir Khan vs. Lamont Peterson II (TBA)
If Mayweather-Pacquiao falls through, it seems as though these are the matchups we should expect. The WBA, for its part, has recently demanded a rematch between Khan and Peterson following Peterson's controversial split-decision victory. Unless Peterson gets the unlikely call to fight Pacquiao, this one is a sure thing.