NFL Playoff Predictions: Denver Broncos, New York Giants Gain Upsets
January 13, 2012

Chris Graythen/Getty Images
Saturday, January 14, 4:30 pm
No. 3 New Orleans Saints @ No. 2 San Francisco 49ers
Does anyone get the sense that the 49ers are just happy to be in the playoffs after a nine-year drought, and soon they will vanish but we'll be hearing those "They'll be back" and "They made some real strides this year"? I sure do.
No one is talking about them, nor giving them any chance to beat the Saints and Drew Brees who are a whole different team away from the Super Dome. Still, I just don't see how their offense can keep pace with the Saints' scoring machine. The 49ers are kind of like the Texans of the NFC. No one is talking about them because we really don't see them sticking around long in order to have to actually research them. I certainly don't think they have staying power because I am still not sold on Alex Smith being more than a one-year miracle-wonder.
'Niners fans will mention their run-stuffing defense and how they don't allow 100-yard rushers or how they haven't allowed a quarterback to throw for more than 350 yards all season against them. To that, I say, "Have you seen the Saints?" Sure, their defense could clamp down a bit, a la the Ravens and make this a lower scoring game than I anticipate, but that still doesn't explain how they would match the Saints offense score-for-score.
The Saints are playoff tested, and the offense seems to mask the inefficiencies on defense, kind of like the 1998 Minnesota Vikings. This is one of those matchups I actually hope I get wrong, since I can't stand the Saints even before they beat my Vikings in 2009. Considering I usually get 50 percent of my weekend picks right, I'd love nothing more than to be wrong here.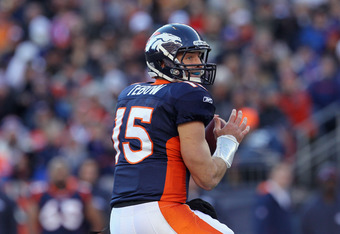 Jeff Gross/Getty Images
New Orleans Saints 41, San Francisco 49ers 20
AFC Divisional Round: Saturday, January 14, 8 pm
No. 4 Denver Tebows @ No. 1 New England Patriots
Again, considering I generally get 50 percent of my picks right, here is another that is actually the opposite of what I hope happens. But knowing Tim Tebow and his magic, there is no way I am picking against him. Notice I did not say the Broncos. I could see a scenario where this ride doesn't stop until that pretty boy, holier than thou, 13th Disciple, is holding the Lombardi Trophy.
It is well documented that the Patriots defense is terrible. We all know of the Patriots' edge in coaching and experience, but I wouldn't want to get in the way of this Tebow train. Somehow, some way, they'll probably find a way to win, although I'd love to see "Boy Wonder" be personally responsible for many back-breaking turnovers leaving cheerleaders like ESPN's Skip Bayless no choice but to admit the failure that is "Tiny Tim" Tebow. Then, we can move on with our lives and the rest of the playoffs once this side-show is over.
Tebow will likely cap another storybook ending with a touchdown in less than two minutes. A run to the far left pylon is my guess.
Denver Tebows 23, New England Patriots 21
Sunday, January 15, 1 pm
No. 3 Houston Texans @ No. 2 Baltimore Ravens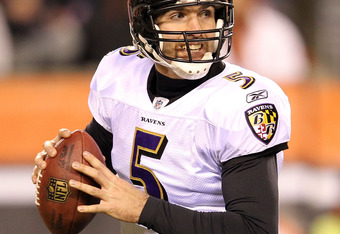 Andy Lyons/Getty Images
Easily the least intriguing matchup left in the playoffs. You have the Houston Texans, who no one respects because their games are so rarely televised, against the playoff-tested Baltimore Ravens. If Joe Flacco wins, it will be because his defense carried him as always—the story of his career. Please Texans, stop the run and Ray Rice and force Flacco to beat you because I don't think he has it in him to step up.
Logic would suggest the Ravens, who have the coaching edge, will win, but Arian Foster, (153 yards last week), leads a very good and deep run game. Next, their defense is solid and appears to be just good enough to get the job done. After the surprising victory against Cincinnati last week, there is no way I am not taking the Texans.
Houston Texans 27, Baltimore Ravens 21
NFC Divisional Round: Sunday, January 15, 4:30 pm
No. 4 New York Giants @ No. 1 Green Bay Packers
Easily the most intriguing match up of the weekend. People that are so quick to dismiss the Giants have to realize they have the championship and playoff experience from 2007 and are in the playoffs more often than not. Next, their defense and particularly their defensive line is as deep as always with Justin Tuck, Osi Umenyiora and Jason Pierre-Paul. Finally, their run game is deep and their wide receivers seem to do just enough to win big games.
As for the Packers, their 15-1 record speaks for themselves, and I don't mean to brush off their accomplishments, but this has all the makings of a tough game for them. We know their offensive line is beat up, as is top receiver Greg Jennings. Then, they have the distraction of the tragedy of one of their coaches to overcome. Don't forget they haven't played in almost three weeks and could come out rusty while the G-Men have been battling in playoff-mode for weeks now.
New York Giants 35, Green Bay Packers 24
Statistics and references courtesy ESPN and ESPN.com.