Aaron Rodgers, Drew Brees, or Tom Brady: Which Player Will Be the 2011 NFL MVP?
January 14, 2012

Jonathan Daniel/Getty Images
The NFL Most Valuable Player award is the most prestigious individual award in the NFL, presented by the Associated Press to the player who not only plays at an excellent level individually, but also makes his teammates better.
Since this is the most highly regarded individual award in the NFL, there is plenty of debate on an annual basis as to who will win NFL MVP.
This article will start by narrowing the MVP race down to only the top candidates, at which point those candidates will be directly compared to each other to see who the MVP should be. 
Players That Can Be Ruled Out Immediately:
1. Any player other than a quarterback: A quick study of the history of the AP NFL MVP award suggests that the only players who have a realistic shot at winning the MVP award are quarterbacks or running backs from playoff teams (the last MVP other than a QB/RB was Lawrence Taylor in 1986). As a result of this history, only quarterbacks or running backs will be considered as possible MVP candidates in this article.  
The top candidates at the running back position for MVP would be LeSean McCoy (Philadelphia Eagles), Maurice Jones-Drew (Jacksonville Jaguars), Fred Jackson (Buffalo Bills), and Matt Forte (Chicago Bears). However, all four candidates were on non-playoff teams, meaning that they will not be considered MVP candidates, even though all four had great years.
2. Quarterbacks from non-playoff teams: As mentioned above, players from non-playoff teams have practically no chance at winning the NFL MVP award, which will rule out every quarterback except the 12 quarterbacks who made it to the playoffs. The most notable quarterbacks that have been ruled out are Tony Romo, Cam Newton, and Philip Rivers.
3. Peyton Manning: The possibility of the Indianapolis Colts' quarterback winning the MVP award this year has been brought up by some writers. However, we must remember that the award in question is the most valuable player of the 2011 season, and Peyton Manning has not played a single down of football in the 2011 season. Regardless of how good a player is, that player does not contribute much value to his team by sitting on the bench.
4. The quarterbacks who weren't quite good enough: Out of the twelve playoff quarterbacks in 2011, there are three whose seasons are head and shoulders above the rest: Tom Brady, Aaron Rodgers, and Drew Brees. All three quarterbacks had amazing seasons statistically. In addition, all three quarterbacks carried their teams to 13 wins or better despite a number of issues on each team.
Other quarterbacks like Eli Manning, Matthew Stafford, and Matt Ryan had great years with their respective teams, but were simply a step below the top three quarterbacks.
Comparing the Top Candidates:
Trying to find fair ways to compare quarterbacks is difficult since every quarterback faces a unique set of circumstances. I have decided that the best way to start is to do a comparison of each quarterbacks' drive statistics.
Here is the basic idea: one of the often ignored factors that impact a quarterback's statistics is how many offensive possessions that quarterback plays. The more offensive possessions a quarterback plays, the more opportunities that quarterback has to throw for yards, touchdowns, and interceptions.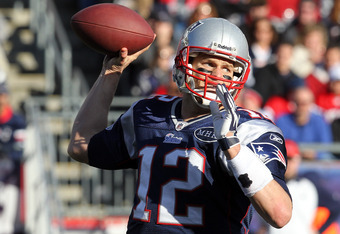 Jim Rogash/Getty Images
A quarterback's raw yardage and touchdowns can be misleading if that quarterback is at a disadvantage in terms of number of drives. Since Aaron Rodgers missed an entire game at the end of the year (to avoid injury in a meaningless game), the difference in total drives is meaningful.
To count the number of drives each quarterback played, I started with Football Outsiders' drive stats, which counts the number of drives each team has ("take a knee" drives are disregarded). Then, using the nfl.com play-by-play charts, I excluded every drive in which the quarterback was benched with a big lead or in a meaningless game.
Finally, I computed per-drive statistics (completions per drive, yards per drive, touchdowns per drive, etc) for each quarterback. Using these figures, I estimated how each quarterback would have done if they had played all of the drives for their respective teams:
Drew Brees:
Actual Statistics: 169 drives, 468*/657 comp/att (71.2* completion percentage), 5,476* passing yards, 46 passing touchdowns, 14 interceptions, 110.6 passer rating
Adjusted Statistics: 174 drives, 482/676 comp/att (71.2 completion percentage), 5,638 passing yards, 47 passing touchdowns, 14 interceptions, 110.6 passer rating
Tom Brady:
Actual Statistics: 172 drives, 401/611 comp/att (65.6 completion percentage), 5,235 passing yards, 39 passing touchdowns, 12 interceptions, 105.6 passer rating
Adjusted Statistics: 173 drives, 403/615 comp/att (65.6 completion percentage), 5,265 passing yards, 39 passing touchdowns, 12 interceptions, 105.6 passer rating
Aaron Rodgers:
Actual Statistics: 148 drives, 343/502 comp/att (68.3 completion percentage), 4,643 passing yards, 45 passing touchdowns,  6 interceptions, 122.5* passer rating
Adjusted Statistics: 168 drives: 389/570 comp/att (68.3 completion percentage), 5,270 passing yards, 51 passing touchdowns, 7 interceptions, 122.5 passer rating
*NFL record
To compare the three, here is the ranking of each quarterback in each category for the drive-adjusted statistics:
Completion Percentage (not affected by the adjustment):
1. Drew Brees: 71.2
2. Aaron Rodgers: 68.3
3. Tom Brady: 65.6
Passing Yards
1. Drew Brees 5,638
2. Aaron Rodgers 5,270
3. Tom Brady 5,265
Yards Per Pass Attempt (not affected by the adjustment)
1. Aaron Rodgers 9.2
2. Tom Brady 8.6
3. Drew Brees 8.3
Passing Touchdowns
1. Aaron Rodgers 51
2. Drew Brees 47
3. Tom Brady 39
Interceptions
1. Aaron Rodgers 7
2. Tom Brady 12
3. Drew Brees 14
Passer Rating (not affected by the adjustment)
1. Aaron Rodgers 122.5
2. Drew Brees 110.6
3. Tom Brady 105.6
With Aaron Rodgers having the advantage in touchdowns, interceptions, yards per pass as well as his NFL record passer rating, the statistical advantage has to go to Rodgers, even though it is very close.
Statistics do not tell the whole story though. One must also look at other factors that can affect passing performance. The categories included here are strength of receivers, the running games, the offensive lines, and the defenses supporting each quarterback.
Receivers
Comparing the quarterbacks in this category is tough. All three quarterbacks have some of the best receiving threats in the league.
The Patriots have the best tight end tandem in the NFL with Rob Gronkowski and Aaron Hernandez. They also have Wes Welker who is a Pro Bowl caliber receiver and among the game's best. Deion Branch is a solid fourth option in the passing game.
Beyond these four receivers, the Patriots' receiving corps has very little depth. Chad Ochocinco, the Patriots' big free agent acquisition this past off-season, only has 15 catches in the entire season.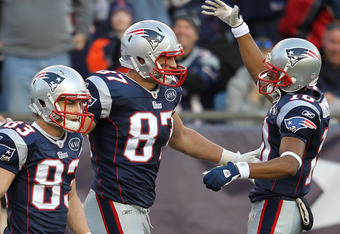 Jim Rogash/Getty Images
The Saints have plenty of talent and depth in their receiving corps. Marques Colston, Lance Moore, Robert Meacham, and Devery Henderson are all dangerous weapons. Jimmy Graham has had a breakout year and is one of the top tight ends in the league. Out of the backfield, Darren Sproles is a great receiver and rounds out the best receiving corps in the league.
If the Saints are the best receiving corps in the league, the Packers are without a doubt the second best. Jordy Nelson and Greg Jennings are both Pro Bowl caliber players. James Jones and Donald Driver are solid at the third and fourth receiver positions and Finley is an athletic tight end who creates mismatches, although his production is nowhere near the level of Gronkowski or Graham.
The one drawback to the Packers' receiving corps is that they ranked well ahead of the Saints and Patriots in dropped passes (drops statistics can be found here). However, they are still an extremely talented group and do a great job of supporting Rodgers.
In conclusion, all three teams have extremely talented and productive receiving corps. This category is so close that it is essentially a wash.
Running Game
The running game is an important component of team support. A poor running game leads to a team throwing the ball more, hence there will presumably be more attempts, completions, yards, and touchdowns for a team with a poor running game.
However, the downside is that a poor running game also leads to more turnovers since defenses are more focused on stopping the pass if they don't feel threatened by the run. So, if a quarterback can maintain excellent statistics in spite of a poor running game, that is an important factor in who the best quarterback is.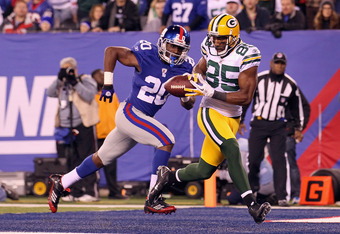 Nick Laham/Getty Images
Here are the statistics for each teams' running game:
Rushing Yards Per Game
1. New Orleans Saints: 132.9
2. New England Patriots: 110.2
3. Green Bay Packers: 97.4
Rushing Yards Per Carry
1. New Orleans Saints: 4.9
2. New England Patriots: 4.0
3. Green Bay Packers 3.9
The advantage in this category goes to Rodgers, who has maintained the highest passer rating in NFL history despite a poor showing from his running game.
Offensive Line
Pass protection is of course an essential part of a quarterback's supporting cast. Unfortunately, the only truly effective way to judge a team's pass protection is to watch them play, as it is impossible to judge from stats alone.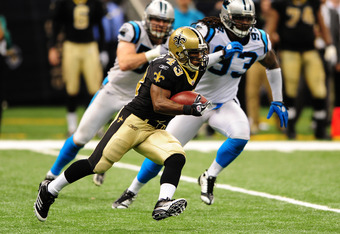 Scott Cunningham/Getty Images
With that said, here are the number of times each quarterback was sacked this season:
Aaron Rodgers: 36
Tom Brady: 32
Drew Brees: 24
These number suggest that the Packers have the worst offensive line of the three teams. This isn't too crazy to imagine, since the Saints have had three linemen selected to the Pro Bowl this season, a rarity in today's NFL.
The Patriots and Packers have both had injuries and issues on the offensive line. The Packers have had especially bad luck with their offensive tackles, with injuries to offensive tackles Chad Clifton, Brian Bulaga, and Derek Sherrod. Losing three offensive tackles to injury for parts of the season is brutal, but Rodgers has toughed it out.
Even though this is a subjective category, it is fairly safe to say that Rodgers has the worst pass protection of the three quarterbacks given the circumstances.
Defenses
Having defensive support indirectly impacts a quarterbacks' performance. A team with a poor defense puts more pressure on its quarterback to win games, and this pressure can result in additional turnovers. So, if a quarterback is succeeding in spite of a poor defensive performance, it needs to be noted.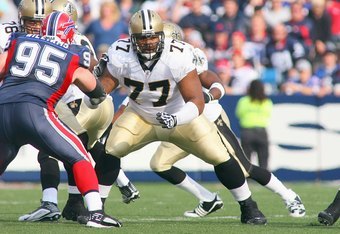 Rick Stewart/Getty Images
In terms of yards allowed per game, all three teams finished in the bottom ten in the league, with the Patriots and Packers being 31st and 32nd, respectively, and the Saints at 24th. However, when you instead consider points allowed, a much more important category, all three teams finish in the middle of the pack, with the Saints, Patriots, and Packers ranked 13th, 15th, and 19th, respectively.
Another important defensive category is turnovers. The Packers and Patriots are actually two of the top three teams in the league at forcing turnovers. The Saints, however, are near the bottom of the league in turnovers.
The turnovers forced give the Patriots and Packers the advantage over the Saints in defensive support.
Conclusion
Ultimately, this is a very close MVP race, and Drew Brees, Tom Brady, and Aaron Rodgers are all worthy candidates for the MVP award regardless of who receives the award.
Aaron Rodgers has posted out-of-this-world efficiency with one of the league's worst running games and a questionable offensive line. Despite a great receiving corps, Rodgers' season is still absolutely remarkable.
Drew Brees and Tom Brady will get a good, long look from the MVP voters, but the choice for the award is clear:
Aaron Rodgers is at the top of the pack.