Thank God for Letting Tim Tebow Lose
January 15, 2012

Jim Rogash/Getty Images
If 43 percent of Americans believe divine intervention is responsible for Tim Tebow's recent "success", why can't the rest of us believe God is punishing Tebow for his hateful brand of "Christianity" with a blowout loss to the New England Patriots?
I know, I know. Personally, I'd think God had a lot more important things to be involved with than a football game, but then I got to thinking; Perhaps, just perhaps, God was trying to say something through Tebow. And coincidentally, what God's trying to say just so happens to reflect what I personally believe! Imagine that!
Just as coincidentally, this verse often goes unheeded amongst "Christians" like Tebow:
When you pray, don't be like the hypocrites who love to pray publicly on street corners and in the synagogues where everyone can see them. I tell you the truth, that is all the reward they will ever get. - Matthew 6:5
But something tells me God doesn't take this advice as lightly as Tebow. No doubt that explains his league-worst 46.5 percent completion percentage, I mean what else could explain such awful throwing ability?  
And then there's the persecution complex, again, not at all uncommon for "Christians" like Tebow:
They said I couldn't be a high school quarterback....They said I couldn't get a D1 scholarship....You can't make it, you're not good enough, you're not skilled enough. - FRS Ad
Oh wow, the trials and tribulations that poor, poor Tebow has had to overcome! Who doesn't have their doubters? Never mind that he was ranked the No. 1 prospect coming out of high school, won the Heisman Trophy, was picked in the first round of the 2010 NFL draft.  That must have been really, really hard to go through.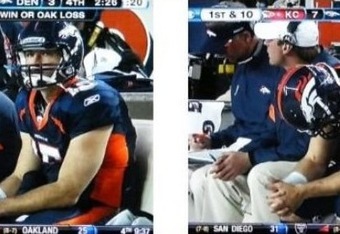 Maybe his pathetic crying for persevering through what any athlete, or for that matter, functional adult has to go through helps explain throwing for only 1,729 yards in 11 games.  For some perspective, the much-maligned Jay Cutler managed to throw for 2,319 yards in 10 games despite not having anyone nearly as talented as Demaryius Thomas to throw to.
Is there anything admirable about conforming to your parents' insular upbringing? What's so brave or inspiring about that? I'd have a lot more respect for Tebow's faith if he ever dared stepping outside of his narrow comfort zone. And no, I'm not expecting some George W. Bush type bender, but would it really be so hard to have a non-"cured" gay friend?
Perhaps that explains why the Tebow-led Broncos couldn't beat one, not one, team with a winning record in the regular season.
And then there is his association with Focus on the Family, an organization that Tebow feels so drawn to that he cut an infamous, if mild, anti-abortion Super Bowl commercial for. You see, because Tebow's mom miraculously survived pregnancy complications instead of having a recommended abortion, that means other women should be denied the choice to have one, and demonized if they do.
Never mind that criminalizing abortion doesn't actually reduce their frequency, but instead forces women, only poor women mind you, to rely on unscrupulous "doctors" and is estimated results in 70,000 deaths worldwide every year.
Tebow might not care enough to face the reality of the legal policies he's endorsing, but I think God doesn't take kindly to sanctimonious men criminalizing a woman's control over her reproductive organ (Lord knows men would never allow it if it were their bodies). What else could explain Tebow's 13 fumbles in two fewer games?
Tebow apparently has no problem hawking for the likes of James Dobson, who regularly demonizes the "homosexual agenda" as the "greatest threat to your children." But he won't bother to lend his celebrity to causes even as uncontroversial as stopping gay bullying, because he knows it would turn off his following.  
It's a following Tebow is using to cash in on huge endorsement deals, of which he will give a portion to charity, so I guess that makes it all okay, right? Right?
Wrong, or so God said to me. Everyone was all gaga when he, and his overlooked team, managed to barely beat an extremely banged-up Steelers team, but against one of the NFL's worst defenses, he couldn't even manage to complete 10 passes on 26 attempts!
If those 43 percent of people thought God was saying something when Tebow was winning, what else would be the message now?