Tim Tebow Puts Things into Perspective After the Denver Broncos' 45-10 Loss
January 15, 2012

Jim Rogash/Getty Images
For many NFL quarterbacks, a 45-10 loss in the playoffs is not the best situation to be in.
After being blown out in the game by the New England Patriots by the above score, many would expect the Denver Broncos' Tim Tebow to be frustrated.
Because we are used to the emotional diatribes of professional athletes, many would not be surprised at many a QB literally cursing out their opponent or having some other kind of angry, emotional outburst after such a game. 
It still wasn't a bad day, [Tebow said] after the tough loss to New England. It still was a good day, because I got to spend some time before the game with Zack McLeod [a 20-year-old Cambridge native who suffered a traumatic brain injury playing football] and make him smile, and overall when you get to do that, it's still a positive day. Sometimes that's hard to see, but it depends what lens you're looking through. I choose to look through those lenses, and I got to make a kid's day, that's more important than winning the game. So, I am proud of that.
For Tebow, being a professional athlete is an important thing. But more importantly, being a well-known professional athlete gives him the platform to help people in need. 
It's a curious thing, really. We as human beings put so much stock into individuals who can throw a 30-yard touchdown pass with drive-through window accuracy, someone who has a 40-inch vertical jump or someone who can throw a fastball at 100 miles per hour.
When someone can do these things, we offer them full scholarships and they are afforded a great deal of perks that the non-athlete usually does not receive. 
Sometimes, if the athlete in question is good enough, we urge them to turn professional. Once they do that, they can literally earn millions of dollars in salary for their play, and tens of millions more in product endorsements.
Whole occupations can be built around these people. Children in grade school idolize them. Grown men idolize them or criticize them when they have a bad game.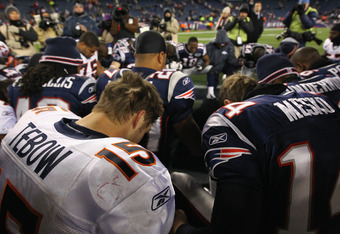 Al Bello/Getty Images
But sometimes, a professional athlete proves to be human.
They get into legal trouble. They make poor choices, because, in the end, they are a 20-something millionaire with time on their hands. 
With that being said, we should consider it refreshing that a professional athlete such as Tebow has such good priorities at such a young age.
Although many of us are tired of hearing about his faith (which, I might add, I for one am not, because I am studying for Christian ministry), we can appreciate the fact that instead of partying or doing something else that is unproductive, this individual chooses to use his new-found fame as a "platform" in order to serve and help others, such as Traumatic Brain Injury (TBI) victim Zack McLeod noted earlier in this article. 
It's important to remember that, at the end of the day, although millions of dollars and many jobs are at stake, the game of NFL football is still just that, a game.
It's not a matter of life and death, and I for one am thankful that the Broncos have a QB at the helm that besides being a fierce competitor, also understands that concept and will use his position to help others.
It reminds of one other popular and well-known Orator, who admonished his hearers this way: "For what does it profit a man if he gains the whole world, yet loses his own soul?" (Mark 8:36)