Maple Leafs Trade Speculation: Is It Smart to Grab Halak When His Stock Is Low?
January 16, 2012
Rob Carr/Getty Images
The Toronto Maple Leafs have had a successful campaign thus far, continuing to sit among the Eastern Conference playoff contenders. Trade speculation and rumours have been buzzing of late (well, like always), and while the team continues to lack consistency in net, the possibility of action is hard to ignore.
One of Toronto's weakest links is in goal. James Reimer came into the year as the undisputed No.1 goaltender, but since suffering an early season injury hasn't looked himself. Jonas Gustavsson has stepped in and played well for Toronto, but is known for his inconsistent play.
Toronto has a few minor league options with high ceilings, but they are too green to make an immediate impact with the big club. Management might be worried about the solidity in the back, as Brian Burke knows all to well that goaltending can win or lose you championships. 
Another big question mark will be in the years ahead. Gustavsson's contract runs out at the end of this year, and after a few shaky years in Toronto, might look to move elsewhere. In the unlikely event that he does want to stay he will demand a pay raise, one that management would be hesitant to match. Bringing in a long-term option for goal could be atop Burke's list, as he tends to hold his cards tight to his chest. Any talk is just pure speculation.  
While looking into potential suitors for the Maple Leaf problem, something became very apparent. Goaltending is this league is very black and white. Some teams have it, some teams don't.
Goaltending depth comes at a high premium, but yet also can create internal frustrations. The NHL blueprint for treatment of the goaltending position has changed within the cap era, and really isn't set in stone. Who really knows what the ideal set up is.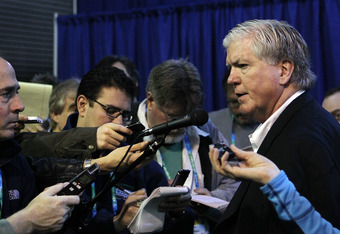 Bruce Bennett/Getty Images
A realistic option out there for Toronto is St. Louis Goaltender Jaroslav Halak, who has lost his starting job to Brian Elliott. The Blues have been on a roll since Ken Hitchcock took the reins and he might look to offload the net minder for some usable pieces in return.
Halak has a rough start to the season, but seems to be rebounding nicely with solid contributions of late. He is young enough that any struggles this year with his game should be overlooked. 
He has the potential to be a top net minder. He has a high ceiling and would make a great addition to Toronto's goaltender depth. The only reserves is that Halak is not a traditional Maple Leaf goalie, lacking size at only 5'11".
Toronto's goaltending coach, Francois Allaire, preaches goalies to be big and athletic simply using their big frame to take up larger portions of the net, therefore reducing the opportunity for opponents to score.
Another reserve would be that Halak is making $3.75 million a year, which is pricey for a goaltender currently struggling, but Burke has never been one to shy away from players who are having off years. Taking a struggling Lupul and his large contract off Anaheim has certainly payed off.
Getting players while their stock is low is the key to success on the trade market. Brian Burke is a master of this and needs to look into Halak as the team gives away games due to poor goaltending.     
A viable option would be to include Gustavsson in the trade to then slot behind Elliott for the Blues. This makes sense because St. Louis would be losing their second goalie in the deal. Despite the fact that Dallas still uses Halak in regularity, the door is still open for the trade.
Gustavsson could serve the same purpose, much like the system currently used in Toronto. Toronto would then get something in return for Gustavsson, who in all likeliness would have walked away for nothing in the summer.
Toronto would obviously have to part with another piece, which could come as a prospect or draft pick (or a combination of the two). Pulling the trigger on a trade like this will shake up the team and solidify the back. Burke could then try and squeeze in the big name player he has so dearly coveted, and this team looks poised for postseason success.
Only time will tell. What are your thoughts?
Do the Leafs try and get Halak?
Follow me on twitter @mcolvy