Stricker, Wagner, a Mustache and Movie Star at the Sony Open
January 17, 2012

Sam Greenwood/Getty Images
 It was a mad, mad, mad, mad Sony Open.
1. Last week, just when it looked like Steve Stricker might go two-for-two, being almost 45 caught up with him Sunday when he posted a back nine 38 for a 74-total and fell out of contention. Instead of going back-to-back, Stricker ran out of gas.
Who says being on the leaderboard isn't tough work?   
2. Instead of Stricker, Johnson Wagner a guy who truly wins the prize for last name names, took his slightly hockey-influenced swing to the winner's circle. 
Wagner's actual name is one for the books. Can you imagine his parents looking at the newborn lovingly and saying, "Yes, we'll call him Montford Johnson Wagner, maybe Monty for short"? 
What were they thinking?
The moniker, plus Wagner's newly grown mustache make him more of a candidate for PBS's Downton Abbey than a PGA Tour champion. Nevertheless, he took home the big check, a lot of kidding about facial hair and some newfound confidence.      
His new mustache looks like a cross between Omar Sharif, who starred in the 1965 movie Dr. Zhivago, and Terry Thomas, who was in the 1963 movie It's a Mad, Mad, Mad, Mad World. We'll get to the movies in a minute. First, facial hair.
3. Wagner's mustache was a result of not shaving while visiting relatives during Thanksgiving.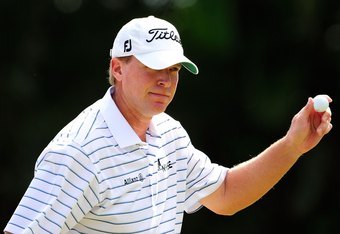 Sam Greenwood/Getty Images
"I had never had facial hair. So I thought it was too much growth to just let it go to waste," he said. 
"I shaved everything but the mustache, and it kind of went from there."
His wife hated it at first, and he said that just fueled the fire to make it even thicker.  
"I played in a little tournament the first of December down in Naples and saw Carl Pettersson and George McNeill, and they were both just like, 'You've got to keep it until Hawaii. We have to see this thing in a month,'" Wagner said.
 "I probably got 'Magnum P.I.' in Maui a hundred times, and I had never really watched the show."
Wagner had to Google it—saw Tom Selleck and decided it was a compliment. 
"Tom Selleck is a stud, so if I can look anything like him, I'm very excited," Wagner joked.
He's made a decision. "This is not a one‑month mustache. This is potentially a ten‑year mustache." 
4. And now back to the feature film.   
The Waialae CC was designed by serious golf architect Seth Raynor. It opened in 1927. The front nine was changed to make way for a hotel in the 1960s, but it still has many of the historic holes. A few years ago, the members decided to have a little fun. They had to have a great sense of humor, although you may have to be of a certain age to appreciate it.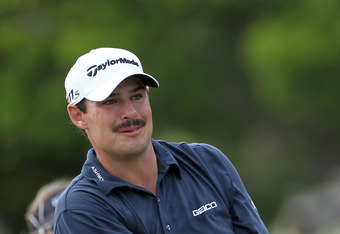 Sam Greenwood/Getty Images
Picture November of 1963. Pre-Beatlemania. Five days before JFK was assassinated. It's a Mad, Mad, Mad, Mad World debuted. It was a new movie genre. The entire thing was a chase scene. Every once in a while you'll see it on the channel guide. Toss popcorn in the microwave. Sit down and prepare to laugh yourself silly.
The plot begins with Jimmy Durante (a vaudeville turned television star for those not in the know) driving his car off of a cliff. Several passersby stop to help. Durante, near death from injuries, tells them that $350,000 is hidden in a park in Southern California "under a big 'W'." Then in a precursor of the slapstick that is to come, Durante kicks an actual bucket and dies.  
For the next two-plus hours Sid Caesar, Mickey Rooney, Buddy Hackett, Milton Berle, Jonathan Winters and Phil Silvers who are some of the funniest people ever, chase each other from one dusty road to another—in every imaginable means of transportation, until they finally stumble upon the park where there are palm trees in the shape of a big W.   
The movie's palm trees are nearly identical to those behind the 17th-hole of Waialae, not by coincidence. Waialae member Ethan Abbott lobbied the membership to make a giant W behind the 17th-green, just like the big W in It's a Mad, Mad, Mad, Mad World. 
Today, instead of digging under the palms at the 17th to get the treasure, the money for the Sony Open is awarded at the 18th. This year's champion with his come from behind victory and his new "stash", made it a mad, mad, mad, mad Sony Open. But that's not all.
5. There's newfound wisdom from Wagner recapping a recent conversation with his brother:  
"I said, when I've gotten to this point in my career, I wanted to just maintain where I'm at. And I looked at him, and I said that's where I always fall and start down on a bad path.
"I said, I want to continually get better, every day. There's no flat lining in golf. If you're not—it's so cliché, but if you're not getting better, you're getting worse. 
"Hogan hit balls every day until his hands bled trying to get better every day. Just really, even from this point, I'm on top of—this is the greatest moment in my golf life, but I want to get better from here, and that's where I need to mentally find myself."
Mad mustache. Great sense of humor. Newfound golf wisdom. What's not to love about Montfort Johnson Wagner? Well, he could think about a name change.
Kathy Bissell is a Golf Writer for Bleacher Report. Unless otherwise noted, all quotes were obtained first-hand or from official interview materials from the USGA, PGA Tour or PGA of America.