New England Patriots: Bill Belichick and Tom Brady's Last Chance for Super Bowl?
January 22, 2012

Jim Rogash/Getty Images
Two more games is all it would take for Tom Brady and Bill Belichick of the New England Patriots to win a record-tying fourth Super Bowl in just over a decade.
But how much longer can they lead the franchise to championships? If they don't win this season, will they be able to tie Terry Bradshaw, Joe Montana and Chuck Noll as the QBs and head coaches with the most Super bowl rings?
Brady (34) is currently signed through the 2014 season. Belichick (59) is locked in for the next two seasons.
Looking at the way they've performed this year, it seems like they've got quite a bit more than that left in the tank.
The Patriots probably wouldn't hesitate to re-sign both of them with hefty paychecks if they continued to perform like they have.
Tom Brady's $18 million makes him the third-highest paid NFL player this year. At an estimated $7.5 million, Belichick is the league's highest paid coach. Surviving Spygate shows that he's got the job security to stick around as long as he wants.
Especially if he can bring owner Robert Kraft another Super Bowl ring—or two.
But it's also an unpredictable world. Two years ago nobody thought that we'd be facing the possibility of Peyton Manning's retirement now.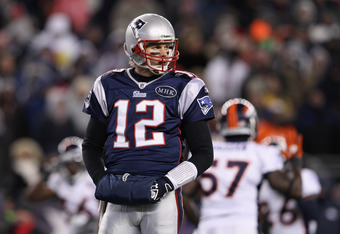 Elsa/Getty Images
The key here—more than how long Brady is going to play—is how long he is going to play at a Super Bowl-caliber level. Will he still be able to engineer 90-yard game-winning drives when he's 39 or 40?
It's definitely possible he could keep his game elevated deep into his 30s, especially given that he's not a quarterback who's had to take an exceptional number of hits over the years.
The NFL's new rules protecting quarterbacks could mean we see more of them approaching two decades in the league.
But even if Brady and Belichick are performing at their best, they can't win a Super Bowl alone.
Wes Welker is a free agent after this season, but he should return as it would be a huge mistake for the franchise to let him walk.
Rob Gronkowski and Aaron Hernandez are both signed for another two years.
That means the franchise could be looking to re-sign—and upgrade—the contracts for Belichick, Brady, Gronkowski and Hernandez in the 2013 and 2014 seasons.
It would be incredibly difficult for the front office to fit the contracts for the offensive unit and a competitive 53-man roster under the salary cap. But if any team could do it, it would be the Patriots, who have a history of finding talent for a steep discount.
New England—especially as Brady's skills decline over time—won't always be able to get away with their anemic defense.
Recent drafts haven't brought out any spectacular defensive players for the Pats, so the upcoming draft is incredibly important for the Patriots to get defensive talent. They especially need defensive players who are ready to produce on the field in the next couple of years.
Two first-round picks give a lot of hope for the 2012 NFL draft, and this one could be more important for the Patriots to get right than any in recent memory.
The Patriots also have a target on their backs every postseason—leading to no Super Bowl wins in the last six seasons. New England will have to contend with a number of rising teams over the next few years to make it to any Super Bowl championship.
However, the AFC doesn't look like it will be very strong in the coming years. That means New England's path into a Super Bowl could be better than normal in the next few years, but beating the best in the NFC won't be easy.
If history tells us anything, it's that the window is closing fast on Brady and Belichick—even if it doesn't look like it from the way they've led the Patriots this season.
Chuck Noll and Terry Bradshaw won four Super Bowls with the Steelers. Joe Montana won three rings with Bill Walsh and another with George Seifert.
Bradshaw and Walsh both won their rings in 10 years, Montana and Noll in 11. It's now Brady's 11th season as a starter in the NFL, and Belichick's 12th as head coach the Patriots.
The clock is ticking.
Still, though, it's never been wise to bet against this duo. Why start now?