St. Louis Rams: What Are Realistic Expectations for Jeff Fisher?
January 18, 2012

Andy Lyons/Getty Images
Now that Jeff Fisher has formally taken over as the Rams' new head coach, what are we to expect? We know one thing: the Rams stink.
OK, they're bad, and they probably had no business being one win away from winning the division in 2010. But this team has one immense positive. Sam Bradford. I know Fisher had Steve McNair for most of his tenure in Houston/Tennessee, but let's face it, McNair was Donovan McNabb Light.  Then Fisher had Vince Young, and we won't even get into that.
A healthy and confident Bradford, with the right offensive coordinator and quarterback coach are probably good for five or six wins alone. Add an explosive playmaker at receiver and you probably get another one or two wins. Combine that with Fisher and Gregg Williams assembling and creating a defense and you're looking at a team that can challenge for the division. The part with Bradford and the offense can be done this offseason. The defense will most likely take some time.
Honestly, the offense isn't terrible. The offensive line needs some work and Bradford needs game-breaker to throw to. That part of the equation isn't very difficult. Roger Saffold has proven to be a solid tackle. He can either return to left tackle or move to the right side in the event that Jason Smith can overcome his concussion issues or they draft someone the likes of Matt Kahlil with the second overall pick.
If they really mean business, Fisher will use his best efforts to trade the second overall pick. Yes, I said Fisher. As you can clearly see, there has not been a general manager hired, and Fisher will most likely have the most power in personnel decisions.
This team isn't one or two players away. I would liken this to the situation Jimmy Johnson had with Herschel Walker, or the way Belichick currently stockpiles picks or the way Parcells used to. This is a very deep draft and free agency will help. Yes, players like Justin Blackmon and Matt Kalil are blue-chip talents, but neither will put this team over the top alone. I know it's Jeff Fisher, but if we've learned anything, even a coach of his stature has a three-year window.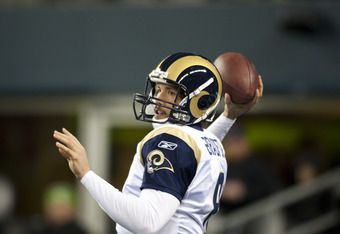 Jay Drowns/Getty Images
Clearly stated, the offense isn't that far off with the right moves. That alone will keep this team in games, especially because they have a guy like Steven Jackson. Yes, this team has Bradford in a quarterback-driven league, but a running game spearheaded by a player like Jackson will keep teams honest. Danny Amendola and Mark Clayton will also be back. The real issues reside on the defensive side of the ball.
There are currently four players on the defense—Chris Long, Robert Quinn, James Laurinitis and Quinton Mikell—who could make starting rosters on most NFL teams. That leaves seven positions that need to be upgraded. Even if they add draft Morris Claiborne or Quinton Coples, that still leaves way too many holes. Get more pieces. Even if the pieces are above average, most of the current defense is second or third teamers at best.
I don't think this team will be a playoff contender next year. The 49ers have arrived, and with Alex Smith showing more every week, they're probably here to stay for at least a few years. The Cardinals showed signs in the second half and even the Seahawks had moments. The Rams are still a last-place team with moderate improvements, but six wins and a much improved offense would be a huge step for Fisher, Williams and whoever leads the offense.