NFL Playoff Schedule 2012: Biggest Defensive X-Factor For Each Team
January 18, 2012

Ezra Shaw/Getty Images
We live in a world of quarterbacks and everybody else is along for the ride.
Well, that was the case until last weekend when potential MVPs Drew Brees and Aaron Rodgers were promptly bounced from the playoff party.
Now it's all about defense.
The name of the game is pressuring the quarterback and limiting big plays. With that in mind, here is the defensive X-Factor for the remaining four teams in no particular order:
Ed Reed, S, Baltimore Ravens
Reed rolled his ankle when he caught the game-winning interception last week, but will be just fine on Sunday.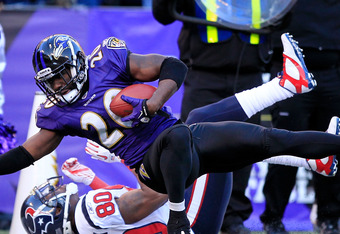 Chris Trotman/Getty Images
The future Hall of Famer has the best ball skills of any safety in the NFL. You essentially have to know where No. 20 is at all times…especially when he sneaks through on the blindside for a safety blitz.
With his athleticism and superb hands, nobody is more capable of returning a pick-six, the ultimate game-changing play.
Kyle Arrington, CB, New England Patriots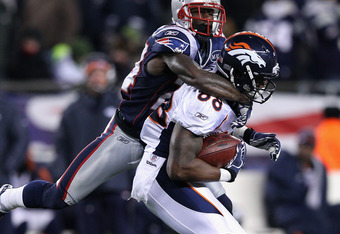 Elsa/Getty Images
Arrington led the league in interceptions (seven) during the regular season but was less than dominant in coverage. That all changed on Saturday, as his strong defense on the Broncos receivers was a huge reason why they held Denver to 10 points. He also led the team with 11 tackles.
If Arrington can keep that sort of play up against the speedy Raven receivers, the Pats are going to be Super Bowl bound.
Jason Pierre-Paul, DE, New York Giants
The 6'5'' 278-pound athletic freak is having an incredible season. A Pro Bowl berth and 16.5 sacks will do that for you. In his second season, JPP is emerging as a star.
Getting pressure on Alex Smith is going to be essential for the Giants to stop the 49ers' offense, and JPP has to be one of the catalysts. He has yet to record a sack in two postseason games—and the NFC Championship is the perfect time to change that.
Patrick Willis, LB, San Francisco 49ers
The best linebacker in the NFL in my mind, Willis is a punishing tackler that has textbook form. He has the speed and strength to keep up with tight ends and running backs.
Against the Saints he made an outstanding play to recover a fumble, and it seems as if turnovers are always created when Willis is nearby.
His intimidation and will-to-win needs to be mimicked by the rest of the strong 49ers defense to ensure they beat Eli Manning and Co. for the second time this season.