Ravens' Offense Isn't Equipped to Go to War with Brady in Foxborough
January 18, 2012

Winslow Townson/Getty Images
Since their loss to the Giants in early November, the Patriots have morphed into a fire that no team has been able to extinguish—rattling off nine straight victories.
There are few teams in the NFL that can keep up in the scoring column with New England's prolific offense, and this week, Baltimore will be put to the test.
The Ravens have an excellent defense, which ranks No. 3 in the NFL in yards allowed. But do they have the offensive weapons to go toe-to-toe with Brady in Foxborough? Let's take a look at what we can expect in Sunday's AFC Championship game.
Run, run, run.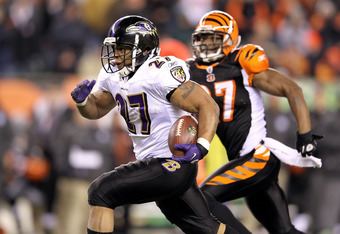 Andy Lyons/Getty Images
The Ravens are obviously going to run the football early and often—not only to limit Brady's possessions, but also to allow standout All-Pro RB Ray Rice to get his touches. When Rice is involved, Baltimore wins games, and the numbers back this statement up:
Rice received only 61 carries (350 yards) in three career games against New England. The Ravens are 1-2 in those contests.
Ravens are 12-0 this season when Rice has 20 or more touches (carries and catches).
So we understand why Ravens OC Cam Cameron wants to run the ball, but against a team that has averaged over 32 points per game at home this season, is it the right move?
To beat the Patriots, teams have to take chances vertically down the field and challenge their safeties.
And during last week's game against the Texans, the handcuffs were slapped on Flacco, as he attempted only one pass over 30 yards.
Will they come off this week?
Brady vs. Flacco (gold vs. sterling silver)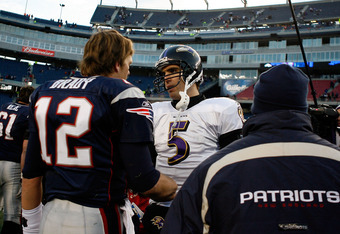 Elsa/Getty Images
2011 was another mediocre season for Flacco, who posted a QB rating of 80.9 and completed only 58 percent of his passes.
Really, he put together only one spectacular drive all season—a masterful 95-yard TD drive in the closing seconds of a Week 9 matchup in Heinz Field, leading the team to victory.
And it was a big one, as it re-shaped the entire AFC Playoffs picture.
As a result, the Steelers (12-4) had to settle for a Wild Card berth and a trip to Denver and its high altitude. While the Ravens (also 12-4), on the other hand, clinched a first-round bye and had the benefit of hosting rookie QB TJ Yates.
But Flacco was just returning the favor, as last season, Steelers FS Troy Polamalu came up with a huge strip-sack in Baltimore to give Pittsburgh home field advantage and eventually advance to the Super Bowl.
He's going to have to summon more of that magic on Sunday if he wants to go toe-to-toe with Brady—who is looking to win his fourth Super Bowl ring.
Is the former Delaware QB outclassed here?
Probably, but Baltimore will look to its power run game and physical play in the trenches to attempt to lead them to an AFC title win.
The Patriots defense is no longer sieve-like.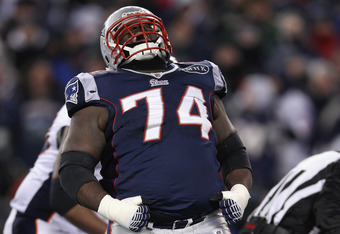 Elsa/Getty Images
Yes, at one point earlier in the season, the unit was downright awful and couldn't stop either the run or the pass.
The secondary was comprised of defensive backs fresh off the practice squad, and the situation at safety was bleak with Belichick consistently rotating players in and out, trying to find a winning combination. But the team is healthy now, and the extra reps for the second-teamers adds depth to the team.
In Saturday's game against the Broncos, instead of looking rusty from the layoff, New England's defense looked aggressive, quick to the ball, in sync and most importantly: well-prepared by their coaching staff.
And they held Tim Tebow to just 136 yards on 9-of-26 passing (Editors note: That's not to say that other teams haven't accomplished this feat, but just sayin.')
The defensive front did a good job of getting off blocks and hitting Broncos RBs early, and the result was giving up only 3.6 yards per rush to the team that led the league in rushing this season (161 yards per game). They did a great job of plugging all gaps—even bringing both safeties into the box a few times—and forced Denver into many third-and-long situations as a result.
Rice will be a tall order to keep at bay, and he'll likely rush for close to 100 yards, but if the Patriots defense can consistently hold the Ravens to field goals, it'll be water under the bridge.
Brady scores touchdowns, as the Patriots lead the league in red-zone scoring percentage, converting two out of every three trips. Baltimore lacks a consistent threat in the red zone.
At the end of the day…
The Patriots are the healthiest they've been all season and are in elite form. The offense is clicking on all cylinders and the defense is coming up with stops when they need to.
In some ways, this team looks more dangerous than the 2007 team, with TEs Gronkowski and Hernandez presenting matchup nightmares for opposing defenses by spreading them out.
Teams can't trade field goals for touchdowns with a team that is averaging 40 points per game in its last three games (463 total yards). It's going to take some balls to go into Foxborough and beat Brady, and Cameron's going to have to take chances and give Flacco the green light to strike for big plays.
Historically, New England has dominated the Ravens. They've won eight of the last nine matchups between the two.
Baltimore has been mediocre on the road all season (4-4), while New England has been dominant in Foxborough (8-1).
And, most importantly, they have Brady—a 7-time Pro Bowler and the most dynamic player remaining in the playoffs—calling the shots.