Jerry Markland/Getty Images
January 17, 2012
The NASCAR drivers will be starting their engines soon. Let's take a look at some preseason power rankings for the upcoming 2012 season.
We now look at part 2 of the 2012 NASCAR preseason power rankings, which will analyze the 11th through 20th-ranked drivers.
11. Brad Keselowski
With a breakout year in 2011, the Blue Deuce was relevant again.
The Penske team put two cars in the Chase for the first time. Keselowski was only as high as 22nd place for half of the season before "it clicked".
Paul Wolfe had the No. 2 car running on all cylinders and made it into the Chase at Richmond, the final race they could do so.
Keselowski didn't disappoint in the Chase, finishing fifth in points.
I do see some regression for the No. 2 car in 2012, after losing a champion as a teammate in Kurt Busch.
12. Ryan Newman
The "Rocket Man" had a wonderful season in 2011.
The No. 39 team was never out of the top 10 in the regular season. Though he had a disappointing Chase, I'm sure most of the team's resources were going to help Tony Stewart and the No. 14 team win the championship.
I don't see Newman having a different kind of season in 2012. Look for the No. 39 to be in contention to make the Chase once again.
13. Matt Kenseth
The 2011 campaign for Kenseth was quiet and productive, scoring three wins and nine top-five finishes, while finishing fourth in the final points standings.
This offseason is a stressful one for Kenseth and the No. 17 team, though. With Crown Royal leaving and a sponsor only signed on for nine of the 36 races so far, there's a scramble at Roush Fenway to find sponsorship.
Also, Matt Kenseth is a lame duck going into 2012, as his contract expires at the end of this season.
14. A.J. Allmedinger
Dinger had a solid season in 2011 in the No. 43 Richard Petty Motorsports car.
The team posted an average finish of 16.1 and only had one DNF. Allmendinger has moved on, replacing Kurt Busch in the No. 22 Shell/Penzoil car for 2012.
Moving to Penske, A.J. will have better equipment to run, but with the competition, I don't see much improvement in his final finish in the standings.
15. Jeff Burton
The 2011 season was not kind for Jeff Burton, as the No. 31 team didn't crack the top 20 the entire year.
There will be a change at crew chief for the 2012 campaign, as Drew Blickensderfer leaves Roush Fenway to come over to RCR. Look for Burton to improve on his 2011 season, by being a contender to make the Chase..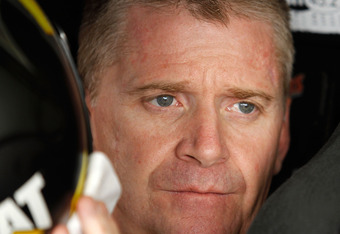 Todd Warshaw/Getty Images
16. Paul Menard
The 2011 season was also a breakout season for Menard. Not many people saw him coming, either. He posted a win, four top fives, and eight top 10s.
It was a successful first year at Richard Childress Racing. We can expect Menard to be a little more familiar with some of the tracks and the equipment for 2012, when he could have an outside chance at the Chase if the neon-yellow Chevy can be a little more consistent.
17. Joey Logano
We are still waiting for the second coming of sliced bread.
Last season, Logano hovered around 20th in points for the entire year. The No. 20 team has a new face on top of the pit box, as Greg Zipadelli has left for Stewart Haas Racing. Jason Ratcliff will lead the team heading into 2012.
Next season, Logano should show some improvement, but he has only an outside chance at cracking the Chase.
18. Kurt Busch
Big changes are in store for Kurt Busch in 2012. The mutual separation of Busch and Penske happened in the offseason, and Kurt found a ride, driving for Phoenix Racing.
This was a big surprise, as the 2004 Champion will be driving for a second- to third-tier team.
Kurt Busch has talent, but he just won't be able to overcome the lack of resources to make the Chase in 2012.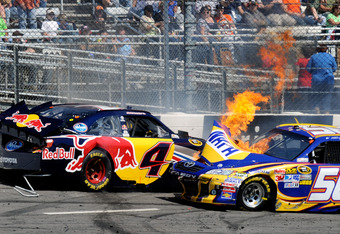 John Harrelson/Getty Images
19. Juan Pablo Montoya
The former Formula 1 star has struggled in his NASCAR career, and the 2011 season was an even bigger challenge for him.
Montoya ran in the middle of the pack the entire year, and posted a 21st-place finish in the final standings.
JPM will do slightly better in 2012, but not much. He'll have some better finishes, but he'll still be hampered by some wrecks.
20. Martin Truex Jr.
In 2011 we saw flashes of greatness from Truex. We also saw more wrecks then Truex wanted, including a horrific sight at Martinsville with one of the scariest wrecks I have ever seen.
Truex is looking to improve on his 2011 season, since he finished 18th in the final standings. Posting one top five and three top 10s in the final five races, Truex should put up some good finishes in 2012, but it will also be hard to avoid the bad ones.
For more Fantasy NASCAR insight and advice please visit us at www.FantasySportsKings.com and follow us on twitter @Fantasy_Kings
Like the new article format? Send us feedback!