Minnesota Twins Spring Training '12: A Few Unanswered Questions
January 19, 2012

Hannah Foslien/Getty Images
With spring training just a turn of the calendar page away, what better time than to consider some of the unanswered questions that still remain for this Twins club? As always, please feel free to post your 'answers' in the comments section so we can get a good discussion going!
1. If Jason Marquis, why not Brian Duensing? 
For anyone who's ever written code in QuickBASIC, they'll quickly see the first question mirrors an "If-then" statement. But let's get down to the nitty gritty: Why spend the money on Marquis rather than just giving Duensing another run in the rotation until someone like Liam Hendriks is ready? Clearly Duensing had a rough season (5.23 ERA, 1.52 WHIP) in 2011, but despite his platoon issues (.947/.522 OPS split RHB/LHB) he was still a 1.7 win pitcher according to FanGraphs, nearly half a win superior to Marquis, who did fair to rebound from a disastrous 2010, but still wasn't as good as 'the Duenslinger' was. 
2. Why Matt Capps rather than say, Todd Coffey?
I almost feel obligated to talk about how nice of a guy Capps is when I write about him; I've met him in the Twins clubhouse and he's right up there amongst the best. But I guess I just don't get re-signing him and handing him the closer's role when he's coming off his worst season yet, it would have netted the club a draft pick had he signed elsewhere, and finally, there are other similar hurlers on the market. Coffey throws hard (93.2 miles-per-hour average heater) like Capps does (93.0), and has been pretty much as good as Capps over the past four seasons (Coffey: 3.76 ERA, 1.29 WHIP, 7.1 K/9, 2.5 K/BB; Capps: 3.79, 1.27, 6.5, and 3.4).
So what's the rub? Is Coffey's agent not as good at marketing him? Probably not; rather it's just a product of opportunity. Fortunately, it sounds like the Twins might be interested in bringing in Coffey as well—though the Joel Zumaya signing might deem the bullpen complete—so the point could be rendered somewhat moot. But one can't help but wonder what the club might have pulled had it waited for Coffey and used the Capps cash on perhaps a starter?  
3. Will the Twins finally end the Drew Butera experiment?    
The Twins have brought in former top prospect J.R. Towles, who has been a colossal bust for the Astros before he was outrighted off the 40-man this winter. Towles has been a complete waste at the dish in the bigs, 'hitting' .187/.267/.315 across parts of five big league seasons. In spite of this, he's still been markedly better than Butera at the plate, as Drew has sputtered to a .178/.220/.261 line of his own. Towles' minor league track record is sterling, with a .295/.394/.465 triple-slash down on the farm, whereas Butera's big league marks are more or less the trappings of what he did in the minors. 
The Twins have been said to be looking for a more offensive-minded backup catcher; Ryan Doumit fits the bill, but his defense is so bad that they'll likely relegate him to the right-side corners of the field, as well as DH duties. This would seem to leave Towles with a very real chance to usurp the nepotistic Butera, even despite Carl Pavano's odd preference of throwing to him rather than Mauer despite almost identical splits.  
4. Who is the third starting outfielder? 
All signs would seem to point to Ben Revere, but he doesn't have the arm to hack right field, and his bat certainly hasn't forced the Twins' collective hand yet. He'll need to prove he won't get the stick knocked out of his hands before he can play full time on a Twins team that certainly has no visions of repeating the 2011 debacle. One issue with this layout is that by starting Revere in left, the club is forced to move Josh Willingham to right, where he hasn't played as a major leaguer.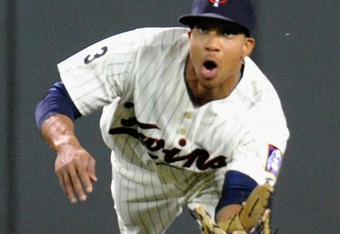 Hannah Foslien/Getty Images
Another option would be Willingham, Denard Span, and Trevor Plouffe, with Plouffe taking right. Plouffe absolutely sizzled in the International League last season, and had brief promising stretches at the plate while fizzling in the field at short once he was promoted to the big club. Now a full-time outfielder, Plouffe could see considerable time in right regardless of what outfield configuration the Twins choose. It would seem the club fancies Trevor as a poor-man's Michael Cuddyer; this is probably the ultimate compliment to pay Plouffe at this point in his career, though his bat and strong right arm have been too inconsistent to truly feel strongly about saying such. 
Another option may be to look to the outside with the scant remaining budget the Twins have. One option that would seem reasonable would be Kosuke Fukudome. Fukudome has failed to live up to the unreasonable expectations levied upon him when he moved stateside, but to date he's been able to hold a pretty good OBP and play a capable, if just below average right field. It would seem there's about $2 million left in the Twins budget, but it's hard to say if that will be spent or banked as the team heads down to Fort Myers. 
5. Are there any more signings on the horizon with so many guys already expected in camp? 
It would seem unlikely that the club will add anyone else after inking fireballer Zumaya, as over 60 players will already be in camp as is. Still, there are some enticing and possibly affordable options still on the market that could certainly help this club. The aforementioned Fukudome would fit the bill, as would right-handed reliever Michael Wuertz, an Austin, Minn. native. 
Wuertz scuffled badly in 2011, as command of his otherworldly slider waned from inconsistent to downright bad. Considering a drop of nearly two ticks off his heater from his career rate—perhaps due to hamstring and thumb injuries in '11 but noteworthy nonetheless—there's a decent chance that there's more than just smoke coming out of Wuertz' right wing. On a minor league deal, he'd probably be worth a look, but probably nothing more.
These are the questions I have prior to spring training; what are some of yours?