Clayton Kershaw: LA Dodgers Pitcher, Author, Husband and Missionary
January 20, 2012

Kent Horner/Getty Images
In the world of sports, we all too often hear about the dark side of human reality. There are professional athletes who, almost daily it seems, are arrested for a litany of offenses, anywhere from dog-fighting to drug offenses and everything in between.
That is why it is special to the fans to hear about individuals who not only strive to be the best professional athlete possible, but are also striving to be dedicated to their faith and to serving others. 
There are a variety of such athletes, both retired and current. Kurt Warner, Drew Brees, David Robinson and Tim Tebow are the first ones that immediately come to mind, of course. But there are others as well, including a certain Cy Young award-winning pitcher for the L.A. Dodgers.
At 23 years of age, Clayton Kershaw's statistics are impressive, and they are only poised to get better. With a career record of 47 wins and 28 losses and nearly 800 career strikeouts, the sky could very well be the limit for this young pitcher, especially when you take into account his last year, which featured a career-best 21 wins and five losses.
With numbers like this at such a young age, you would expect most young professional athletes such as Kershaw to be out living it up and living large.
But not Kershaw. Even at the ripe old age of 23, he has his head on straight.
The reason is because there is much more to Kershaw than just being a professional athlete. Much like his other left-handed counterpart in the NFL, Tim Tebow—whom Kershaw says, according to Yahoo's Tim Brown, that he can "respect" because he is "adamant in his faith"—his Christian faith is very important to him.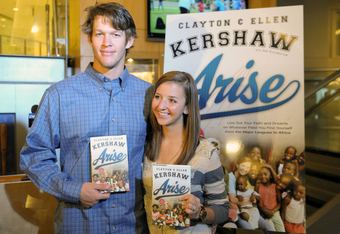 Besides a successful career as a Major League pitcher, Kershaw, along with his wife, is now a published author. In his book Arise: Live out your Faith and Dreams on whatever field you find yourself, From the Major Leagues to Africa, he and wife Ellen write about a young orphan in Zambia he met named Hope.
Hope. The name has a lot of connotations, and in this case there was not much reason for hope at all. This young girl had a variety of problems. She was homeless and she had HIV. The Kershaws describe meeting this young girl.
"She just captured my heart," Ellen said. "She was so sick. All she knew was survival."
Clayton and his wife knew they had to do something for this girl, so they started taking baby steps in the beginning.
At first, Clayton decided that for every strikeout he notched in a major league game, he would donate a $100 to children like Hope in Zambia. Interestingly enough, Kershaw led the league in strikeouts for the first time after this commitment.
Interesting indeed. "Like it was ordained," Ellen announces while her husband Clayton nods.
Kershaw, Ellen and her sister Ann Higginbottom are now building an orphanage in Zambia, appropriately named "Hope's home" for the now 12-year-old girl who they can happily say is doing well. Although she takes several trips a week to the local clinic for medication to combat her HIV, she continues to make great strides. 
The Kershaws are anticipating a great work to be done when the orphanage is completed. Kids will be able to go to school. They will be able to get appropriate food. And they will have a home.
All of this because of a young Major League pitcher who, through his faith saw a need and responded to it. Clayton Kershaw. Husband, author, Major League pitcher and now Christian missionary to Zambia.