Hendrick Motorsports: What Will the 2012 Season Bring NASCAR's Juggernaut?
February 8, 2012

Jared C. Tilton/Getty Images
Rick Hendrick has made the trek from his All Star Racing and the No. 5 car to the powerhouse, premier team owner in NASCAR. He holds all the cards with his All-Star cast of drivers and expansive operation.
In 1984, Hendrick Motorsports was a single-car operation with driver, Geoff Bodine. HMS became a full- time, multi-car team in 1986 with Bodine and Tim Richmond. The rest as they say is history.
His stable of drivers includes a four-time Cup champion, Jeff Gordon and Jimmie Johnson, who accomplished the near impossible with his five consecutive NASCAR Sprint Cup titles.
A third driver, Dale Earnhardt Jr., has remained winless for the last 129 races, but is the current NASCAR Most Popular Driver for the ninth year.
Many believe that streak will end in 2012, even if they are not part of Junior Nation.
The fourth driver, Kasey Kahne, was technically under contract to HMS in 2011, but because Mark Martin was fulfilling his contractual obligations with HMS, Kahne drove at Red Bull Racing last year.
Now Kahne joins the prestigious Hendrick Motorsports operation as driver of the No. 5 Farmers Insurance Chevrolet.
Hendrick looked like a proud father during the NASCAR Sprint Media Tour hosted by Charlotte Motor Speedway, as three of his four drivers took the stage beside him.
Even the power of Hendrick Motorsports could not relieve Kahne of his obligation to serve jury duty during the week of the intense media question and answer sessions prior to Speedweeks in Daytona.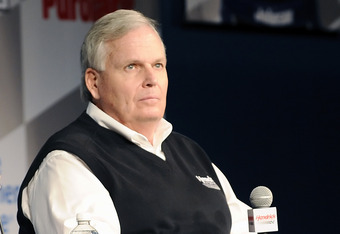 Jared C. Tilton/Getty Images
Hendrick said, "I'm going to be really disappointed if we don't have all four cars in the Chase and I'm going to be really disappointed if we don't win the championship."
He added, "I can't remember having four teams this solid, this strong, at the beginning of the year. I think we're as prepared as we've ever been and if we don't get it (the championship) it's going to be our fault."
Gordon, driver of the No. 24 Drive to End Hunger Chevrolet, said, "He (Hendrick) provides us with the most amazing equipment and people."
Gordon continued, "As drivers, when you come to work for Hendrick Motorsports, you know you better step up your game. You need to put your game face on."
Five-time Cup title winner, Johnson said, "I'm as hungry as I've ever been. I certainly know what my team is capable of and I know what I'm capable of and I have lofty goals for myself this year."
Earnhardt rebounded from two of his worst seasons ever with his new crew chief, Steve Letarte, to finish seventh in the point standings during 2011.
Junior said, "We were working with some ideas that Kenny Francis had started bringing to the table and just as a team we were continuously improving and learning things about the cars."
Earnhardt added, I thought if we could have had three or four more weeks of racing then we could continue to improve."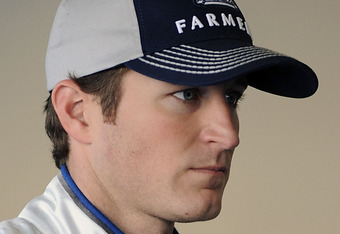 Jared C. Tilton/Getty Images
Francis was the crew chief for Kahne at Red Bull Racing and continues to serve in that position at HMS.
Hendrick stated, "We're really excited to have Kasey Kahne in our organization. They (Kahne and Francis) fit in like a glove and we're really excited to have them added to our organization."
Kahne was asked about his impressions of HMS during today's teleconference. He said, "Very, very impressed. Every option you want. Its been really good."
He also was impressed by the amount of cars, all the people and all that is going on at HMS for not only the four teams, but Stewart-Haas Racing, James Finch and the many facets of the organization.
They say, to whom much is given, much is expected. Kahne is one such person at HMS. Just as expectations run high for his teammates, it is anticipated this driver will add to his 12 career Cup wins in 2012.
Kahne is feeling pretty good with his new gig at HMS. It is his best chance ever to prove his talent as a driver in the NASCAR Sprint Cup Series.
He said, "I have four years here that I know will be stable." There is little doubt that he won't take every advantage of what he has been given under the guidance of his crew chief, Francis.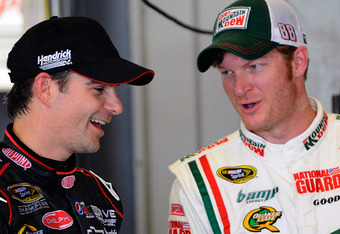 Jared C. Tilton/Getty Images
While other owner's have dissolved NASCAR operations and cut back from four teams to three with sponsorship troubles, Hendrick Motorsports is prepared to dominate with their strength.
All of the drivers at HMS have something to prove and each intends to do it. Gordon wants his fifth title and Johnson wants to show a sixth is in his future.
Earnhardt wants to realize his potential with Letarte and add to his 18 career wins. Kahne just wants to verify the faith Hendrick has placed in him and head to Victory Lane early in the season.
Competition is tough with other teams like Joe Gibbs Racing, Richard Childress Racing, Roush Fenway Racing and all the other teams anxious to prove they can contend for wins and a title.
It was Hendrick support with engines and chassis, that was a significant part of owner/driver, Tony Stewart, garnering his third Cup championship in 2011.
It remains to be seen if Hendrick's prediction of all four of his teams making the Chase and the championship returning to him.
The first step for the Hendrick drivers in 2012 is to bring their boss a win and the next one will be a milestone, the 200th for HMS.
Hendrick Motorsports may have all the pieces to put together a very strong 2012 season. With the 54th Daytona 500 just around the corner we will begin to find out if HMS is NASCAR's juggernaut.
Quotes in this article were obtained in person, by teleconference or official press releases unless otherwise noted.