Joffrey Lupul: Keeping the Toronto Maple Leafs in the Playoff Loop
January 20, 2012

Claus Andersen/Getty Images
He has certainly experienced some physical setbacks over the course of his NHL career, but just when it seems Joffrey Lupul is down for the count, the skillful forward, recently named to the Eastern All-Star Team, always answers the bell.
Although he can't pinpoint the precise moment in which he knew the Toronto Maple Leafs had a legitimate shot at making a serious bid for a playoff position, Lupul, who came to the Original Six squad last February, had a good feeling the pieces were in place to be a top-eight team in the Eastern Conference.
And for Lupul, it was the perfect situation to showcase his offensive touch.
"When I came to Toronto last year, we knew it was going to be tough to get into the playoffs," recalled Lupul, who was traded by the Ducks to the Maple Leafs.  The move marked the third time Lupul was involved in a trade with the Ducks organization. "But at the same time, you could see the team continuing to gel, getting stronger in every facet of the game. We also showed we could play against the top teams in the league."
Lupul, who became the first player in NHL playoff history to cap a three-goal game with an overtime tally, contributed 18 points in 28 games with Leafs last season.
He's been even better in 2011-12, becoming one of Toronto's most consistent players.  Averaging over a point per game, Lupul is teaming up with fellow All-Star Phil Kessel to provide the Leafs with one of hockey's most potent one-two punches.
"Obviously, I'm familiar with Brian Burke," noted Lupul. Burke, the former Anaheim GM, now handles the dual role of President and GM for Toronto. "When I was dealt here, he told me what a great place it was to play, what a fantastic city it is and the great group of guys we had. That was all evident right away."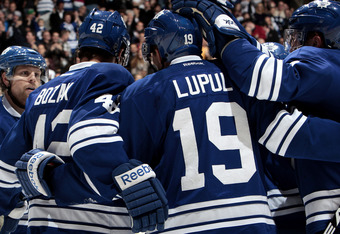 Abelimages/Getty Images
It's a big reason why Lupul has felt equally comfortable in Toronto, both on and off the ice.
"There's so much to do and the people truly love their hockey," offered Lupul. "You don't need to go very far to see the passion of the fans. If you're out and about, people will recognize you and they'll wish you good luck."
For an admittedly socially active person, Lupul, 28, is often reminded of just how much a playoff spot would mean not only to the players, but to their supporters, too.
But the Saskatchewan native isn't going to change much in his approach as the games take on more meaning.
"Picking up points against your divisional and conference rivals is crucial," noted Lupul. "There are going to be off nights for everyone, but we have to be resilient and stay focused on our goal. The more we play together, the more we understand one another and hopefully, that translates into making the playoffs." 
As for his year to date, the 2001-02 Canadian Hockey League First Team All-Star and 2001-02 Western Hockey League East First Team All-Star is modest about his contributions.
"I've been lucky to get a lot of great opportunities and to play with guys who really know what to do with the puck," said Lupul. "We just want to keep it going and do whatever we have to in order to reach our goal."
Having a healthy, highly-talented right winger playing some of the best hockey of his career certainly puts the odds in Toronto's favour.
Visit NHLPA.com for more player news and videos.
Unless otherwise noted, all quotes were obtained firsthand.