WWE: Awesome Thoughts on Chris Jericho, Royal Rumble, Sheamus and More
February 1, 2012

Welcome to my third edition of Awesome thoughts. Topics will range from the puzzling return of Chris Jericho to someone who desperately needs to retire.
I will also write about the Royal Rumble and break down Sheamus' shocking Royal Rumble victory.
With that said, I'll lead off with the man in the fantastically brilliant jacket.
Chris Jericho's New Character: A Stroke of Genius or Horrifically Stupid?
Fans have been buzzing about Chris Jericho's return.
Jericho has done a good job of doing something different. But Jericho has gone too far in trying to get heel heat.
My observation is, Jericho does not always understand that wrestling fans think in simplistic terms. In other words, most wrestling fans lack intelligence.
Not every wrestling fan is making an effort to decipher the reasoning behind a particular character's actions. They just react to what is happening on the screen.
In his defense, generating sufficient heel heat is tough given Jericho's overall brilliance. Jericho got a massive pop in his return.
They listen to John Laurinaitis on the mic, they don't boo. They fall asleep.
Likewise, they don't understand Chris Jericho's attempt to generate heel heat. Instead, they get genuinely irritated when Jericho wastes precious TV time. Wrestling fans perceive Chris Jericho as taking the E away in the WWE.
Wait a minute; hasn't John Laurinaitis taken the E as well?
Wrestling pundits realize Chris Jericho is trying to draw heel heat. It is just hard for him to do so.
To answer the question, Jericho's behavior ever since his return is a stroke of genius, but the fans don't realize it is a stroke of genius.
There are hardcore fans who are frustrated by Jericho's unwillingness to utilize his outstanding verbal skills. Addressing those fans, just be patient for his new character to develop.
Jericho is clearly a heel now after attacking CM Punk after last night's Raw. Jericho will likely face CM Punk at Wrestlemania.
Expect that to be an awesome match.
Who Will Royal Rumble Winner Sheamus Face at WrestleMania?
As we all know, Sheamus won the 2012 Royal Rumble by last eliminating Chris Jericho.
Sheamus can either go for the WWE or World Heavyweight Championships. Sheamus will likely break the five-year Royal Rumble drought.
But Sheamus can go for something 10,000 times bigger than either title.  
Undertaker's WrestleMania streak.
All Sheamus has to do is acknowledge that the Streak is a bigger deal than either belt. Undertaker can accept the challenge. 
Sheamus is powerful and believable enough to end the Streak. It will also put him over as a man never to back down from an insurmountable challenge. His character can strongly benefit from facing Undertaker. 
Sheamus and Undertaker can put on a great match for the Deadman's likely final match. A No Disqualification stipulation is almost assumed for Undertaker at WrestleMania.
However, WWE is often incapable of thinking outside the box when it comes to Undertaker's streak. I guarantee you he'll face either Triple H or Kane for the third time.
Therefore, it is more likely Sheamus goes for the World Heavyweight Championship. Expect him to face either Daniel Bryan, Wade Barrett, Randy Orton or even Mark Henry.
After breaking down the odds, it is the most likely that Wade Barrett will be World Heavyweight Champion going in to WrestleMania.
I just don't see Daniel Bryan going in to WrestleMania as the champion. Randy Orton vs. Sheamus has been seen too many times already. Mark Henry has had a great run, but his time is over.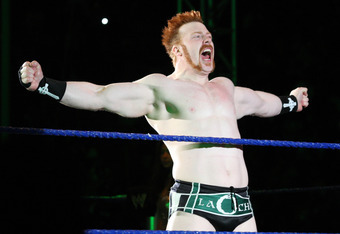 Gallo Images/Getty Images
Therefore, my personal choice is Wade Barrett. A feud with Barrett can tap in to the highly-underrated political rivalry between Ireland and England.
Even William Regal can manage Barrett while Finlay manages Sheamus.
Sheamus can be the first Rumble winner since the Undertaker in 2007 to win at WrestleMania. Wade Barrett won't be hurt from the short title reign because the rivalry itself will be fairly lengthy.
Royal Rumble was an Awful PPV
Vincent Kennedy McMahon is a man who understands the wrestling business. He must be remembered as a wrestling icon who forever changed how the wrestling business was run.
Tragically, in his senility, he must equate good business to putting Superstars-worthy matches such as Brodus Clay vs. Drew McIntyre and the awful Divas match on the third-biggest pay-per-view of the year.
I regret paying $55 to buy the Royal Rumble. The Rumble match itself was OK. Sheamus winning the Rumble was a nice twist from the predictability of Jericho or Orton winning it.
Nonetheless, the only kind of ring Michael Cole's mouth should ever enter is an onion ring at Burger King. Cole as a wrestler scares me.
The steel cage match was mediocre. Daniel Bryan tried his best to make it a passable match. However, it was obvious he would escape the cage.
The CM Punk vs. Dolph Ziggler had some bright spots. But the ending was overbooked. Or at least that's what everyone told me.
It could have been Match of the Year had the Laurinaitis-Punk angle not overshadowed the match itself.
Mick Foley Needs to Retire
After watching last night's performance, do I really need to say more? The man just needs to be in a non-wrestling role.
Perhaps have Foley be Raw GM. Maybe he can replace Teddy Long over on the Blue Brand. Tag team wrestling will officially die if Teddy Long is no longer Smackdown GM.
More on the ever-shifting Raw GM role in the next edition of Awesome Thoughts.
Conclusion
I am really looking forward to the Road to WrestleMania. It should be a fantastic WrestleMania. Chris Jericho vs. CM Punk should be fantastic.
Follow me on Twitter and become a fan!
Thanks for reading!